The Kingdom of God in the Church
Posted:
Fri. Oct, 8 2021
---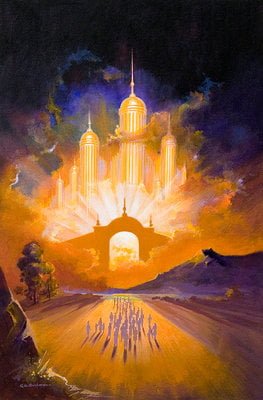 For there to be a kingdom there must be a king, subjects, and a power that enforces the rules of the king. All three of these exist within every born-again believer in the age of the church. They are not outside the believer, not even in his church building. The King indwells the believer, but He is not currently seated on a throne anywhere on earth. The subjects of the kingdom are not everywhere around us. There are some subjects, but we cannot identify them unless they open up to us about their faith in the truth of the gospel that lies within them. The rules of the kingdom are not around us either. Sadly, the rules are sometimes not found in churches or in Christian families. The rules all stem from the great rule: Divine love. Around us we find hate, murder, theft, selfishness, "lovers of pleasure rather than lovers of God" (2TI 3:4). The kingdom is not on earth.
There is so much replacement theology running around that we must clarify. The church has not replaced Israel. The church and Israel are separate in human history. Israel will receive the entirety of her promised covenants when Christ returns to the earth. He will establish His rule of the nation of Israel for one-thousand years. However, this does not mean that the church is not in the kingdom of God in some way.
We conclude that the kingdom is in us. Some call it a spiritual kingdom. God simply calls it His kingdom.
For He delivered us from the domain of darkness, and transferred us to the kingdom of His beloved Son, 14 in whom we have redemption, the forgiveness of sins.
But you are a chosen race, a royal priesthood, a holy nation, a people for God's own possession, that you may proclaim the excellencies of Him who has called you out of darkness into His marvelous light; 10 for you once were not a people, but now you are the people of God; you had not received mercy, but now you have received mercy.
I was praying the Lord's Prayer the other morning and "Your kingdom come, Your will be done," just kind of floated around in my mind for a while. I want the world to become His kingdom, and have us be rid of all the evil scheming everywhere around us, but I know that isn't going to happen until He returns to the earth at the Second Coming, and that arrival is not going to be pretty or peaceful for many people on the earth. But then again, I thought, the more people who believe the gospel and then learn of God, they will experience eternal life (JOH 17:3) and see the kingdom of God within themselves, and then maybe there will be less evil scheming. It was a comforting thought. But what immediately came to mind after that was the idea of isolation. Each of us sees the kingdom of God within ourselves; you over there and me over here. Isolation breeds loneliness, and I know isolation is not a part of the plan of God for the church, but unity is. A kingdom with one subject could hardly be considered a kingdom. Then it hit me. Simple, known (at least academically), but profound.
The kingdom that I see, and that same kingdom that you see, can be intimately shared with one another. When we share truth with one another, embrace one another, serve one another, forgive one another, and do good to one another in love, we bring the kingdom of God within each of us together. The subjects of the kingdom, each seeing the King and the rules of the King within themselves, come together in groups, and it is then that they see the subjects. When all three aspects are seen, the kingdom is seen in all its dimensions, and clearly, even though it does not exist in the physical world.
It is imperative that we come together in love and serve one another and share with one another. If we don't, we won't see the whole of the kingdom. In isolation, we behold only two dimensions, which is only a kingdom on paper.
The Greek New Testament uses a single word for "one another," allelon. I've set down a few places that it is used in this context. Give them a read and you'll see what I mean. The King, the rules, and the subjects all come together and behold the kingdom of the beloved Son.
the love of each one of you toward one another grows ever greater;
And be kind to one another, tender-hearted, forgiving each other, just as God in Christ also has forgiven you.
And so, as those who have been chosen of God, holy and beloved, put on a heart of compassion, kindness, humility, gentleness and patience; 13 bearing with one another, and forgiving each other, whoever has a complaint against anyone; just as the Lord forgave you, so also should you. 14 And beyond all these things put on love, which is the perfect bond of unity. 15 And let the peace of Christ rule in your hearts, to which indeed you were called in one body; and be thankful. 16 Let the word of Christ richly dwell within you, with all wisdom teaching and admonishing one another with psalms and hymns and spiritual songs, singing with thankfulness in your hearts to God. 17 And whatever you do in word or deed, do all in the name of the Lord Jesus, giving thanks through Him to God the Father.
See that no one repays another with evil for evil, but always seek after that which is good for one another and for all men. 16 Rejoice always; 17 pray without ceasing; 18 in everything give thanks; for this is God's will for you in Christ Jesus.
speaking to one another in psalms and hymns and spiritual songs, singing and making melody with your heart to the Lord; 20 always giving thanks for all things in the name of our Lord Jesus Christ to God, even the Father; 21 and be subject to one another in the fear of Christ.
Pray that more come and see the kingdom,
PJ