2Th 2:1-12; Satan Is Interested in Something Deeper Than Sin.
---
New Testament 2Th 230906
length:
57:43
- taught on
Sep, 6 2023
---
Class Outline:
Wednesday September 6, 2023
Title: 2TH 2:1-12; Satan Is Interested in Something Deeper Than Sin.
Theme: The ongoing assault against the believer is not in getting him to sin, but to be deceived by untruths.
God gave us freedom in the Garden of Eden and with it we sinned. God did not react to our dissent from His authority with destruction. Instead, He gave His Son and maintained the freedom of choice that we cherish. However, with choice and the capacity for knowledge, we are capable of as much evil as good.
In other words, we get to choose who will reign over our lives, our thoughts, our hearts, and our bodies.
Then Jesus said to His disciples, "If anyone wishes to come after Me, he must deny himself, and take up his cross and follow Me. 25 "For whoever wishes to save his life will lose it; but whoever loses his life for My sake will find it. 26 "For what will it profit a man if he gains the whole world and forfeits his soul? Or what will a man give in exchange for his soul? 27 "For the Son of Man is going to come in the glory of His Father with His angels, and WILL THEN REPAY EVERY MAN ACCORDING TO HIS DEEDS.
Peter had expressed his absolute stance against Jesus dying in Jerusalem (MAT 16:22). Why? Jesus was the Christ, the Son of God - He must rule Jerusalem, not die in it.
The truth of the matter is that we must want Christ. What we choose must lead us to a reality of relationship with Him.
Jesus gets to the point of thinking, prevalent deception, that gaining the world itself will equal life.
The very prevalent deception is that gaining the things of the world will fulfill life.
Instruct those who are rich in this present world not to be conceited or to fix their hope on the uncertainty of riches, but on God, who richly supplies us with all things to enjoy.
This is just one of many deceptions. Satan does not care for what sins you commit, but that you are to the core of your heart deceived.
Another deception or lie is that a believer can achieve a state of spirituality in which he will no longer sin. We will always be tempted, and so we must diligently walk by the Spirit of God in trust, wisdom, and obedience.
If Christ is in you, though the body is dead because of sin, yet the spirit is alive because of righteousness. 11 But if the Spirit of Him who raised Jesus from the dead dwells in you, He who raised Christ Jesus from the dead will also give life to your mortal bodies through His Spirit who dwells in you.
We avoid sin by knowing and loving the truth from Scripture, which demands application by the Holy Spirit (JAM 2:17).
Learning Scripture without living it is just another means of deception, and perhaps the greatest.
And you know what restrains him now, so that in his time he will be revealed. 7 For the mystery of lawlessness is already at work; only he who now restrains will do so until he is taken out of the way.
What the lawless one is trying to do while restrained is to deceive by lies. And His lies revolve around what he wants, what he loves. And we can find that by what God tells us he is going to do when free to do it - apostasy (departing from God's authority), pride, false religion, elevation of self, self-delusion.
Let no one in any way deceive you, for it will not come unless the apostasy comes first, and the man of lawlessness is revealed, the son of destruction, 4 who opposes and exalts himself above every so-called god or object of worship, so that he takes his seat in the temple of God, displaying himself as being God.
the one whose coming is in accord with the activity of Satan, with all power and signs and false wonders, 10 and with all the deception of wickedness …
Slide: deception to sin chart.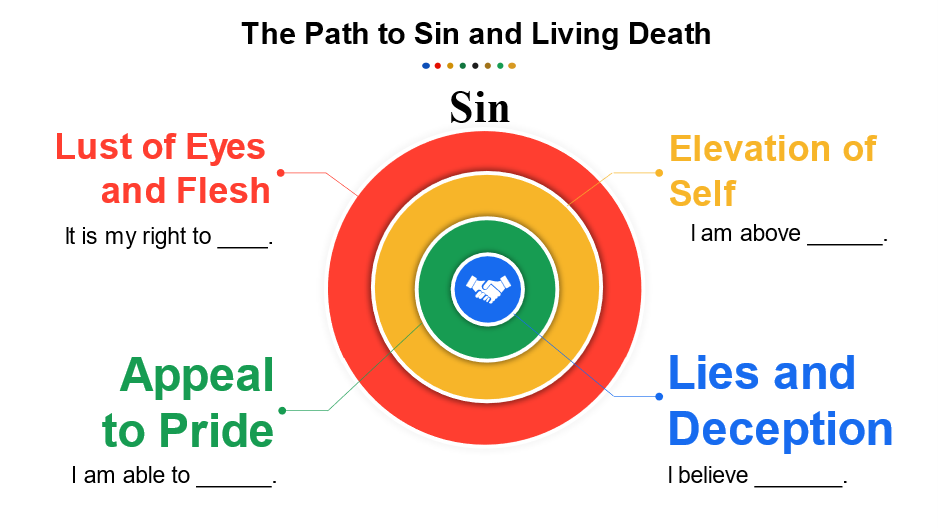 Deception leads to pride and that leads to the idea that you have a right to do as you please. That pride mixes with lust and sin results. If you prolong sin, death results. For the believer, that is not loss of salvation, if they are saved, but the death of James 2; life in a prison of self and sin with the resultant ongoing pain.
The ongoing assault against mankind has been throughout history, and the front-line of attack is not getting them to sin. That's not deep enough. It is to get them to believe what is false. Whatever sins result from that is inconsequential.
But each one is tempted when he is carried away and enticed by his own lust. 15 Then when lust has conceived, it gives birth to sin; and when sin is accomplished, it brings forth death. 16 Do not be deceived, my beloved brethren. 17 Every good thing given and every perfect gift is from above, coming down from the Father of lights, with whom there is no variation or shifting shadow.
While being restrained from ruling the world openly and physically as he would like, Satan is limited to deception by falsehood which enslaves the mind and body.
The Renaissance is really the period when the values of this world replaced those of heaven. The individual found himself instead of God, and made himself the designer and captain of his fate.
God is dead passage: Nietzsche
Have you not heard of that madman who lit a lantern in the bright morning hours, ran to the market-place, and cried incessantly: "I am looking for God! I am looking for God!"
As many of those who did not believe in God were standing together there, he excited considerable laughter. Have you lost him, then? said one. Did he lose his way like a child? said another. Or is he hiding? Is he afraid of us? Has he gone on a voyage? or emigrated? Thus they shouted and laughed. The madman sprang into their midst and pierced them with his glances.
"Where has God gone?" he cried. "I shall tell you. We have killed him - you and I. We are his murderers. But how have we done this? How were we able to drink up the sea? Who gave us the sponge to wipe away the entire horizon? … Must we not ourselves become gods simply to be worthy of it? There has never been a greater deed; and whosoever shall be born after us - for the sake of this deed he shall be part of a higher history than all history hitherto." [end quote]
See to it that no one takes you captive through philosophy and empty deception, according to the tradition of men, according to the elementary principles of the world, rather than according to Christ.
But I am afraid that, as the serpent deceived Eve by his craftiness, your minds will be led astray from the simplicity and purity of devotion to Christ. 4 For if one comes and preaches another Jesus whom we have not preached, or you receive a different spirit which you have not received, or a different gospel which you have not accepted, you bear this beautifully.
You must resist him, firm in your faith (learn and live it).
Christ gave us His word, the Holy Spirit, and His armor to wear every day.
You must put on the armor of God and not rely on your own understanding.
He gave us wisdom if we choose to learn the Scripture, and prayer to remain in communication with the Father in heaven. He Himself prays for us and indwells us - but He tied our success in overcoming the lawlessness in the world to our own choice.
You must continue to learn the Scripture. Do you spend time on social media or watching TV, and yet find no time to study God's word and pray?
God gave you freedom. If you do not use it properly, then you will be deceived by an evil that is not even at its full strength yet.