1 Thessalonians: Sanctification (the fire within) – Don't quench the Spirit.
---
New Testament 1Th 230316
length:
69:03
- taught on
Mar, 16 2023
---
Class Outline:
Thursday March 16, 2023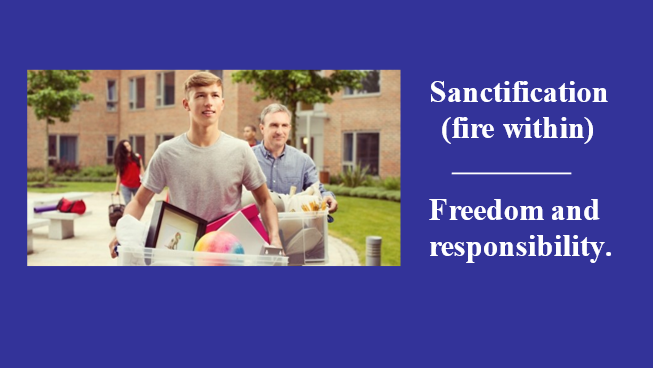 The theme of 1 Thessalonians: Encouragement for the church to live godly despite persecution.
This is important because when we're feeling pain and pressure we are more susceptible to the temptations of lust and sublimation (taking or doing something outside of God's will to ease the pain or distract us).
First and Second Thessalonians were written by the apostle Paul because he was concerned that the new believers there would fall away from the manner of life that Paul had taught them. Paul's concerns were fueled by two things: 1) they were new believers who were mostly Gentiles, and having immoral, pagan backgrounds, in Paul's absence they might easily slip back into old habits; and 2) Paul was forced to leave them in the midst of continued persecution, and pressure from persecution can so easily lead a believer away from the narrow road of the Christian life. Paul sent Timothy to Thessalonica to evaluate the situation, and 1 Thessalonians was written to them as a result of Timothy's good report. 2 Thessalonians was written soon after. Both letters were written around 50 C.E., placing them among the earliest New Testament epistles.
The theme of these epistles is the holy living or sanctification of the saints.
Paul commends them for the holiness that they have already displayed, even in the midst of persecution, and he encourages them to excel still more. He makes clear that no believer will reach a level of maturity where improvement is no longer necessary, and that suffering is to be expected.
Sanctification is always progressing in this life for the humble servant of God, and it must continue to increase by the fear of the Lord and encouragement from the Lord. As motivation, Paul reminds them that Jesus is returning, and therefore judgment of their deeds will come. But it is not all warnings that Paul gives. He also gives comfort through encouragement. He, the apostle Paul, has heard of their faith, hope, and love and for them he is always grateful and consistently praying
The letter opens with who we are in Christ and it ends with the manner of living that such people (new humanity in Christ with eternal life) should have (really, must have).
But we request of you, brethren, that you appreciate those who diligently labor among you, and have charge over you in the Lord and give you instruction, 13 and that you esteem them very highly in love because of their work.
"give you instruction" is a Greek verb (noutheteo) that has the connotation of admonishing or warning.
The pastor is not always your friend.
καὶ νουθετοῦντας ὑμᾶς
It is a present active participle, which means that they will always being teaching and admonishing if they are diligently laboring - "and who keep admonishing you."
The same verb is a command in vs. 14 and is translated admonish. In that verse the definition more favors admonishment rather than instruction because it is for the unruly
As Paul does, so the pastor has to admonish or warn the congregation. That will step on some toes, but it is better that the warnings are given out than the pastor try make everyone like him.
Therefore, we can then understand why Paul adds the imperative (command) to be at peace with one another (literally: among yourselves).
Live in peace (commandment) with one another.
The pastor admonishes; some like it, some are indifferent, some don't like it. Satan's demons watch and wait and attempt little schemes to stoke the fire of discontent and conflict among the members. Live in peace with one another (everyone).
Paul then writes his exhortation to the way of life of the saint. Every one of these he puts in the imperative. They are all commandments.
We urge you [parakaeleo - exhort in a comforting way], brethren, admonish the unruly [military term for the insubordinate], encourage the fainthearted [literally - small soul], help the weak, be patient with everyone. 15 See that no one repays another with evil for evil, but always seek after that which is good for one another and for all people. 16 Rejoice always; 17 pray without ceasing; 18 in everything give thanks; for this is God's will for you in Christ Jesus. 19 Do not quench the Spirit; 20 do not despise prophetic utterances. 21 But examine everything carefully; hold fast to that which is good; 22 abstain from every form of evil.
Look at vv. 15-22 and the recurring idea of always and everything: "always seek for good," "always rejoice," "pray without ceasing," "in everything give thanks," "examine everything," "abstain from every evil." Always and in everything means that our lives of sanctification are to every waking moment and unto every person and every situation and every "thing" we come across. No matter what day it is, or who it is, or what it is, all is to be done under entire sanctification.
In his wonderful book The Drama of Doctrine, Vanhoozer sees the Bible and human history as one drama having a script, direction, and then finally the performance. As believers we read the script, we listen to the director on how to act, but then we have to actually act out our parts on stage. He writes:
"Performance suggests that we are in the realm not of propositions only but of action. And to speak of action is to emphasize the role of the actor: 'Even in theatre we do not speak of how well the scenery of the costumes performed.'" [Vanhoozer, The Drama of Doctrine]
He calls it "performing the Scriptures."
Performing the Scriptures is living in the covenant God has made with you and the climax of that covenant. Hence Paul, three times, mentions the return of Christ in these epistles.
This is one of many snapshots of the Christian life that Paul gives in his letters. The parts are stated so succinctly that we need to slow down and take them in.
The particular type of people mentioned are the unruly (insubordinate), the fainthearted, and the weak. Also, those who do evil (should we seek payback or not?). We are to always seek for the good of others; not grudgingly, but rejoicing always in the Lord. We are to be praying every day, multiple times a day, and for everything that happens to us we are to give thanks. All of this is God's will for all who are in Christ Jesus.
We are not to despise prophetic utterance, i.e., truths from the word of God that we have not yet known.
In that time, the gift of prophecy was in existence in the church. A member of the church with this gift would speak forth to the congregation a truth that was given to him or her (1CO 11:5) by God. We assume that it would be a truth that the particular church did not yet possess in writing. Outside of James, 1Th is only the second letter to be written. Now, we believe that the gift of prophecy is no longer in effect, so we would apply this to the believer who hears a doctrine that they either have not yet heard or do not yet fully understand. That revelation will be new to them. What if it doesn't fit into their personal understanding of God's revelation? They should examine it carefully (vs. 21) but not despise it.
Abstain from every form (appearance) of evil.
If something looks evil, don't investigate it further, avoid it completely.
It is often wondered; how does a believer quench the Holy Spirit.
Many commentators link this command to the gift of prophecy just mentioned, and this may be true. We know in Corinth, from 1Co 14, that they belittled the gift of prophecy in favor of the gift of tongues. Paul told the Corinthians that prophecy was more important and should not be minimized. That could very well be the usage here. If that is the case then Paul is speaking of the usage and acceptance in the church of spiritual gifts, especially prophecy, and that would change the understanding of what "don't quench the Spirit," means to many of us.
I'm going to accept that possibility, but at the same time refer back to chapter 4.
For God has not called us for the purpose of impurity, but in sanctification. 8 So, he who rejects this is not rejecting man but the God who gives His Holy Spirit to you.
I personally like things as simple as possible, while sticking strictly with the Scripture of course. For now, I'm going to connect together "rejecting God who gives His Holy Spirit to you," and "quench the Spirit."
In the context of this passage, quenching the Spirit is simply violating any, or some, or all of these commandments. And we must see here that Paul is not referencing isolated sins but life in general. We will all have moments of ingratitude, for instance, but this passage asks, are you a happy and grateful person who prays daily and regularly?
Quench - sbennumi = quench fire, put out.
"The foolish said to the prudent, 'Give us some of your oil, for our lamps are going out.'"
MAT 12:20 [from ISA 42:3 - first Servant Song]
"A BATTERED REED HE WILL NOT BREAK OFF,
AND A SMOLDERING WICK HE WILL NOT PUT OUT,"
The language concerning the Holy Spirit's ministry is obviously figurative. We cannot put out or quench God. But if we stick with the motif of fire; we can put out the fire within us for this life just described by Paul in this passage. In the imagery, the fire in us to live this way with thanksgiving and joy is none other than God the Holy Spirit.
The fire on the altar in the temple was to be kept constantly burning. How often are we to be joyful, thankful, and praying?
We saw all commandments, which are orders from the will of God that we must follow. We could attempt to follow them grudgingly (which is to be preferred over not following them) or we could understand and follow them with the joy of knowing who we are in Christ Jesus. Hence Paul's emphasis on thanksgiving in everything. Following grudgingly is not that.
Look at it again with the idea of fire within you…
Rejoice always; 17 pray without ceasing; 18 in everything give thanks; for this is God's will for you in Christ Jesus. 19 Do not quench the Spirit
Living the heavenly holy life of divine ethics and morality, without compromise, and loving it so much that we always rejoice (even in tough times and in pain) and we pray multiple times a day (even in tough times and in pain), and that we always give thanks (even in tough times and in pain) - that is the fire within. When we choose to learn and believe and do, God the Holy Spirit makes this a real fire within us. When we choose not to do any of that, we pour buckets of icy cold water on that fire. We don't put the Spirit out, we put the fire out.
"Anything that will tend to damp the ardor of piety in the soul; to chill our feelings; to render us cold and lifeless in the service of God, may be regarded as "quenching the Spirit." Neglect of cultivating the Christian graces, or of prayer, of the Bible, of the sanctuary, of a careful watchfulness over the heart, will do it. Worldliness, vanity, levity, ambition, pride, … or indulgence in an improper train of thought, will do it." [Barnes' Notes]
For this reason I remind you to kindle afresh the gift of God which is in you through the laying on of my hands. 7 For God has not given us a spirit of timidity, but of power and love and discipline.
Faith keeps the fire going. And faith quenches the devil's fire.
in addition to all, taking up the shield of faith with which you will be able to extinguish all the flaming arrows of the evil one.
I think it is proper imagery to conclude that the devil wants to set his fire within you. He has your flesh as an agent to help in setting it and keeping it going. The shield of faith keeps the spark and kindling from even getting within.
You can't water it down. As the Lord said, you will either act upon it or just hear it. James made that message the theme of his letter. It is nothing to fear, for the God of peace will confirm it.
Now may the God of peace Himself sanctify you entirely; and may your spirit and soul and body be preserved complete, without blame at the coming of our Lord Jesus Christ. 24 Faithful is He who calls you, and He also will bring it to pass.