Freedom From Addiction
---
New Testament James 230309
length:
68:26
- taught on
Mar, 9 2023
---
Class Outline:
Thursday March 9, 2023
The theme of James is living out your faith with good works despite the pressure (trials) that come upon you.
This is positive and not negative. We probably respond, at least initially, to this as a negative, meaning - negative commands of don't do this or that, negative exhortations of - you better be careful not to do this or that. And certainly that is here, but it is under the umbrella of the positive. James starts the letter, "Consider it all joy my brethren when you encounter various trials." The trials produce endurance, give more quality to your faith and mature you. So, instead of looking at the call to live the spiritual life in a negative light, it must be seen in a positive. When we lay aside the old, we can't stand naked. We must clothe ourselves with the new self. And with that, go forward, saying no to the negative commandments and embracing the positive ones and doing so with excitement and joy.
The born-again believer, elected and designed by God to live eternal life, should not be looking for reasons to avoid living that life. It's absurd when you really think about it. I'm not saying that it won't be hard at times and some real work against a strong and well-armed opposition, but our hearts should not be seeking to find some excuse to avoid it. James shows us that it is life divine and the only option for born again believers.
What is the source of quarrels and conflicts among you? Is not the source your pleasures that wage war in your members? 2 You lust and do not have; so you commit murder. You are envious and cannot obtain; so you fight and quarrel. You do not have because you do not ask. 3 You ask and do not receive, because you ask with wrong motives, so that you may spend it on your pleasures. 4 You adulteresses, do you not know that friendship with the world is hostility toward God? Therefore whoever wishes to be a friend of the world makes himself an enemy of God. 5 Or do you think that the Scripture speaks to no purpose: "He jealously desires the Spirit which He has made to dwell in us"? 6 But He gives a greater grace. Therefore it says, "GOD IS OPPOSED TO THE PROUD, BUT GIVES GRACE TO THE HUMBLE." 7 Submit therefore to God. Resist the devil and he will flee from you. 8 Draw near to God and He will draw near to you. Cleanse your hands, you sinners; and purify your hearts, you double-minded. 9 Be miserable and mourn and weep; let your laughter be turned into mourning and your joy to gloom. 10 Humble yourselves in the presence of the Lord, and He will exalt you.
Just as Satan loves to use the tongue towards his evil so he fashions the world to draw us into friendship with it. The only escape is humility to God, from which condition we will clearly see what the world is offering.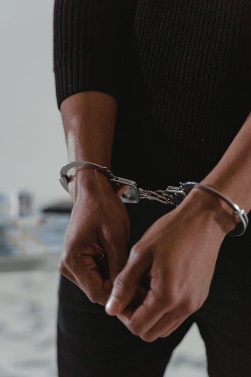 Make friends with the world and you invite the devil to take control of your life (not possession).
Let's first describe the people that James targets in this section. Rather than living out their faith (and remember, he has addressed his letter to believers) they are: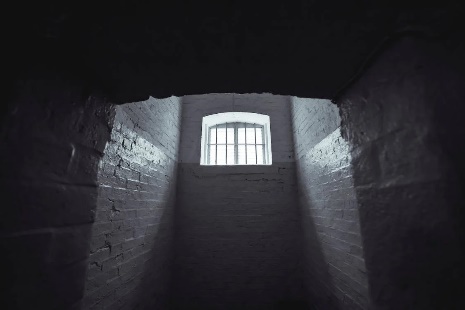 Adulteresses: cheating on God.
Lustful, envious, contentious, proud, unclean, impure, double-minded.
This is a prison made and lived in by one who Christ has set free. If this is you, you sit in a jail cell when the door is open and there are no guards to stop you from walking out.
James told us in chapter 1 that when temptation meets with lust, we sin, and when sin matures it brings forth death. The situation in chapter 4 is showing the specifics of falling into that life that looks like death. Death looks like pleasures waging wars in your bodies' members. War does not coexist with peace. Every believer has peace with God and that means their inner selves should be filled with peace.
Now may the God of hope fill you with all joy and peace in believing, so that you will abound in hope by the power of the Holy Spirit.
Beloved, I urge you as aliens and strangers to abstain from fleshly lusts which wage war against the soul.
There is a conflict inside of every believer that must, as soon as possible, be won by the Holy Spirit over the flesh.
But the wicked are like the tossing sea,
For it cannot be quiet,
And its waters toss up refuse and mud.
21 "There is no peace," says my God, "for the wicked."
Writing to Jews, James knows that they know God's condemnation upon Israel for committing adultery against God.
"You adulteress wife, who takes strangers instead of her husband!"
God further condemns them through Ezekiel in that they are not like normal harlots, but they pay their lovers rather than getting paid. Adulteresses and idiots.
Do we not also pay for our addictions? Whatever they are? James says in vs. 3, "You ask (presumably prayer) and do not receive, so that you may spend it on your pleasures." These are adulterers who actually pay their lovers.
Pleasures are not the same as happiness. Pleasures are temporary and unfulfilling and they take from us. Happiness adds to us and is eternal.
We are to seek God in humility. All sin is the opposite, and repeating sin in particular areas shows a level of addiction.
James' phrase, "pleasures that wage war in your parts," sounds like addiction.
This is James' use of the word "pleasures." These pleasures are paid for, but not with collateral from God, and they wage war in the members of the body.
What is the source of quarrels and conflicts among you? Is not the source your pleasures that wage war in your members? 2 You lust and do not have; so you commit murder. You are envious and cannot obtain; so you fight and quarrel. You do not have because you do not ask. 3 You ask and do not receive, because you ask with wrong motives, so that you may spend it on your pleasures.
Prayer is negatively affected by worldly pleasures.
This is not about pleasure in general. It is about the source of our pleasure. The pleasure from the world never fully satisfies and those trapped in its cycle need more and more of it.
The cure is to seek your true Husband and Father. They jealously desire Holy Spirit within you, which means that they desire that you be filled with the Spirit over earthly pleasure seeking, and then you will enjoy the pleasure of God.
The cure: is to love others rather than envy and contention.
The cure is to be humble, which is to completely submit to God's will and not stand opposed to Him (which is a battle you're going to lose every time).
The cure is to pursue good works. Consider what works you can do for God's kingdom today and really pursue them. Have fun ministering for God to others.
The cure is to be completely committed and not double minded. Don't do some of the plan of God, ignore the rest of the plan of God, and then tell yourself that you follow God's will. Humble yourself and know with expectant joy that God is going to promote you.
The cure, therefore, is to fill yourself with the Holy Spirit and fill yourself with divine life.
Let the word of Christ richly dwell within you, with all wisdom teaching and admonishing one another with psalms and hymns and spiritual songs, singing with thankfulness in your hearts to God. 17 Whatever you do in word or deed, do all in the name of the Lord Jesus, giving thanks through Him to God the Father.
This is Paul's parallel passage to EPH 5:18, be filled with the Spirit, but here it is be filled with the word of Christ ("let it richly dwell within you").
Whatever you do, do your work heartily, as for the Lord rather than for men, 24 knowing that from the Lord you will receive the reward of the inheritance. It is the Lord Christ whom you serve. 25 For he who does wrong will receive the consequences of the wrong which he has done, and that without partiality.
"Whatever you do …" all us to the Lord and for the Lord.
pleasures - hedone = gratification of natural desire. Never used of good desire in NT.
From this word we get our English word hedonistic and hedonism. The old Greek philosophers used this word in both the bad and good sense (pleasure with self-control), but the NT only uses it in a negative sense.
"The seed which fell among the thorns, these are the ones who have heard, and as they go on their way they are choked with worries and riches and pleasures of this life [Greek: bios], and bring no fruit to maturity."
Worldly pleasures choke the Word.
This likely explains why so many Christians find little if any pleasure in God's Word.
For we also once were foolish ourselves, disobedient, deceived, enslaved to various lusts and pleasures, spending our life in malice and envy, hateful, hating one another.
But these, like unreasoning animals, born as creatures of instinct to be captured and killed, reviling where they have no knowledge, will in the destruction of those creatures also be destroyed, 13 suffering wrong as the wages of doing wrong. They count it a pleasure to revel in the daytime.
[Kittle, Theological Dictionary of the New Testament]
"In the NT hedone represents one of the many forces which belong to the world of unsanctified carnality, which strive against the work of God and His Spirit and which drag man back again into the kingdom of evil."
In GAL 5:16-23, Paul sets the deeds of the flesh (James writes "your members (parts)") in opposition to the fruit of the Holy Spirit, or which James writes that God jealously seeks in you. It shows how badly God wants His life alive in you.
Hedone doesn't only mean sensual feeling, but also means the desire for it. Like the dry drunk, I may not be drinking, but my mind may be filled with the desire for it, and so I am enslaved and from that slavery I lash out in other sinful ways.
So why doesn't the NT use hedone in a positive sense? Certainly, not all human pleasures are bad. True, but at the heart of the matter, is not pleasure itself, but its source. If our pleasure is without God it comes from a fallen world and is therefore bad. If our pleasure comes from God then it is pure and good.
The great addiction that stands over them all is addiction to self.
The issue is not human pleasure. It's not as if Christianity is ascetic - no pleasure allowed. Christ's life is the only source of true pleasure and happiness, and some of that is indeed physical.
At issue is whether mankind is beholden to his Creator. Is every human made in God's image and if so, is every person accountable to his Creator? For us the answer is obvious.
Nietzsche claimed that our progress eliminated our need for God and that people should make themselves into what they determined was best for them. Darwin did away with the idea that mankind had an important end in the future, that there was no end, and so no heaven, no reward, and no judgment. So lust away, give to yourself, there is no God who has determined both physical and spiritual law.
We live one day at a time and one moment at a time, but we are to do this will all time in mind. [Let me explain] We are to live as those who are in Christ. That truth takes our minds to long before the earth was even made. We were elected before the foundation of the world. We are to live as though our destiny is heaven. Like the Sabbath Year, the struggle will be over soon. That truth takes our minds far into the future. There will be judgment for us and a future in which God's glory is the only reality. Sin, so often, is for the moment. Hedonism is the practice of doing what feels good right now and damn the consequences later, either just a few minutes later or eternally later.
The issue here is not pleasure, per se, but our humble submission to our Maker.
Paul wrote in his final letter that difficult days were coming in which men would be:
lovers of pleasure rather than lovers of God
The application to us [in our final message in James for now] is to draw near to God by His Word richly dwelling in you, filling yourself with His Spirit, and waiting on the true pleasure that is going to come from Him. And it will - He promises it.