The Lord's Prayer: Forgive us our debts – all of us are sinners to an extent we cannot know.
---
DOPRY-1-230122
length:
88:39
- taught on
Jan, 22 2023
---
Class Outline:
Sunday January 22,2023
How many did you commit yesterday? Imagine if we were truly aware of all of them (sins of omission also), and we had one of those clickers that counts. You would check it every day and either rue the day or count it a good day. A good day would be, "Only 490 sins today! High five." A bad day, "987 sins!? What a terrible day this was." It's only just before noon.
Who among us had the least? Come to the head of the class. Who had the most? You might as well come up to.
If we could actually count the number, we would get into a comparison mindset. We would compare yesterday to other days and develop some average number of sins that we would deem acceptable. If we had days that exceeded that number we'd have excessive guilt. If days that fell below it, we would actually commend ourselves accordingly. Imagine it - we would have a day filled with hundreds of sins and actually commend ourselves for it. This is not what God desires for us.
"Forgive us our debts" - all of us are sinners to an extent we cannot know.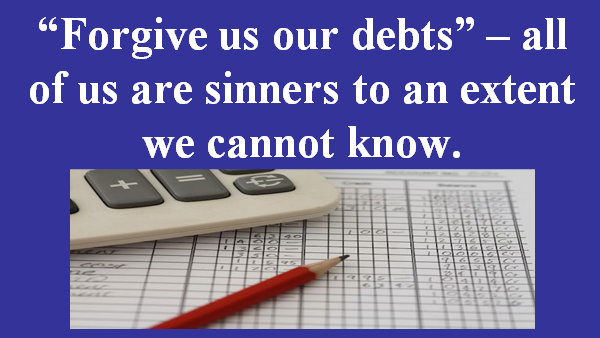 Psa 130
Out of the depths I have cried to You, O Lord.
2 Lord, hear my voice!
Let Your ears be attentive
To the voice of my supplications.
3 If You, Lord, should mark iniquities,
O Lord, who could stand?
4 But there is forgiveness with You,
That You may be feared.
5 I wait for the Lord, my soul does wait,
And in His word do I hope.
6 My soul waits for the Lord
More than the watchmen for the morning;
Indeed, more than the watchmen for the morning.
7 O Israel, hope in the Lord;
For with the Lord there is lovingkindness,
And with Him is abundant redemption.
8 And He will redeem Israel
From all his iniquities.
This is the prayer of the repentant sinner. He cries out to the Lord from the depths. He is grateful that God does not mark iniquities, and nor does he state any of his own specifically, probably because he knows that he cannot mark his own. He knows, as we all should, that alone we cannot stand before God.
This is a truth that you must mark as the Lord's petition tells us, when we judge others, when we refuse to forgive them, we are trying to stand before God on our own.
In Psa 130, I'm sure there are some sins that the psalmist recognizes that put him in this pit of mourning, but there are more sins that he couldn't possibly count. But then there is the comfort that he has learned and understood, "There is forgiveness with You, that You may be feared" … and You "will redeem Israel from all his iniquities."
The Lord has not asked us to mark iniquities. If God won't do it to us, why should we do it to ourselves? Psa 130 is written before the cross, so this is the way of God with mankind in general. God would mark iniquity one time in history, when His Son hung before Him, between heaven and earth, ready and willing to take the judgment for every single sin.
'Give us this day our daily bread.
12 'And forgive us our debts, as we also have forgiven our debtors.
If we understood that we are sinners who have sins beyond counting, then we would always have hearts of forgiveness.
Who can stand before God?
Who are you to judge the servant of another? To his own master he stands or falls; and he will stand, for the Lord is able to make him stand.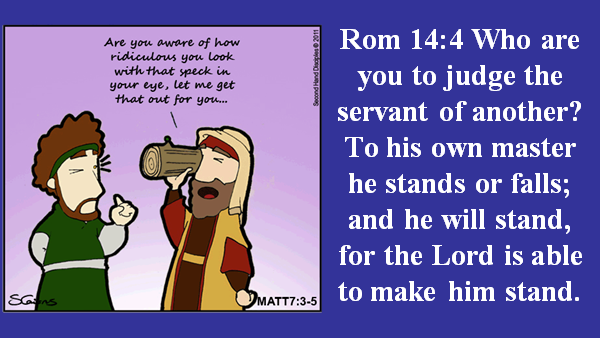 "Do not judge so that you will not be judged. 2 For in the way you judge, you will be judged; and by your standard of measure, it will be measured to you. 3 Why do you look at the speck that is in your brother's eye, but do not notice the log that is in your own eye? 4 Or how can you say to your brother, 'Let me take the speck out of your eye,' and behold, the log is in your own eye? 5 You hypocrite, first take the log out of your own eye, and then you will see clearly to take the speck out of your brother's eye."
"When you judge another, you do not define them, but you define yourself." [Wayne Dyer, motivational speaker]
So, are we to leave any notion or recognition of sin aside? No. I could give plenty of passages on this. We are not to hide our iniquity as Adam and Eve tried to do. When we recognize a sin in our life, we are to confess it to God. When we confess we are confirming in ourselves the way of righteousness while at the same time claiming by faith the blood of Christ that cleanses.
The ultimate goal in the Christian life is not our position before God - that is secure forever. The goal of the Christian life is the manner in which we live in reference to our election in Christ Jesus, and our confession of the sins we recognize is a step in that process, for sinfulness only has us walking somewhere outside the new and living way.
But as far as all of our sins, there will not be a day in our lives when we will recognize them all. I don't think we come even close. The ideas of mortal and venial sins (like felonies and misdemeanors) is plain stupid. Our Lord told us that if we violated any part of God's law, then we violate the whole of it.
But if you show partiality, you are committing sin and are convicted by the law as transgressors. 10 For whoever keeps the whole law and yet stumbles in one point, he has become guilty of all.
And this gets us to the second half of the petition - the forgiveness of others. If I can't mark my own iniquities, then how could I ever have the mindset that I excel others to some extent that I could not forgive them? How many times have we condemned others for their actions?
The Lord wants us to see ourselves as sinners who have been forgiven by a priceless and unimaginable act of sacrifice and love and then, and only then, does He want us to deal with the sins of others, including the ones they commit against us personally.
This is not how our Lord wanted us to think about our sin, counting them. He desires for us to know that we are sinners every day and every day in need of forgiveness, and that all others are also in need of forgiveness, and we are to give it to them.
Do not grieve the Holy Spirit of God, by whom you were sealed for the day of redemption. 31 Let all bitterness and wrath and anger and clamor and slander be put away from you, along with all malice. 32 Be kind to one another, tender-hearted, forgiving each other, just as God in Christ also has forgiven you.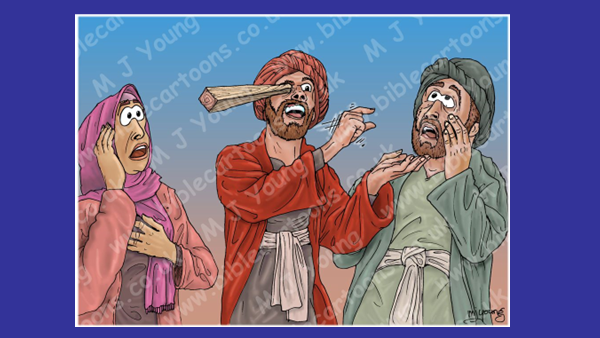 Now one of the Pharisees was requesting Him to dine with him, and He entered the Pharisee's house and reclined at the table. 37 And there was a woman in the city who was a sinner; and when she learned that He was reclining at the table in the Pharisee's house, she brought an alabaster vial of perfume, 38 and standing behind Him at His feet, weeping, she began to wet His feet with her tears, and kept wiping them with the hair of her head, and kissing His feet and anointing them with the perfume. 39 Now when the Pharisee who had invited Him saw this, he said to himself, "If this man were a prophet He would know who and what sort of person this woman is who is touching Him, that she is a sinner."
What camp does Simon the Pharisee sit in? His spirituality is arrogance because of his education and his heritage, none of which make a dent in personal sin.
Some think the Bible is only instructive for the day in which it was written. This is the great fallacy of the progressive movement. The principles in the Scripture are for all time and all generations. Can a Christian be like Simon here?
And Jesus answered him, "Simon, I have something to say to you." And he replied, "Say it, Teacher." 41 "A moneylender had two debtors: one owed five hundred denarii, and the other fifty. 42 "When they were unable to repay, he graciously forgave them both. So which of them will love him more?" 43 Simon answered and said, "I suppose the one whom he forgave more." And He said to him, "You have judged correctly." 44 Turning toward the woman, He said to Simon, "Do you see this woman? I entered your house; you gave Me no water for My feet, but she has wet My feet with her tears and wiped them with her hair. 45 "You gave Me no kiss; but she, since the time I came in, has not ceased to kiss My feet. 46 "You did not anoint My head with oil, but she anointed My feet with perfume. 47 "For this reason I say to you, her sins, which are many, have been forgiven, for she loved much; but he who is forgiven little, loves little." 48 Then He said to her, "Your sins have been forgiven." 49 Those who were reclining at the table with Him began to say to themselves, "Who is this man who even forgives sins?" 50 And He said to the woman, "Your faith has saved you; go in peace."