Ephesians 4:7-16; Knowing His gifts – wisdom literature.
---
EPHESN-1-21011
length:
84:09
- taught on
Jul, 11 2021
---
Class Outline:
Sunday July 11,2021
Monty Williams is the head coach of the NBA team the Phoenix Suns now in the NBA finals:
Five years ago, a 52-year-old woman high on meth drove her car head-first into the car driven by Monty Williams' wife, Ingrid. Three of Williams' five children were also in the car. The woman died at the scene of the accident. Ingrid Williams died a day later. Williams' children survived.
A week later, Monty Williams stood at his wife's funeral and delivered the most amazing seven-minute eulogy and testimony I've ever heard. He started with scripture.
Psalms 113:1, "Behold how good and pleasant it is when brothers dwell in unity."
Psalms 73:1, "God is good."
John 4:16, "God is love."
He then shared the story of the doctor who told him, as an 18-year-old freshman at Notre Dame, that if he continued to play basketball, he would die because of a heart condition. His wife, then his girlfriend, Ingrid, told him, "Jesus can heal your heart."
Williams played in the NBA for a decade.
He closed his wife's funeral by asking his family and friends to pray for the family of the driver who killed his wife.
"Now, I'm gonna close with this, and I think it's the most important thing that we need to understand," Williams began. "Everybody's praying for me and my family, which is right. But let us not forget that there were two people in this situation. And that family needs prayer as well. And we have no ill will toward that family.
"In my house, we have a sign that says, 'As for me and my house, we will serve the Lord.' We cannot serve the Lord if we don't have a heart of forgiveness.
"That family didn't wake up wanting to hurt my wife. Life is hard. It is very hard. And that was tough, but we hold no ill will toward the Donaldson family, and we as a group, brothers united in unity, should be praying for that family, because they grieve as well. So let's not lose sight of what's important.
"God will work this out. My wife is in heaven. God loves us. God is love. And when we walk away from this place today, let's celebrate because my wife is where we all need to be. And I'm envious of that."
When the Phoenix Suns won the Western Conference Finals two weeks ago, Williams explained to an ESPN interviewer the foundation of his success as a coach.
"I expressed from the time I got the job in Phoenix and to every new player that comes to our program, the essence of my coaching is to serve," Williams said. "As a believer in Christ, that's what I'm here for. And I tell them all the time, if I get on you, I'm not calling you out, I'm calling you up."
Schedule … no classes: Aug 10,11,12 (Tu - Thu); Aug 25 (Wed), 26 (Thu), 29 (Sun).
(Now this expression, "He ascended," what does it mean except that He also had descended into the lower parts of the earth? 10 He who descended is Himself also He who ascended far above all the heavens, that He might fill all things.)
Christ's ascension means that the universe and all in it must reach its final correspondence with the divine ideal. Nothing and no one are going to stop the complete fulfillment of God's good pleasure for His world and the race of men.
Think of the regions the Son of God has traversed, the range of being through which the Lord Jesus passed in descending and ascending. Heaven, earth, Hades, and back again: on the descent, willingly subject to powers, and on the ascent, above all things, the one first resurrected human able to walk the earth, awaiting His glorification in ascension to the celebration of angels and all heaven, and with it, the enemies of God defeated and doomed.
Christ will fill all things.
The Lord is the God of all creation, not just Christianity.
The Lord your Maker,
Who stretched out the heavens,
And laid the foundations of the earth;
God is always telling us, especially through the OT prophets, that He is the God of all creation, not just Christianity. He is the Creator of all, heavens and earth. We are not to fear anyone who rejects God and His law, for though they reject Him, He is still their God and Creator and has all power over them.
1 The Lord reigns, He is clothed with majesty;
The Lord has clothed and girded Himself with strength;
Indeed, the world is firmly established, it will not be moved.
2 Thy throne is established from of old;
Thou art from everlasting.
Though the seas rage (the earth and men clamor), God is mightier and in control.
3 The floods have lifted up, O Lord, The floods have lifted up their voice;
The floods lift up their pounding waves.
4 More than the sounds of many waters,
Than the mighty breakers of the sea,
The Lord on high is mighty.
5 Thy testimonies are fully confirmed;
Holiness befits Thy house,
O Lord, forevermore.
His descent and ascent finalized bringing all things under His dominion, not by omnipotence, but by inhabitation and self-devoting love.
Remember Paul's prayer for us at the close of chapter 3.
For this reason, I bow my knees before the Father, 15 from whom every [the whole] family in heaven and on earth derives its name, 16 that He would grant you, according to the riches of His glory, to be strengthened with power through His Spirit in the inner man; 17 so that Christ may dwell in your hearts through faith; and that you, being rooted and grounded in love, 18 may be able to comprehend with all the saints what is the breadth and length and height and depth, 19 and to know the love of Christ which surpasses knowledge, that you may be filled up to all the fulness of God.
He fills the church, and as His body and bride, we are blessed with completeness, and for eternity, a perfect and complete home.
See to it that no one takes you captive through philosophy and empty deception, according to the tradition of men, according to the elementary principles of the world, rather than according to Christ. 9 For in Him all the fulness of Deity dwells in bodily form, 10 and in Him you have been made complete, and He is the head over all rule and authority; 11 and in Him you were also circumcised with a circumcision made without hands, in the removal of the body of the flesh by the circumcision of Christ; 12 having been buried with Him in baptism, in which you were also raised up with Him through faith in the working of God, who raised Him from the dead.
The old creature is dead, and so, empty. The new self is whole and complete (COL 2:10), the fulness of Christ (EPH 1:23).
It is further enlightening in the understanding of the letter to Colossae to know that the Colossian church had been infiltrated with Gnostic thought. The Gnostic way was one of gradual increase, from one level of knowledge to the next, from evil to less evil, but not only for the purpose of more wisdom, but to get closer and closer to heaven, to the ultimate level of God. They believed that only a select few had higher knowledge. They did not believe Jesus to be God or Creator. They taught that divine essence was like a substance that was diffused. The lower on the ladder a creature was the less divine essence he had, and vice versa.
Like all false religions it was a salvation by works scheme that possessed portions that sounded just like true Christianity. Paul defeats it totally with one phrase: 9 For in Him all the fulness of Deity dwells in bodily form, 10 and in Him you have been made complete, and He is the head over all rule and authority;
[Wuest] "From the necessities imposed upon Paul by the character of the Gnostic heresy, it is easy to see that as Bishop Lightfoot says:
"The doctrine of the Person of Christ is here (Colossians) stated with greater precision and fulness than in any other of St. Paul's epistles." [Lightfoot]
He gave His entire life for victory over sin and death and our salvation, and still, as He ascends in victory, He gives us more gifts that we may live the victory in our own lives.
One of the gifts given to us, that we must address is wisdom.
We cannot serve God and people without wisdom.
We really can't do hardly anything without wisdom. It is the ability to use knowledge.
The Book of Proverbs is the first of the three wisdom books in the Bible, the other two being Ecclesiastes and Job.
Wisdom books: Pro, Ecc, Job.
The wisdom of God shows us what it looks like to live well in this world.
In Proverbs wisdom is personified as a female teacher who has incredible insight into every aspect of life: work, relationships, sex, integrity, spirituality, and money.
Wisdom [Hebrew: chokmah] has her handprint on the world. She is the standard by which men either stand or fall.
In Proverbs, wisdom is an attribute of God that He used to create the world. It shows us that wisdom has its handprint on the way of the world. It is woven into reality. And so, due to that truth, there is a law of responsibility that every person must obey. It is the laws of what we ought to do and ought not to do, from which no one is exempted.
When He established the heavens, I was there,
When He inscribed a circle on the face of the deep,
28 When He made firm the skies above,
When the springs of the deep became fixed,
29 When He set for the sea its boundary,
So that the water should not transgress His command,
When He marked out the foundations of the earth;
30 Then I was beside Him, as a master workman;
And I was daily His delight,
Rejoicing always before Him,
31 Rejoicing in the world, His earth,
And having my delight in the sons of men.
Wisdom calls out to the entire earth, to all men and has for all time.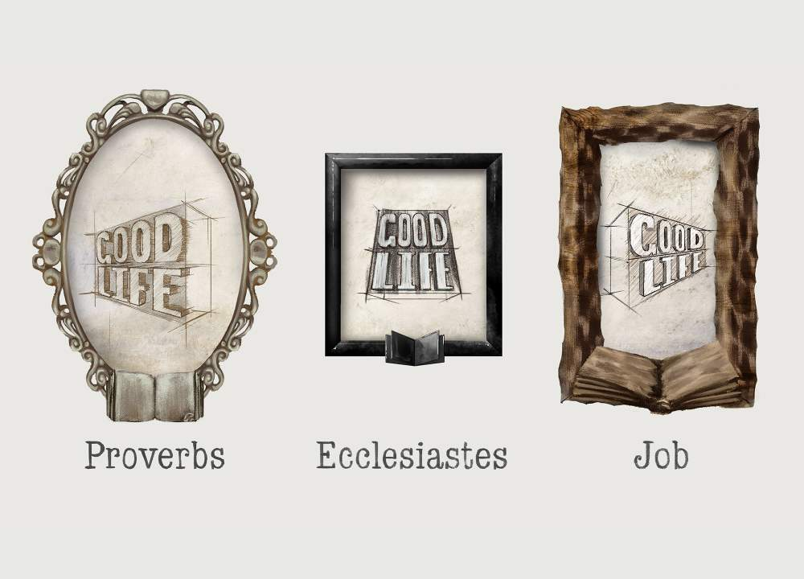 She reveals that any person can accept her instruction and benefit by it in the beautiful life that exists under God's moral law. Wisdom is portrayed as more than academic knowledge, but as a skill applied to everyday life.