Ephesians 4:3-6; One Lord – His Priesthood and ours, part 4.
---
EPHESN-1-210309
length:
67:11
- taught on
Mar, 9 2021
---
Class Outline:
Tuesday March 9, 2021
The Aaronic priesthood was designed by God to point to Christ and reveal what Christ would come to fulfill in order to reconcile man to God.
Read Num 28-29 to get a feel for the amount of sacrifices and rituals that the priests of the OT had to officiate.
All that the priests of Aaron would do ritualistically and ceremonially would be literally fulfilled by Christ on the cross. He would cleanse fully and eternally with His own blood. He would wash us and make us clean. He would enter the holy of holies in heaven and tear the veil asunder and bid all to follow Him in, thus qualifying them to stand in the presence of the holiness of God.
Everything that was done to the Tabernacle and at the Tabernacle, Christ would literally fulfill for anyone who would believe upon Him.
So, the Aaronic priesthood is done away with and the priesthood of Christ replaces it, becoming the only priesthood, and Christ's priests are the members of His body - a kingdom of priests. This is very good news indeed.
Christ fulfilled the Law for us, and so through Him, we have fulfilled it as well. The Law was condemnation, but now there is no condemnation for those who are in Christ, for the Law of the Spirit of life in Christ Jesus has set us free from the Law of sin and death. Rom 7-8; we'll be there in a few…
The covenant with Abraham is also unconditional, not like the Mosaic Covenant.
"The Lord did not make this covenant with our fathers, but with us"
Being conditional, the continuity of the nation could be interrupted, and it was historically, by the failure of the people. However, the terms of the Abrahamic, Davidic, Palestinian (land grant), and New Covenant can never be changed. Therefore, it is not unfair that Israel was given a conditional covenant that only brought condemnation on a rebellious people. All mankind was shown what a loved people whom God chose for His own possession, blessed above the nations, would do under a conditional covenant. It should make all of us understand who we are without God's grace and without unconditional contract with God based only upon His own work.
'Now then, if you will indeed obey My voice and keep My covenant, then you shall be My own possession among all the peoples, for all the earth is Mine; 6 and you shall be to Me a kingdom of priests and a holy nation.' These are the words that you shall speak to the sons of Israel."
Now it is going beyond the text to think that the people didn't care about this covenant.
The people of Israel sincerely cared about the Mosaic covenant, but, like all of us, they were unable to keep it.
So Moses came and called the elders of the people, and set before them all these words which the Lord had commanded him. 8 And all the people answered together and said, "All that the Lord has spoken we will do!" And Moses brought back the words of the people to the Lord.
If their declaration would have any criticism it could only be their lack of any expression of humble insufficiency for the tremendous task of fulfilling the condition of obedience. But they had not yet heard the Law spoken and we would have to consider that in their hearts they desired to be obedient to the Lord and would want to proclaim that desire even if they had some doubts itching in the back of their minds.
Deuteronomy summarizes this transaction and the record indicates clearly that the Lord not only approved of their response, but even regarded their frail hearts with compassion.
"And the Lord heard the voice of your words when you spoke to me, and the Lord said to me, 'I have heard the voice of the words of this people which they have spoken to you. They have done well in all that they have spoken. 29 'Oh that they had such a heart in them, that they would fear Me, and keep all My commandments always, that it may be well with them and with their sons forever!'"
It is one thing to make pledges to God, it is another thing to fulfill them. God knows our hearts. There is no use in trying to fool Him.
Draw near to Him. He knows that we are but dust. He can sympathize with our weakness. And so we failures can pursue His will.
Since then we have a great high priest who has passed through the heavens, Jesus the Son of God, let us hold fast our confession. 15 For we do not have a high priest who cannot sympathize with our weaknesses, but One who has been tempted in all things as we are, yet without sin. 16 Let us therefore draw near with confidence to the throne of grace, that we may receive mercy and may find grace to help in time of need.
For as high as the heavens are above the earth,
So great is His lovingkindness toward those who fear Him.
12 As far as the east is from the west,
So far has He removed our transgressions from us.
13 Just as a father has compassion on his children,
So the Lord has compassion on those who fear Him.
14 For He Himself knows our frame;
He is mindful that we are but dust.
15 As for man, his days are like grass;
As a flower of the field, so he flourishes.
16 When the wind has passed over it, it is no more;
And its place acknowledges it no longer.
17 But the lovingkindness of the Lord is from everlasting to everlasting on those who fear Him,
And His righteousness to children's children,
18 To those who keep His covenant,
And who remember His precepts to do them.
For the choir director; on the Gittith. A Psalm of David.
1 O Lord, our Lord,
How majestic is Thy name in all the earth,
Who hast displayed Thy splendor above the heavens!
2 From the mouth of infants and nursing babes Thou hast established strength [can mean fortress],
Because of Thine adversaries,
To make the enemy and the revengeful cease.
the children who were crying out in the temple and saying, "Hosanna to the Son of David," they became indignant, 16 and said to Him, "Do You hear what these are saying?" And Jesus said to them, "Yes; have you never read, 'Out of the mouth of infants and nursing babes Thou hast prepared praise for Thyself'?"
When I consider Thy heavens, the work of Thy fingers,
The moon and the stars, which Thou hast ordained;
4 What is man, that Thou dost take thought of him?
And the son of man, that Thou dost care for him?
5 Yet Thou hast made him a little lower than God,
And dost crown him with glory and majesty!
6 Thou dost make him to rule over the works of Thy hands;
Thou hast put all things under his feet,
7 All sheep and oxen,
And also the beasts of the field,
8 The birds of the heavens, and the fish of the sea,
Whatever passes through the paths of the seas.
9 O Lord, our Lord,
How majestic is Thy name in all the earth!
The inclusio is "O Lord, our Lord,
How majestic is Thy name in all the earth." (vv. 1+8)
That wrapping shows you what the psalm is about. In the middle is a teenage boy elected to be the king of God's client nation who is wondering why he, a nobody, is elected to rule God's kingdom. In the same way we, who are sinners, losers, lost, and hopeless, have been elected to serve God in holiness, obedience, and humility. We have no right nor reason to do so other than God's grace through Jesus Christ.
God rules the world through babbling babies.
The opening of the Book of Psalms, Psa 1-2, show us that God is going to rule the world through a Messiah, His anointed in PSA 2:2.
This Ruler, promised to David to come from Him, is promised to be a fortress to all who will take refuge in Him.
David, like infants and nursing babes (vs. 2), is powerless to be the ruler of a great and eternal kingdom of man, but the One in Psa 2 is fit for it. The Anointed will be and is, all that we could not be and need, the perfect One, the strong One, the righteous One, the one Lord. And He is for us what we have always wanted.
The ones who praised Jesus when He was in the Temple, just days before His crucifixion, were children. This is fitting as pointing to all who would truly praise Him. The authorities, the so-called grownups, would put Jesus to death. But God exalted Him above every name. The resurrected Jesus would ask His followers to follow in His mission, but in His power as a Servant of all.
The church age believer carries the same human frailty, the same nature of sin that we acquiesce to, the same inner war of flesh and Spirit, but we are under an unconditional covenant.
Wretched man that I am! Who will set me free from the body of this death? 25 Thanks be to God through Jesus Christ our Lord! So then, on the one hand I myself with my mind am serving the law of God, but on the other, with my flesh the law of sin.
8:1 There is therefore now no condemnation for those who are in Christ Jesus. 2 For the law of the Spirit of life in Christ Jesus has set you free from the law of sin and of death. 3 For what the Law could not do, weak as it was through the flesh, God did: sending His own Son in the likeness of sinful flesh and as an offering for sin, He condemned sin in the flesh, 4 in order that the requirement of the Law might be fulfilled in us, who do not walk according to the flesh, but according to the Spirit.
It is easy to understand how this confuses Christians who sincerely desire to know God's word. We're not under the Law, but under grace. But shall we continue in sin so that grace may increase? May it never be. Israel of the OT belonged to God. He loved them and elected them through Abraham.
"For you are a holy people to the Lord your God; the Lord your God has chosen you to be a people for His own possession out of all the peoples who are on the face of the earth. 7 The Lord did not set His love on you nor choose you because you were more in number than any of the peoples, for you were the fewest of all peoples, 8 but because the Lord loved you and kept the oath which He swore to your forefathers, the Lord brought you out by a mighty hand, and redeemed you from the house of slavery, from the hand of Pharaoh king of Egypt. 9 Know therefore that the Lord your God, He is God, the faithful God, who keeps His covenant and His lovingkindness to a thousandth generation with those who love Him and keep His commandments; 10 but repays those who hate Him to their faces, to destroy them; He will not delay with him who hates Him, He will repay him to his face. 11 Therefore, you shall keep the commandment and the statutes and the judgments which I am commanding you today, to do them."
He blessed them beyond any people on earth, gifted them a wonderful land, and inundated them with promises, miracles, and further promises. He gave them alone a holy and perfect Law to live by spiritually, socially, and morally. Everything they needed, and more. And as a people, they blew it. So badly, in fact, that they would actually reject and desire to murder their own promised and long awaited and anticipated Messiah. Even their faithful members failed at times and in great weakness. God doesn't change, but man is a fallen, sinful, failure.
In our age, when we blow it, we don't lose any of God's wonderful blessings because of our Lord's sacrifice. What we do lose is the reward (fruit) from following Him.
Think of yourself like Nicodemus. If he were to follow Christ, he would have likely lost his position in the Sanhedrin, his reputation, many so-called friends, probably a lot of money, and much of his then known life; but what would he have gained?
Pic: Nicodemus and Jesus: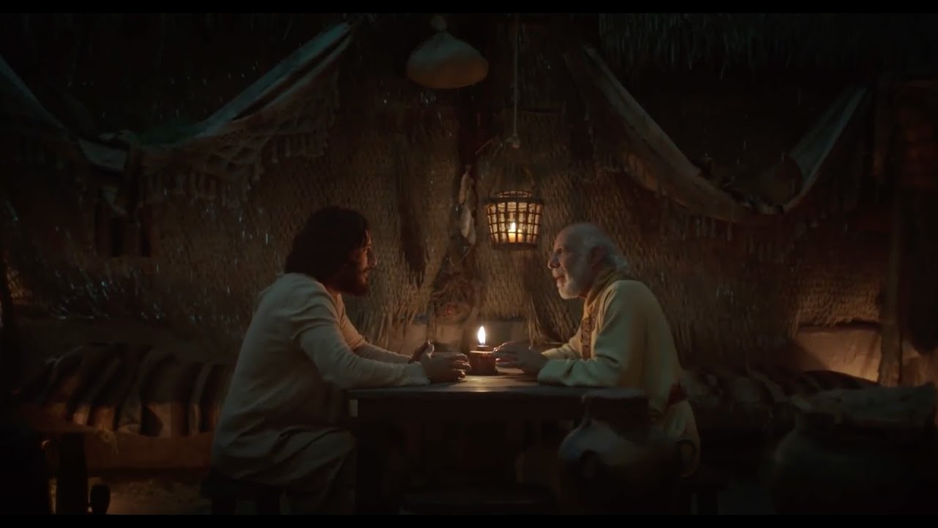 Now there was a man of the Pharisees, named Nicodemus, a ruler of the Jews; 2 this man came to Him by night, and said to Him, "Rabbi, we know that You have come from God as a teacher; for no one can do these signs that You do unless God is with him." 3 Jesus answered and said to him, "Truly, truly, I say to you, unless one is born again, he cannot see the kingdom of God." 4 Nicodemus said to Him, "How can a man be born when he is old? He cannot enter a second time into his mother's womb and be born, can he?" 5 Jesus answered, "Truly, truly, I say to you, unless one is born of water and the Spirit, he cannot enter into the kingdom of God. 6 "That which is born of the flesh is flesh, and that which is born of the Spirit is spirit. 7 "Do not marvel that I said to you, 'You must be born again.' 8 "The wind blows where it wishes and you hear the sound of it, but do not know where it comes from and where it is going; so is everyone who is born of the Spirit." 9 Nicodemus answered and said to Him, "How can these things be?" 10 Jesus answered and said to him, "Are you the teacher of Israel, and do not understand these things? 11 "Truly, truly, I say to you, we speak that which we know, and bear witness of that which we have seen; and you do not receive our witness. 12 "If I told you earthly things and you do not believe, how shall you believe if I tell you heavenly things? 13 "And no one has ascended into heaven, but He who descended from heaven, even the Son of Man. 14 "And as Moses lifted up the serpent in the wilderness, even so must the Son of Man be lifted up; 15 that whoever believes may in Him have eternal life.
16 "For God so loved the world, that He gave His only begotten Son, that whoever believes in Him should not perish, but have eternal life. 17 "For God did not send the Son into the world to judge the world, but that the world should be saved through Him. 18 "He who believes in Him is not judged; he who does not believe has been judged already, because he has not believed in the name of the only begotten Son of God. 19 "And this is the judgment, that the light is come into the world, and men loved the darkness rather than the light; for their deeds were evil. 20 "For everyone who does evil hates the light, and does not come to the light, lest his deeds should be exposed. 21 "But he who practices the truth comes to the light, that his deeds may be manifested as having been wrought in God."
Let human nature have its way, and every man knows that it is not the kingdom of God that it takes him to. It does not come natural to man to be what he ought to be to God. Flesh in God's presence is out of its element like a fish out of water. We must be born again, born of water (washing away of our sins) and Spirit (being spiritual men).
Natural man is alienated from God. Paul says that Adam was a "living soul," meaning that he was natural, not possessing a quickening Spirit as the last Adam possessed. To be with God, to be in His kingdom, we must be given a brand new nature. The old nature has no place in His kingdom.