Ephesians 4:3-6; One Lord – Some of His titles, part 2.
---
EPHESN-1-210302
length:
67:34
- taught on
Mar, 2 2021
---
Class Outline:
Tuesday March 2, 2021
Christ is the Chief Cornerstone in relation to the stones in the building.
Christ is symbolized in the smitten rock from which flow rivers of living water, 1Co 10. Because the Rock supplies our every need and blesses us with the only real blessings in life, "we should not crave evil things." (1CO 10:6)
In relation to His first advent He was a stumbling stone to the Jews. At His second coming He will be the head cornerstone in Israel. Presently He is the foundation and the chief cornerstone for the church.
In DAN 2:34-35, the Lord is the stone cut without hands and symbolizes a kingdom that will fill the whole earth, which depicts His second coming, emphasizing again His sovereign authority.
In 1Pe 2, Christ is described as a living stone, as are the believers who are stones in His spiritual house.
He is resurrected and so are we with Him, and so He is a stone forever.
Therefore, putting aside all malice and all guile and hypocrisy and envy and all slander, 2 like newborn babes, long for the pure milk of the word, that by it you may grow in respect to salvation, 3 if you have tasted the kindness of the Lord [if you are a believer]. 4 And coming to Him as to a living stone, rejected by men [don't be shocked], but choice and precious in the sight of God, 5 you also, as living stones, are being built up as a spiritual house for a holy priesthood, to offer up spiritual sacrifices acceptable to God through Jesus Christ. 6 For this is contained in Scripture [ISA 28:16]:
"Behold I lay in Zion a choice stone, a precious corner stone,
And he who believes in Him shall not be disappointed."
7 This precious value, then, is for you who believe. But for those who disbelieve [PSA 118:22 (the end of the Hallel)],
"The stone which the builders rejected,
This became the very corner stone,"
8 and [ISA 8:14],
"A stone of stumbling and a rock of offense";
for they stumble because they are disobedient to the word, and to this doom they were also appointed.
Israel, whom Isaiah prophesied to, rejected God and His promises and they trusted in whatever treaties they could make with neighboring nations. They rejected the stone that would become the foundational stone of the one true and great and lasting Kingdom and instead they relied on earthly armaments and partnerships.
A kingdom, even God's one client nation, will fall if the one Lord is not the cornerstone.
Pic: Assyrian conquest of an Israel without the Cornerstone (721 B.C.)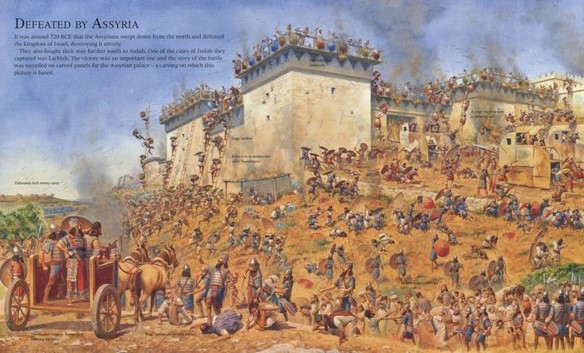 Pic: Map of invasion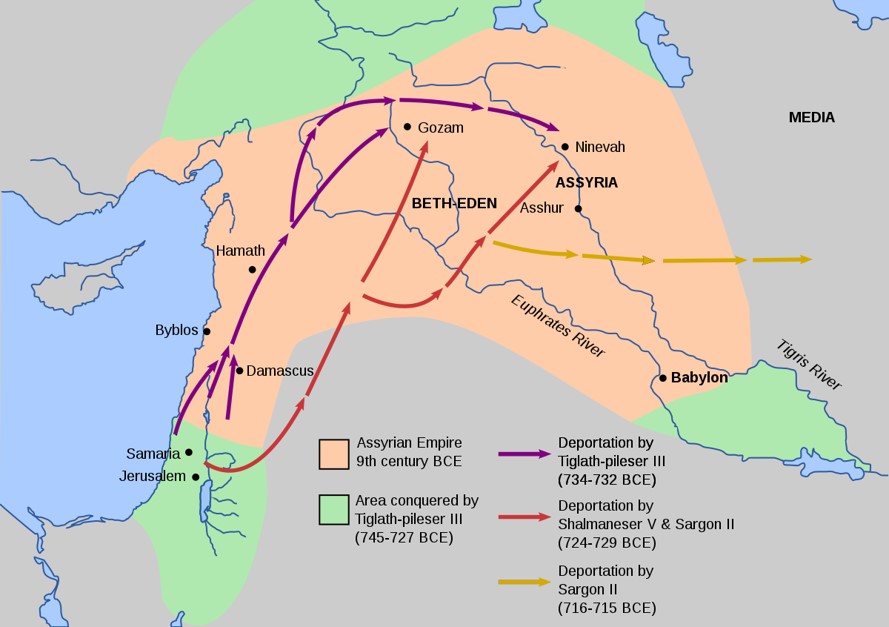 Pic: Sennacherib celebrating the conquest of Lachish (just southwest of Jerusalem) 701 B.C.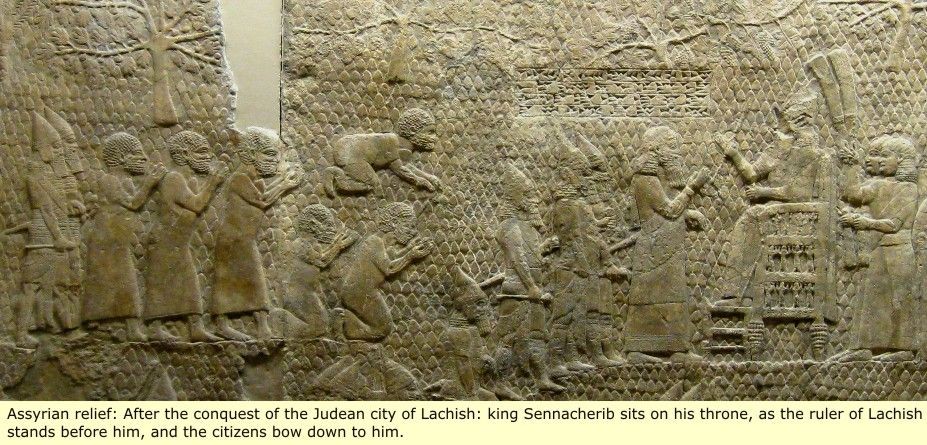 In the next line of prophecy, God told them that they would be shattered. The Cornerstone cannot be shattered, but earthly materials, hopes, and deals are as fragile as egg shells before God.
Christ is the High Priest of the royal priesthood.
Christ is more of a priest in a literal sense than He is a vine or a stone, or even a shepherd. Therefore, His priesthood is much more than a symbol of truth. He is literally the High Priest.
It is important to understand the nature of what a priest should be.
Priest: "One who is duly qualified to minister in sacred things, particularly to offer sacrifices at the altar, and to act as mediator between man and God." (Moorehead)
One might wonder why there is a need for a priest. One reason must be the vast difference between God and man, even though man has been made in God's image, but even more so is the need of fallen man. Perfect God and fallen man are so distant from one another that to bring man back to God, a Mediating Priest must exist, and as it turns out, containing the nature of both parties.
His priesthood is described as an eternal one, therefore, even after believers are sinless and unstained in resurrection bodies in a pure universe, Christ continues to be our High Priest. Christ is a Priest eternally in the same sense that He is the Savior eternally.
It is also important to know that Christ's priesthood was not inherited from another as Aaron's priesthood was. Jesus was born into the royal tribe of Judah and not the priestly tribe of Levi. Christ's priesthood is according to the order of Melchizedek. Since He is an eternal Priest, there are no successors. And Melchizedek, the type, appears on the pages of scripture as if without origin or ancestors and disappears as if without end.
Without father, without mother, without genealogy, having neither beginning of days nor end of life, but made like the Son of God, he abides a priest perpetually.
And the former priests, on the one hand, existed in greater numbers, because they were prevented by death from continuing, 24 but He, on the other hand, because He abides forever, holds His priesthood permanently. 25 Hence, also, He is able to save forever those who draw near to God through Him, since He always lives to make intercession for them.
One Lord means there is one High Priest. There is no other, neither before or after Him.
Christ also fulfilled Aaron's priesthood in that He ministered in the heavenly sphere, He administered a new and better covenant, and offered a final and complete sacrifice. Aaron ministered on earth, administered a lesser covenant, and had to continually offer sacrifices, day by day and year by year because the blood of animals did not atone for sin. Christ, the one Lord and one High Priest fulfilled our needs before God fully.
The Aaronic priesthood was designed by God to point to Christ and reveal what Christ would come to fulfill in order to reconcile man to God.
So, the Aaronic priesthood is done away with and the priesthood of Christ replaces it, becoming the only priesthood, and Christ's priests are the members of His body - a kingdom of priests.
We have what Israel could only dream of. No more cleansing rituals, we have been made clean. No more blood sacrifice, the one true sacrifice has come and it is for us. No more barrier between man and God, no more veil, all believers are in Christ and Christ is in them. No more separation from the camp due to coming into contact with the unclean, we are one and united to the Lord, the Head, and the body forever. An Aaronic priest from the OT thrust into our position would marvel. We must not take these blessings in Christ for granted.
The One High Priest's one sacrifice - He offered Himself.
Christ is both the Lamb and the Priest. In His death He fulfilled the three major works represented in the sacrifice, namely 1) the redemption which God demanded, 2) the propitiation which met all the righteous demands of a holy God in relation to human sin, and 3) reconciliation in the sense that He provided reconciliation for the entire world.
The Roman Catholic teaching, as well as some Protestant teaching of a perpetual offering as represented in the doctrine of the mass is a terrible misunderstanding and unfortunate, since the one sacrifice for all for mankind, without the need for another, can be easily understood and can have a great impact upon people. This false doctrine of offering the sacrifice week after week creates a need for an earthly priesthood similar to Aaron's and denies the universal priesthood of every believer who has been once and for all redeemed, reconciled to God, and justified.
All cleansing on earth and in heaven is on the basis of the blood of Christ given for mankind on Calvary, and that the work of Christ in sacrifice was finished when He died.
The one High Priest intercedes for us continually.
The two passages that state this say that Christ ever lives to continually intercede for us. The word intercession means that it is prayer. The many questions that would arise from this fact are not addressed and speculation is futile. Christ prayed to the Father on earth and the same is said of Him now that He sits at the Father's right hand.
Despite the limited understanding we have of it, the wonderful results of the intercession give assurance to the believer of security in Christ, comfort in eternal salvation, comfort knowing that it affords protection from spiritual and physical dangers in life. How many of our spiritual triumphs were the result of Christ's intercession for us?
The royal priesthood of the believer is a result of Christ being the High Priest. We are to do the work of priests - sacrifices and intercession.
We are made priests for a reason. We are sons and daughters, Christ's bride, stones in the building, members of the Kingdom, ambassadors, and priests. We are to function as priests - offering sacrifice and intercession.
I urge you therefore, brethren, by the mercies of God, to present your bodies a living and holy sacrifice, acceptable to God, which is your spiritual service of worship. 2 And do not be conformed to this world, but be transformed by the renewing of your mind, that you may prove what the will of God is, that which is good and acceptable and perfect.
Sacrifices of the believer priest - his body as a living sacrifice (ROM 12:1).
The believer priest is to sacrifice his body as a living sacrifice, which God considers to be holy and acceptable to God for the reason that the believer himself is cleansed by the blood of Christ.
It is called reasonable because it is the norm, or what is expected by someone made a priest.
To present our bodies as living sacrifices, holy and acceptable, we must surrender our hearts, minds, and body to the Lord as a living sacrifice, for only that is proper.