Ruth 4:14-15. God intervenes in every life.
---
RUTH-4-180814
length:
62:40
- taught on
Aug, 14 2018
---
Class Outline:
Tuesday August 14, 2018
Title: Ruth 4:14-15. God intervenes in every life.
The kinsman redeemer in the OT delivers or rescues the needy. He redeems property or persons and even avenges the murder of a relative.
Goel (redeemer) is deliverer/savior/vindicator in the OT. Jesus makes salvation, deliverance, and vindication a reality for all who believe in Him.
He redeems your life from the pit. All who fear Him will live and walk in the blessedness of that redemption.
PSA 103:1 A Psalm of David
Bless the Lord, O my soul; And all that is within me, bless His holy name.
PSA 103:2 Bless the Lord, O my soul, And forget none of His benefits;
PSA 103:3 Who pardons all your iniquities; Who heals all your diseases;
PSA 103:4 Who redeems your life from the pit; Who crowns you with lovingkindness and compassion;
PSA 103:5 Who satisfies your years with good things, So that your youth is renewed like the eagle.
There is nothing that the soul is more prone to forget than to render thanksgiving to God for His benefits.
PSA 103:6 The Lord performs righteous deeds, And judgments for all who are oppressed.
PSA 103:7 He made known His ways to Moses, His acts to the sons of Israel.
PSA 103:8 The Lord is compassionate and gracious, Slow to anger and abounding in lovingkindness.
PSA 103:9 He will not always strive with us; Nor will He keep His anger forever.
PSA 103:10 He has not dealt with us according to our sins, Nor rewarded us according to our iniquities.
PSA 103:11 For as high as the heavens are above the earth, So great is His lovingkindness toward those who fear Him.
PSA 103:12 As far as the east is from the west, So far has He removed our transgressions from us.
PSA 103:13 Just as a father has compassion on his children, So the Lord has compassion on those who fear Him.
PSA 103:14 For He Himself knows our frame; He is mindful that we are but dust.
PSA 103:15 As for man, his days are like grass; As a flower of the field, so he flourishes.
When the flower is at its fullest bloom it is at the beginning of its fading.
Charm is deceitful and beauty is vain,
But a woman who fears the Lord, she shall be praised.
PSA 103:16 When the wind has passed over it, it is no more; And its place acknowledges it no longer.
PSA 103:17 But the lovingkindness of the Lord is from everlasting to everlasting on those who fear Him, And His righteousness to children's children,
PSA 103:18 To those who keep His covenant, And who remember His precepts to do them.
Man is frail like the flower. The wind is the emblem of every peril against him. When he dies there is no trace of him. But the Lord has lifted His saints above the transitory world to the eternal.
PSA 103:19 The Lord has established His throne in the heavens; And His sovereignty rules over all.
The Lord's throne is above it all. It is above the frailty, the lies, the scheming, the sin, evil, and death. We are seated with Him above it all. He is our Redeemer, Savior, and Vindicator.
PSA 103:20 Bless the Lord, you His angels, Mighty in strength, who perform His word, Obeying the voice of His word!
The angels are used by David as a picture of what God's people should be. They are also above the earth and not enslaved to it. They are mighty in strength, and yet, they live only to serve God.
PSA 103:21 Bless the Lord, all you His hosts, You who serve Him, doing His will.
PSA 103:22 Bless the Lord, all you works of His, In all places of His dominion; Bless the Lord, O my soul!
The hosts are also angels, perhaps of a different rank or order, but they also do His will and serve Him.
Bless the Lord all you works of His refers to the creation. The sun, moon, stars, earth and all that they contain. They all attest to His glory. Yet, they cannot intelligently sympathize with God's purposes; only man can do that.
And then David comes right back to his own soul. He begins with "bless the Lord O my soul," and then bless the Lord you His angels, you His hosts, you His works, and "bless the Lord O my soul."
RUT 4:14 Then the women said to Naomi, "Blessed is the Lord who has not left you without a redeemer [goel] today, and may his name become famous in Israel.
RUT 4:15 May he also be to you a restorer of life and a sustainer of your old age; for your daughter-in-law, who loves you and is better to you than seven sons, has given birth to him."
What makes all of these things sweeter still is that fact that Ruth, who did all that led to this state of blessing, loves Naomi dearly. The child is a product of love or of chesed.
The Mosaic Law commanded that Israel love the foreigner, but here the foreigner is loving Israel.
Ruth is more a Jew than most in terms of the spirit of the law of God.
LEV 19:33 'When a stranger resides with you in your land, you shall not do him wrong.
LEV 19:34 'The stranger who resides with you shall be to you as the native among you, and you shall love him as yourself; for you were aliens in the land of Egypt: I am the Lord your God.
None of us maintain happiness and the spirit of life without the very real and experienced intervention of God.
Some would have it that God need not do anything in our lives and that we always believe His word and His promises and so will always be full of hope and joy, but reality paints a different life. I would love it if that were true, but I have not met one Christian who has advanced in their relationship with God, has come to love the Lord with all their heart, who has not needed direct intervention by the Lord into their lives.
I can't image our relationship to God to be real without this. This was true of Paul of Peter and of everyone else.
1CO 2:1 And when I came to you, brethren, I did not come with superiority of speech or of wisdom, proclaiming to you the testimony of God.
1CO 2:2 For I determined to know nothing among you except Jesus Christ, and Him crucified.
1CO 2:3 And I was with you in weakness and in fear and in much trembling.
map of 2nd missionary journey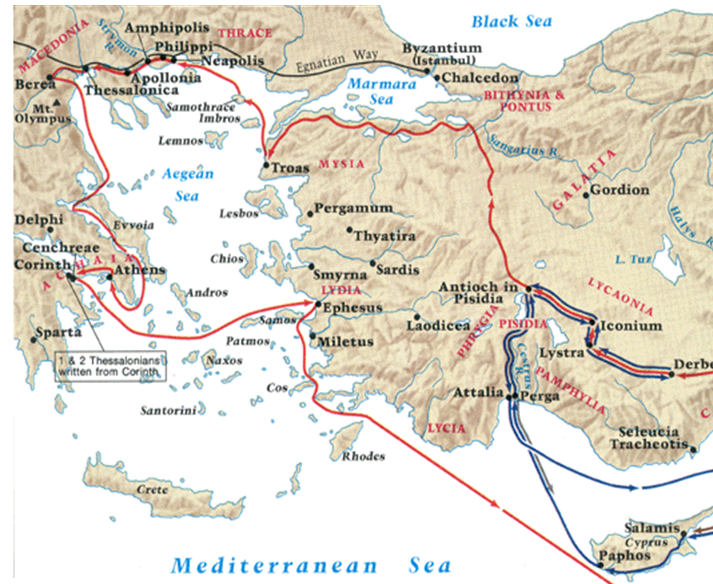 Paul traveled from Athens to Corinth in a mood of dejection. He had been driven from one Macedonian city to the next. It seemed, at least for the time being, that there was no place for him in Macedonia. He left behind small churches that immediately gained persecution and he had misgivings about their well-being. Athens didn't deal with him in violence, but was polite amusement and dismissal even worse? At least if there is violence you know that the gospel is having some effect.
Paul would have known, just as any traveler in the Aegean Sea, the reputation of Corinth, and he would have thought it to be unsuitable soil for the gospel. Paul came to know that through Corinth was not on his own program, it was definitely on God's program.
A dejected Paul is personally encouraged by the Lord.
ACT 18:1 After these things he left Athens and went to Corinth.
ACT 18:2 And he found a certain Jew named Aquila, a native of Pontus, having recently come from Italy with his wife Priscilla, because Claudius had commanded all the Jews to leave Rome. He came to them,
ACT 18:3 and because he was of the same trade, he stayed with them and they were working; for by trade they were tent-makers.
ACT 18:4 And he was reasoning in the synagogue every Sabbath and trying to persuade Jews and Greeks.
ACT 18:5 But when Silas and Timothy came down from Macedonia, Paul began devoting himself completely to the word, solemnly testifying to the Jews that Jesus was the Christ.
ACT 18:6 And when they resisted and blasphemed, he shook out his garments and said to them, "Your blood be upon your own heads! I am clean. From now on I shall go to the Gentiles."
ACT 18:7 And he departed from there and went to the house of a certain man named Titius Justus, a worshiper of God, whose house was next to the synagogue.
ACT 18:8 And Crispus, the leader of the synagogue, believed in the Lord with all his household, and many of the Corinthians when they heard were believing and being baptized.
ACT 18:9 And the Lord said to Paul in the night by a vision, "Do not be afraid any longer, but go on speaking and do not be silent;
ACT 18:10 for I am with you, and no man will attack you in order to harm you, for I have many people in this city."
ACT 18:11 And he settled there a year and six months, teaching the word of God among them.
We might berate Paul for not being tougher and more trusting. Sure, things looked gloomy in Greece, but look who has promised that He would build His church. Come on Paul, toughen up!
Some may want to say something like that to Paul but would hate to hear it themselves. And anyone who would say that to Paul would not have striven in the plan of God under a calling that demanded his whole life's commitment.
The reality of every Christian's life is that at times he needs direct intervention by God.
He appeared to Cephas, then to the twelve.
Can we imagine the impact that a year and a half in Corinth had on Paul? We tend to think of him as static spiritually, but we must remember that he grows in grace and knowledge like we all do. Ministering to the Corinthians had to have deepened Paul's compassion and advanced his ability to shepherd a body of Christians.
Because of God's intervention, Paul was not afraid, and so he rolled up his sleeves and got to work and fruit was born, not just in Corinth or in Paul, but for the whole world.
RUT 4:14 Then the women said to Naomi, "Blessed is the Lord who has not left you without a redeemer today, and may his name become famous in Israel.
RUT 4:15 May he also be to you a restorer of life and a sustainer of your old age; for your daughter-in-law, who loves you and is better to you than seven sons, has given birth to him."
In a society that preferred sons over daughters this praise of Ruth shows the amount of respect the women of Bethlehem have for her.
Seven is used to mean full. The meaning would be a house full of sons. They claim that one Ruth is better than a house full of sons. Ruth is exceptional. She is just like the woman of Pro 31 and what every Christian woman or man should be.
RUT 4:16 Then Naomi took the child and laid him in her lap, and became his nurse.
The English has this far too mildly. Naomi took the child in her bosom.