Judges 18. The first appendix: The tribe of Dan seeks land that God hasn't given.
---
JOSJUD-18-171101
length:
63:44
- taught on
Nov, 1 2017
---
Class Outline:
Title: Judges 18. The first appendix: The tribe of Dan seeks land that God hasn't given.
JDG 18:7 Then the five men departed and came to Laish and saw the people who were in it living in security, after the manner of the Sidonians, quiet and secure; for there was no ruler humiliating them for anything in the land, and they were far from the Sidonians and had no dealings with anyone.
Laish was under the rule and umbrella of Sidon, but they were far apart and between them were the Lebanese mountains. The Sidonians were occupied with maritime trade and didn't bother Laish.
The land is well watered and fertile. It is surrounded by mountains, the great Mt. Hermon in the northeast. No one exercised authority over them and they prospered greatly. The Sidonians were making tons of money in the Mediterranean trade and didn't have the time or the need to oppress and tax Laish. The Arameans/Syrians to the north also didn't oppress them since the surrounding mountains made it difficult to do so. The Laishians lived in isolation in a lush, beautiful, and prosperous place, but Dan will now attack them and there will be no one to help protect Laish.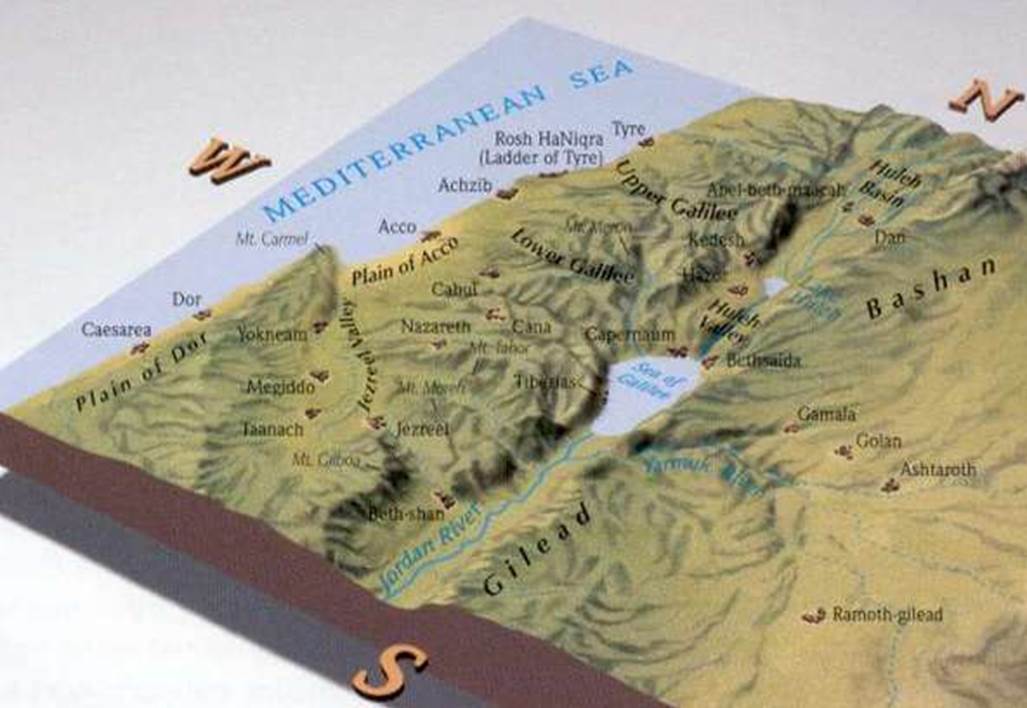 Dan is willing to fight an unsuspecting peaceful settlement that has no defenses, but they would not fight the Amorites and Philistines in order to take the land allotted to them by God.
JDG 1:34 Then the Amorites forced the sons of Dan into the hill country, for they did not allow them to come down to the valley
This the stuff that bullies are made out of. Bullies are actually weak. They never bully someone strong. Their own weakness haunts them, for all in the tribe of Dan knew that they were forced into the hills by a people that God said He would remove if they would only fight them. Their remedy for their pained conscience is to find a weak opponent, a sure win, and fight them and then boast of their strength.
The spies return to Dan and report their finding.
JDG 18:8 When they came back to their brothers at Zorah and Eshtaol, their brothers said to them, "What do you report?"
JDG 18:9 And they said, "Arise, and let us go up against them; for we have seen the land, and behold, it is very good. And will you sit still? Do not delay to go, to enter, to possess the land.
JDG 18:10 When you enter, you shall come to a secure people with a spacious land; for God has given it into your hand, a place where there is no lack of anything that is on the earth."
These are godless people claiming that God is giving them something that they are getting for themselves.
We see this often enough in the Bible and also examples in our own time.
The Danites would rule this land for about 400 years until the Assyrians under Tiglath Pileser III drove them away. Although it is one of the more beautiful places in the world, and one can imagine why Dan would want it while getting away from the Philistines, the fact remains that this land was not allotted to them. It should have been occupied by the tribes of Naphtali and East Manasseh, but like Dan, they were unwilling to conquer all of their allotted land.
JDG 18:11 Then from the family of the Danites, from Zorah and from Eshtaol, six hundred men armed with weapons of war set out.
JDG 18:12 And they went up and camped at Kiriath-jearim in Judah. Therefore they called that place Mahaneh-dan ["camp of Dan"] to this day; behold, it is west of Kiriath-jearim.
JDG 18:13 And they passed from there to the hill country of Ephraim and came to the house of Micah.
They first travelled west and then north through the steppes of Ephraim, to the Jordan valley and then north again to the Hula Valley. This is the best route.
600 men is not the entire army, but likely the attack force of mighty men to take Laish. The entire tribe follows behind the 600.
We soon find out why they come upon the house of Micah.
The Lord is going to use the tribe of Dan to discipline Micah and his house for their syncretism of Jehovah with paganism.
The elders of Dan have been told of the cult temple and the priest, whom they know, ministering in it. They have heard of the silver calf and the ephod. They want these things along with the Levite to be their own cult center. In their minds they can take the land and put their own temple in it, which to their thinking will bring the blessings of Jehovah upon them.
JDG 18:14 Then the five men who went to spy out the country of Laish answered and said to their kinsmen, "Do you know that there are in these houses an ephod and household idols and a graven image and a molten image? Now therefore, consider what you should do."
JDG 18:15 And they turned aside there and came to the house of the young man, the Levite, to the house of Micah, and asked him of his welfare.
JDG 18:16 And the six hundred men armed with their weapons of war, who were of the sons of Dan, stood by the entrance of the gate.
They begin to win over and recruit the Levite while the 600 men stand at the gate for intimidation.
JDG 18:17 Now the five men who went to spy out the land went up and entered there, and took the graven image and the ephod and household idols and the molten image, while the priest stood by the entrance of the gate with the six hundred men armed with weapons of war.
They are guilty of god-napping and yet never considered how gods that could be stolen could be of any use to them.
Pagans aren't smart. God taunts Israel with a similar argument.
ISA 44:12 The man shapes iron into a cutting tool, and does his work over the coals, fashioning it with hammers, and working it with his strong arm. He also gets hungry and his strength fails; he drinks no water and becomes weary.
ISA 44:13 Another shapes wood, he extends a measuring line; he outlines it with red chalk. He works it with planes, and outlines it with a compass, and makes it like the form of a man, like the beauty of man, so that it may sit in a house.
ISA 44:14 Surely he cuts cedars for himself, and takes a cypress or an oak, and raises it for himself among the trees of the forest. He plants a fir, and the rain makes it grow.
ISA 44:15 Then it becomes something for a man to burn, so he takes one of them and warms himself; he also makes a fire to bake bread. He also makes a god and worships it; he makes it a graven image, and falls down before it.
ISA 44:16 Half of it he burns in the fire; over this half he eats meat as he roasts a roast, and is satisfied. He also warms himself and says, "Aha! I am warm, I have seen the fire."
ISA 44:17 But the rest of it he makes into a god, his graven image. He falls down before it and worships; he also prays to it and says, "Deliver me, for thou art my god."
They are going to look to these gods for deliverance from enemies, from disease, from famine. They will ask them to send rain, increase fertility of land and people, bless them financially. All asked to a thing that can be stolen or burned.
JDG 18:18 And when these went into Micah's house and took the graven image, the ephod and household idols and the molten image, the priest said to them, "What are you doing?"
As they are carting out the objects, the priest makes a mild objection, but he is told to hold his tongue as the 600 men, dressed and armed for war, gaze at him.
JDG 18:19 And they said to him, "Be silent, put your hand over your mouth and come with us, and be to us a father and a priest. Is it better for you to be a priest to the house of one man, or to be priest to a tribe and a family in Israel?"
JDG 18:20 And the priest's heart was glad, and he took the ephod and household idols and the graven image, and went among the people.
This Levite has only ever been looking for good employment as a priest. To be a head priest over a tribe is a jackpot for him.
Dan would actually set up a tabernacle to rival the one in Shiloh as we see being suggested in verse 31. Jonathan served the false tabernacle and his sons after him. Some years after Jonathan, the first king of Israel, Jeroboam, would set up his own golden calf worship in that very temple.
In just a few generations, Jeroboam, first king of the Northern Kingdom of Israel, would set up his golden calf worship at the tabernacle in Dan (Laish).
1KI 12:25 Then Jeroboam built [fortified] Shechem in the hill country of Ephraim, and lived there. And he went out from there and built [fortified] Penuel.
1KI 12:26 And Jeroboam said in his heart, "Now the kingdom will return to the house of David.
1KI 12:27 If this people go up to offer sacrifices in the house of the Lord at Jerusalem, then the heart of this people will return to their lord, even to Rehoboam [Solomon's son and heir] king of Judah; and they will kill me and return to Rehoboam king of Judah."
1KI 12:28 So the king consulted, and made two golden calves, and he said to them, "It is too much for you to go up to Jerusalem; behold your gods, O Israel, that brought you up from the land of Egypt."
He actually ascribes to the calves the name of Yavah.
Jeroboam has in mind the calf constructed by Aaron at Sinai.
And he took this from their hand, and fashioned it with a graving tool, and made it into a molten calf; and they said, "This is your god, O Israel, who brought you up from the land of Egypt."
This reveals how evil increases as the tabernacle of Dan turned into a nationwide system of pagan worship.
There is no one in this part of the history who has any godly desire, any worship of God, nor any honor before God. Every one of them is out for himself.
The Levite not only ditches his employer who blessed him, but he also stole from him. Dan takes without considering any laws of possession. Micah received a silver calf and called it Jehovah.
Micah will step out to protest, but there is nothing he can do against the army.
JDG 18:21 Then they turned and departed, and put the little ones and the livestock and the valuables in front of them.
They put the women and children out front so that they could not be attacked from the rear.
JDG 18:22 When they had gone some distance from the house of Micah, the men who were in the houses near Micah's house assembled and overtook the sons of Dan.
Micah's household and his neighbors - his neighbors likely worshipped at Micah's cult temple.
JDG 18:23 And they cried to the sons of Dan, who turned around and said to Micah, "What is the matter with you, that you have assembled together?"
That's a pretty stupid question. Of course they know why Micah has chased them down. They took his priest and all his temple valuables.
JDG 18:24 And he said, "You have taken away my gods which I made, and the priest, and have gone away, and what do I have besides? So how can you say to me, 'What is the matter with you?'"
"What do I have besides?" This question says it all about the condition of the people of Israel.
Like the Danites, Micah doesn't consider that gods who could be stolen have no power and could not therefore be of any use to him.
It's like someone locking up Jesus before He could get to the cross and so is able to foil the whole plan of salvation. It's preposterous if Jesus is God. Dan takes a priest who is disloyal to his employer. What makes them think that he wouldn't leave them? They take gods who can be stolen. What good are they to them if they are so frail? It is as if these common sense thoughts never enter their minds.
JDG 18:25 And the sons of Dan said to him, "Do not let your voice be heard among us, lest fierce men fall upon you and you lose your life, with the lives of your household."
JDG 18:26 So the sons of Dan went on their way; and when Micah saw that they were too strong for him, he turned and went back to his house.
Micah entered the story as a thief and he becomes the victim of theft. They stole the very silver that he had stolen.
God openly and blatantly teaches us the reap what you sow principle.
The gods not only didn't help Micah, but they needed to be rescued by him.
If the gods can't protect themselves, how can they protect Micah and his family. It is like when Indiana Jones goes into the temple in the beginning of the first movie in order to snatch the little golden god. The protection all around the god are booby traps installed by the people who worshipped it.
The Danite conquest and the making of the Danite temple of idolatry.
This history is being recorded in order to inform us about the spiritual condition of Israel and what men, blessed immeasurably by God, are capable of doing.