Doctrine of the New Covenant.
---
DOCTRINE OF THE NEW COVENAT-1-170903
length:
94:13
- taught on
Sep, 3 2017
---
Class Outline:
Title: Doctrine of the New Covenant.
Covenants made with Israel:
Abrahamic, Davidic, Palestinian - unconditional.
Mosaic - conditional.
New - supersedes Mosaic, unconditional.
Many dispensationalists believe that there are two new covenants, one for Israel and one for the church.
Other dispensationalists believe that there is only one New Covenant and not two.
In the one New Covenant view, the physical promises are limited to Jews only but the spiritual blessings were to be extended to the Gentiles, which the church is now enjoying.
It must be said straight out that this has nothing to do with Covenant Theology, which wrongly claims that the church has received the fulfillment of the covenants made with Israel and so the church has replaced Israel in receiving the promises. However, errors can be made when refuting false doctrines by taking a stance as far away from the false as possible, even if that stance has falsehood in it. We are to seek truth from God's revelation. We are not called to only refute error. Knowing the truth will refute all errors.
It must also be stated straight away that this covenant is fulfilled by the Lord to Israel during His literal one-thousand year reign on earth, known as the Millennium.
Spiritual blessings of the NC: the indwelling Spirit; the union and communion with God the Father; and, having sins forgiven to the point of no condemnation.
The question that must be answered in order to maintain the seamlessness of the Bible as well as the integrity of God's promises is that if the spiritual blessings of the New Covenant are extended to the church, does that mean that the church fulfills the covenant? If the physical promises go unfulfilled then the church cannot fulfill the covenant, making its fulfillment to still be yet in the future. The covenant must have a literal fulfillment to Israel and the only time that that can occur is during the Millennial reign of Christ.
Dispensation chart.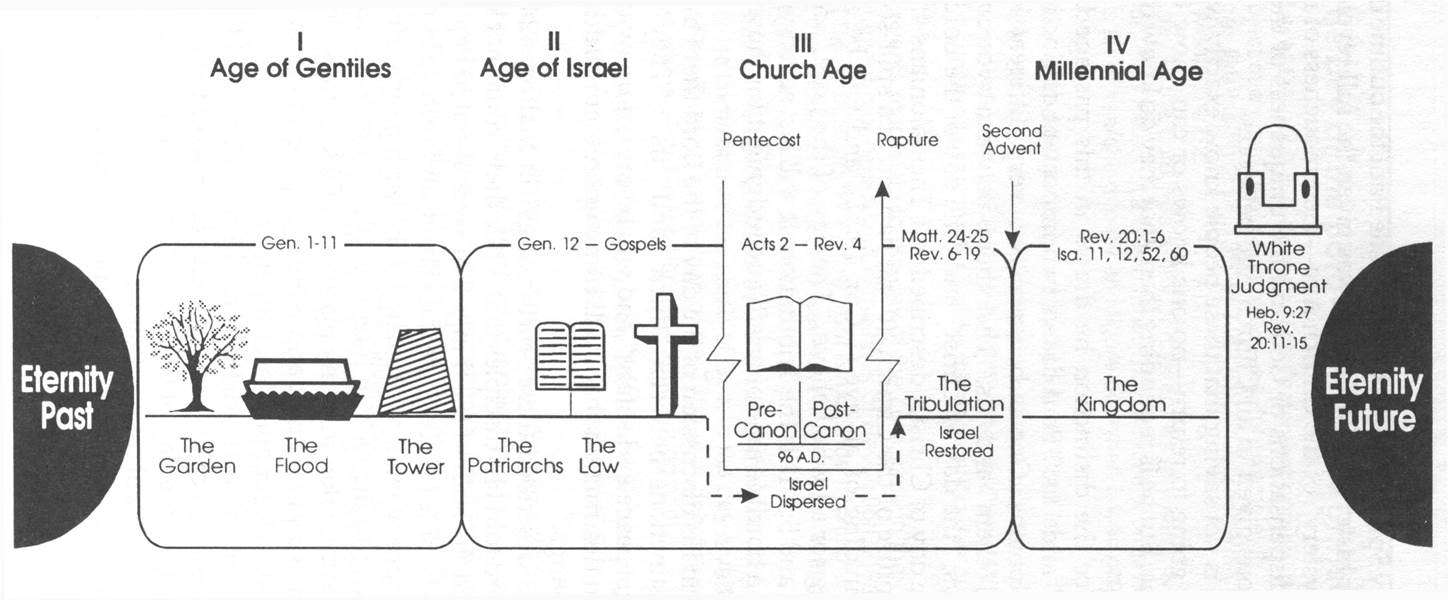 Before we dive in deeper, let's look at the passages that mention the NC in the OT.
New Covenant scriptures in the OT. JER 31:31-34 is the main passage and other passages give more detail.
JER 31:31 "Behold, days are coming," declares the Lord, "when I will make a new covenant with the house of Israel and with the house of Judah,
Jer 31: It is clear that this covenant is made with Israel.
JER 31:32 not like the covenant which I made with their fathers in the day I took them by the hand to bring them out of the land of Egypt, My covenant which they broke, although I was a husband to them, "declares the Lord.
Jer 31: The NC, which is unconditional, will supersede the Mosaic covenant, which was conditional.
JER 31:33 "But this is the covenant which I will make with the house of Israel after those days," declares the Lord, "I will put My law within them, and on their heart I will write it; and I will be their God, and they shall be My people.
JER 31:34 "And they shall not teach again, each man his neighbor and each man his brother, saying, 'Know the Lord,' for they shall all know Me, from the least of them to the greatest of them," declares the Lord, "for I will forgive their iniquity, and their sin I will remember no more."
It doesn't say that they won't teach each other, but they will not have to admonish one another to know the Lord. Since they will be indwelt by the Spirit, the word of God will be everywhere available without hindrance, and they will not experience the opposition that comes in this age from the world and Satan and the KOD, they shall all know the Lord. It is still a matter of them choosing to believe and choosing to hear the truth, but so much of the opposition will be removed that all the believers will have a good knowledge of the Lord.
Jer 31: truth written on their hearts, forgiveness of all sin as opposed to having it covered.
For the sake of time we will not read all of the passages in which the blessings of this covenant are mentioned. It is an extension of the Abrahamic Covenant in which both spiritual and material blessings are given. Since we are concerned in our study with the spiritual blessings, we will read those passages, and summarize the physical blessings here.
Israel will be gathered from the Diaspora into the land, Jesus will physically sit on the throne of David, there will be great material blessings, the sanctuary will be rebuilt, war shall cease, and peace shall reign.
We could go into a lot more detail, but that suffices for now.
The gravest problem is this world is that men's souls are in chaos. They lack true peace. They seek and lust for fulfillment and never find it. They are incomplete and independent. They are more connected than ever by technology, but more alone and searching than ever. They are full of fear and pain. They lack contentment and any basis for it. It's a terrible plague.
What is promised to Israel physically, the King on the throne, no war, reigning peace, prosperity, etc. should be within the soul of every man now. It has been made available to every man, but only through Christ. The greatest lie in the world is that man can find fulfillment and peace in his soul without Christ and that he is sufficient to accomplish this himself.
Spiritual blessings of the New Covenant: (added to the truth written on their hearts and all sins forgiven from Jer 31) one heart and one way and the fear of God.
JER 32:37 "Behold, I will gather them out of all the lands to which I have driven them in My anger, in My wrath, and in great indignation; and I will bring them back to this place and make them dwell in safety.
JER 32:38 "And they shall be My people, and I will be their God;
JER 32:39 and I will give them one heart and one way, that they may fear Me always, for their own good, and for the good of their children after them.
JER 32:40 "And I will make an everlasting covenant with them that I will not turn away from them, to do them good; and I will put the fear of Me in their hearts so that they will not turn away from Me.
JER 32:41 "And I will rejoice over them to do them good, and I will faithfully plant them in this land with all My heart and with all My soul.
A new heart and the indwelling of the Holy Spirit who will perform the power to walk in His commands.
ISA 59:20 "And a Redeemer will come to Zion,
And to those who turn from transgression in Jacob," declares the Lord.
ISA 59:21 "And as for Me, this is My covenant with them," says the Lord: "My Spirit which is upon you, and My words which I have put in your mouth, shall not depart from your mouth, nor from the mouth of your offspring, nor from the mouth of your offspring's offspring," says the Lord, "from now and forever."
EZE 36:26 "Moreover, I will give you a new heart and put a new spirit within you; and I will remove the heart of stone from your flesh and give you a heart of flesh.
EZE 36:27 "And I will put My Spirit within you and cause you to walk in My statutes, and you will be careful to observe My ordinances.
EZE 36:28 "And you will live in the land that I gave to your forefathers; so you will be My people, and I will be your God.
The blood of Christ is the foundation of all of the blessings of the New Covenant.
ZEC 9:11 As for you also, because of the blood of My covenant with you, I have set your prisoners free from the waterless pit.
The church is also given the word to be upon their hearts, the complete remission of sins, one heart and way in unity, a new heart, the indwelling of the Holy Spirit, the power to walk in Christ's calling, and the foundation of it all is the blood of Christ.
So why does God command us to live and love sacrificially, to the losing of our lives?
ROM 12:1 I urge you therefore, brethren, by the mercies of God, to present your bodies a living and holy sacrifice, acceptable to God, which is your spiritual service of worship.
ROM 12:2 And do not be conformed to this world, but be transformed by the renewing of your mind, that you may prove [dokimazo] what the will of God is, that which is good and acceptable [well pleasing] and perfect [complete].
The will of God is completeness.
To live and love sacrificially is the ultimate proof that a person is complete in Him or fulfilled. Such a life will be admired. Beware of this. The fulfilled person disregards it.
The Lord tells us in the Sermon on the Mount to beware of two things: false prophets and this.
MAT 6:1 "Beware of practicing your righteousness before men to be noticed by them; otherwise you have no reward with your Father who is in heaven.
MAT 6:2 "When therefore you give alms, do not sound a trumpet before you, as the hypocrites do in the synagogues and in the streets, that they may be honored by men. Truly I say to you, they have their reward in full.
MAT 6:3 "But when you give alms, do not let your left hand know what your right hand is doing
MAT 6:4 that your alms may be in secret; and your Father who sees in secret will repay you.
MAT 6:5 "And when you pray, you are not to be as the hypocrites; for they love to stand and pray in the synagogues and on the street corners, in order to be seen by men. Truly I say to you, they have their reward in full.
MAT 6:6 "But you, when you pray, go into your inner room, and when you have shut your door, pray to your Father who is in secret, and your Father who sees in secret will repay you.
MAT 6:7 "And when you are praying, do not use meaningless repetition, as the Gentiles do, for they suppose that they will be heard for their many words.
MAT 6:8 "Therefore do not be like them; for your Father knows what you need, before you ask Him.
MAT 6:9 "Pray, then, in this way:
'Our Father who art in heaven, Hallowed be Thy name.
MAT 6:10 'Thy kingdom come.
Thy will be done,
On earth as it is in heaven.
MAT 6:11 'Give us this day our daily bread.
MAT 6:12 'And forgive us our debts, as we also have forgiven our debtors.
MAT 6:13 'And do not lead us into temptation, but deliver us from evil.
COMMUNION:
LUK 22:19 And when He had taken some bread and given thanks, He broke it, and gave it to them, saying, "This is My body which is given for you; do this in remembrance of Me."
LUK 22:20 And in the same way He took the cup after they had eaten, saying, "This cup which is poured out for you is the new covenant in My blood.