Joshua and Judges: The allotment of the land, part 48 - Predestination - God's glory.
---
JOSJUD-17-161104
length:
65:51
- taught on
Nov, 4 2016
---
Class Outline:
Title: Joshua and Judges: The allotment of the land, part 48 - Predestination - God's glory.
Announcements / opening prayer:
2CO 3:1 Are we beginning to commend ourselves again? Or do we need, as some, letters of commendation to you or from you?
2CO 3:2 You are our letter, written in our hearts, known and read by all men;
2CO 3:3 being manifested that you are a letter of Christ, cared for by us, written not with ink, but with the Spirit of the living God, not on tablets of stone, but on tablets of human hearts.
2CO 3:4 And such confidence we have through Christ toward God.
2CO 3:5 Not that we are adequate in ourselves to consider anything as coming from ourselves, but our adequacy is from God,
2CO 3:6 who also made us adequate as servants of a new covenant, not of the letter, but of the Spirit; for the letter kills, but the Spirit gives life.
2CO 3:7 But if the ministry of death, in letters engraved on stones, came with glory, so that the sons of Israel could not look intently at the face of Moses because of the glory of his face, fading as it was,
2CO 3:8 how shall the ministry of the Spirit fail to be even more with glory?
2CO 3:9 For if the ministry of condemnation has glory, much more does the ministry of righteousness abound in glory.
2CO 3:10 For indeed what had glory, in this case has no glory on account of the glory that surpasses it.
2CO 3:11 For if that which fades away was with glory, much more that which remains is in glory.
2CO 3:12 Having therefore such a hope, we use great boldness in our speech,
2CO 3:13 and are not as Moses, who used to put a veil over his face that the sons of Israel might not look intently at the end of what was fading away.
2CO 3:14 But their minds were hardened; for until this very day at the reading of the old covenant the same veil remains unlifted, because it is removed in Christ.
They fell in love with the veil, meaning all the ritual of the Mosaic Law that pointed to Christ and cared not to have it all taken away so that they might clearly behold Christ.
2CO 3:15 But to this day whenever Moses is read, a veil lies over their heart;
2CO 3:16 but whenever a man turns to the Lord, the veil is taken away.
2CO 3:17 Now the Lord is the Spirit; and where the Spirit of the Lord is, there is liberty.
2CO 3:18 But we all, with unveiled face beholding as in a mirror the glory of the Lord, are being transformed into the same image from glory to glory, just as from the Lord, the Spirit.
We have been predestined to be conformed to His image, from glory to glory. The veils are all gone and we can look intently into Him and walk in His manner.
God foreknew us, predestined us, called us, justified us, and glorified us. We are already glorified in His eyes.
This permits us to intently gaze into the glory of God and comprehend it through the Spirit within and enjoy it. The Divine Sculptor sees the finished product which is each of us conformed into the image of His Son. In life we are always beholding His glory and so are always in the process of experiential sanctification. We cannot will any growth in our lives. We must be patient and allow time spent looking into His glory through the word of God to transform us. We must not let failure on our part or persecution on the part of others to hinder us. We are forever qualified to look into His glory. That is due to His work and the gift of our position. Don't let anything stop you from looking into Him, enlightening the eyes of your heart.
Some day we will each be fully conformed into His image as we exist in our resurrection bodies. We must see this as a foregone conclusion and view all things in light of it. No matter what the failure or sin we will be with Him and be forever like Him, so leave it behind, you have been freed from the penalty of sin. No matter what the persecution or insult, leave it, for the day will come where they cannot exist, and hopefully the day will come when your accuser will be with you in resurrection body in heaven, so allow Christ to bear the insult and offer love and the gospel. To live in foreknowledge, predestination, election, justification, and glorification and let their very real truths produce peace and joy within yourself.
Beloved, now we are children of God, and it has not appeared as yet what we shall be. We know that, when He appears, we shall be like Him, because we shall see Him just as He is.
1CO 15:51 Behold, I tell you a mystery; we shall not all sleep, but we shall all be changed,
1CO 15:52 in a moment, in the twinkling of an eye, at the last trumpet; for the trumpet will sound, and the dead will be raised imperishable, and we shall be changed.
1CO 15:53 For this perishable must put on the imperishable, and this mortal must put on immortality.
1CO 15:54 But when this perishable will have put on the imperishable, and this mortal will have put on immortality, then will come about the saying that is written, "Death is swallowed up in victory.
1CO 15:55 "O death, where is your victory? O death, where is your sting?"
1CO 15:56 The sting of death is sin, and the power of sin is the law;
1CO 15:57 but thanks be to God, who gives us the victory through our Lord Jesus Christ.
1CO 15:58 Therefore, my beloved brethren, be steadfast, immovable, always abounding in the work of the Lord, knowing that your toil is not in vain in the Lord.
It is knowing our ultimate glorification and living in the light of it that gives us the confidence and courage to continue steadfast and immovable while abounding in the work of the Lord. Not an ounce of it will have been in vain.
God the Father desired to populate the universe with sons made like unto His. This is our glorification. He is the firstborn among many brethren.
Steadfast and immovable in the very plan that was given to you, do not desire the plans of others or the life of others. Do not complain. Put faith in your own calling and predestination.
A sinner, saved by grace, conformed to the image of the wonderful Son of God, that is the Divine Sculptor's masterpiece.
There should not have been one uttering of complaint from the sons of Joseph for their land allotment. After all, they should know that God is in charge of the lottery. Rather they should have thanked Him for the opportunity to fight the remaining Canaanites that seemed to retain some strength.
JOS 17:14 Then the sons of Joseph spoke to Joshua, saying, "Why have you given me only one lot and one portion for an inheritance, since I am a numerous people whom the Lord has thus far blessed?"
JOS 17:15 And Joshua said to them, "If you are a numerous people, go up to the forest and clear a place for yourself there in the land of the Perizzites and of the Rephaim, since the hill country of Ephraim is too narrow for you."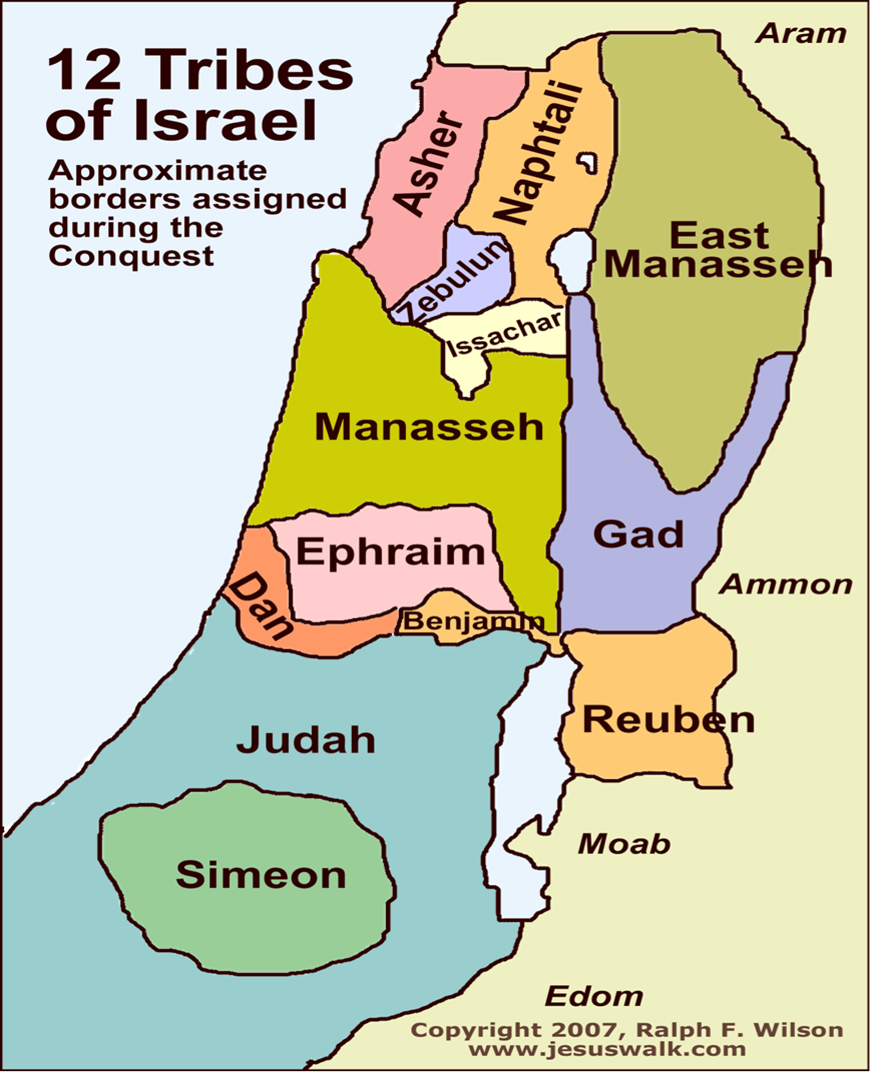 Looking at the allotments to Ephraim and Manasseh we could not conclude that it was too narrow.
JOS 17:16 And the sons of Joseph said, "The hill country is not enough for us, and all the Canaanites who live in the valley land have chariots of iron, both those who are in Beth-shean and its towns, and those who are in the valley of Jezreel."
JOS 17:17 And Joshua spoke to the house of Joseph, to Ephraim and Manasseh, saying, "You are a numerous people and have great power; you shall not have one lot only,
JOS 17:18 but the hill country shall be yours. For though it is a forest, you shall clear it, and to its farthest borders it shall be yours; for you shall drive out the Canaanites, even though they have chariots of iron and though they are strong."
Joshua frustrates their excuses. He is a great leader and doesn't acquiesce to their weakness in order to be popular or liked. Just as misery loves company so does fear and laziness.
God has given each believer the strength to carry our His predetermined plan. He will not acquiesce to excuses, but He will encourage and comfort.