Joshua and Judges: Joshua's southern campaign; Jos 10.
---
JOSJUD-10-160812
length:
66:23
- taught on
Aug, 12 2016
---
Class Outline:
Title: Joshua and Judges: Joshua's southern campaign; Jos 10.
Announcements / opening prayer:
And so, circumstances lead to Joshua's southern campaign.
The surrender of Gibeon would fill the kings of Southern Canaan with dismay. Israel now has a very strong position in central Canaan, the heart of the country. In the circumstances it was natural that the kings of the south would combine in an effort to take back Gibeon. Plus, Gibeon is a prosperous city and so the economic rewards would be great if she could be taken.
JOS 10:1 Now it came about when Adoni-zedek king of Jerusalem heard that Joshua had captured Ai, and had utterly destroyed it (just as he had done to Jericho and its king, so he had done to Ai and its king), and that the inhabitants of Gibeon had made peace with Israel and were within their land,
King of Jerusalem: Adoni-zedek = lord of righteousness. Abraham was met by Melchizedek = king of righteousness, who brought him bread and wine and blessed him.
The town was called Salem in the time of Abraham and was ruled by the Jebusites who were descendents of Canaan, son of Ham. Abraham was met by Melchizedek, a king priest who was a believer in Jehovah and would become a unique type of Christ.
Ironically Jerusalem will not be taken in this southern campaign, for the Jews were unable to drive the Jebusites out
Now as for the Jebusites, the inhabitants of Jerusalem, the sons of Judah could not drive them out; so the Jebusites live with the sons of Judah at Jerusalem until this day.
The town would be taken after the death of Joshua by the tribe of Judah, but the Jebusites would take it back. It would not fully fall into the hands of the Hebrews until David took it many years later.
JOS 10:2 that he feared greatly, because Gibeon was a great city, like one of the royal cities, and because it was greater than Ai, and all its men were mighty.
JOS 10:3 Therefore Adoni-zedek king of Jerusalem sent word to Hoham king of Hebron and to Piram king of Jarmuth and to Japhia king of Lachish and to Debir king of Eglon, saying,
JOS 10:4 "Come up to me and help me, and let us attack Gibeon, for it has made peace with Joshua and with the sons of Israel."
JOS 10:5 So the five kings of the Amorites, the king of Jerusalem, the king of Hebron, the king of Jarmuth, the king of Lachish, and the king of Eglon, gathered together and went up, they with all their armies, and camped by Gibeon and fought against it.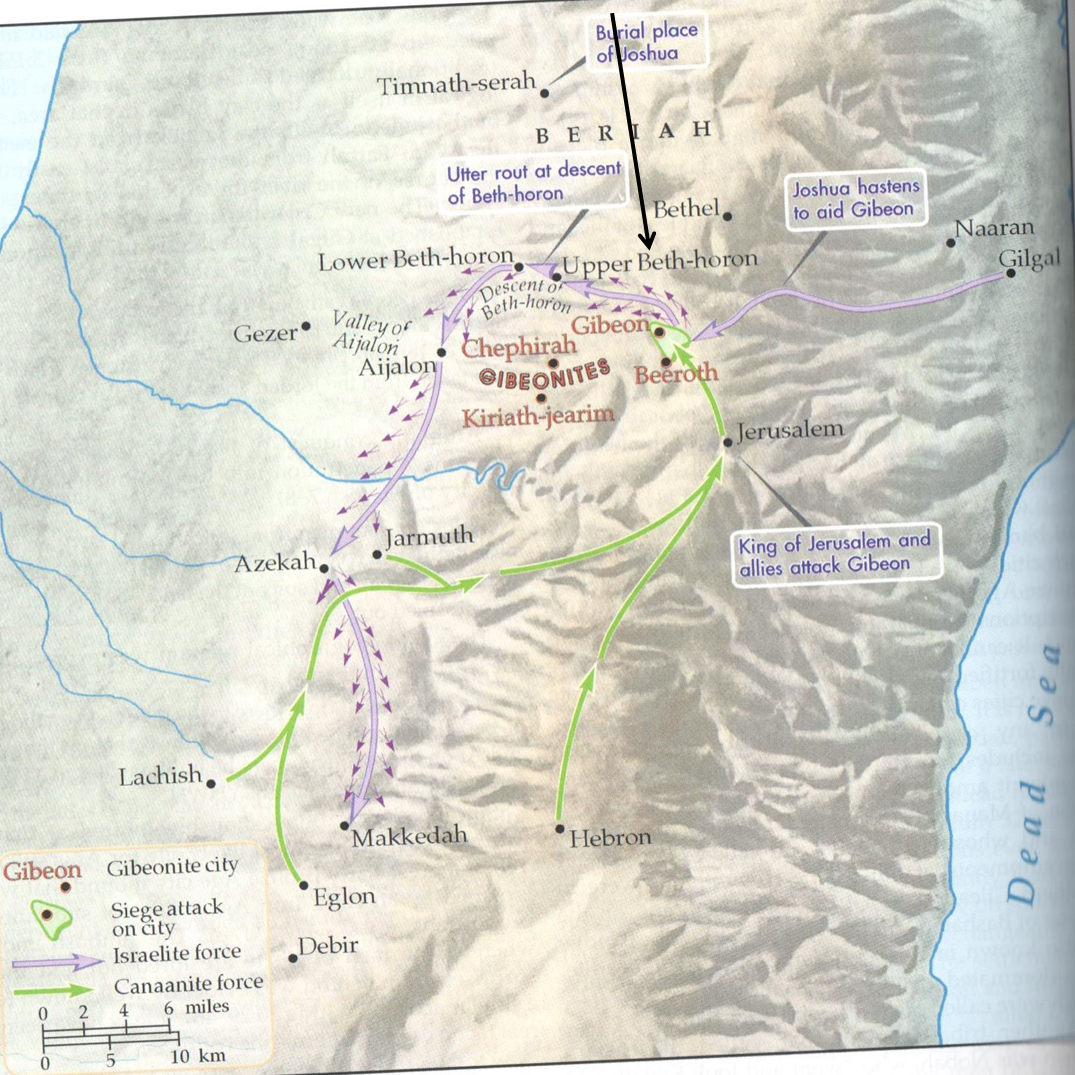 Gilgal is in the wrong place on this map. It is to the north of Gibeon.
The five kings would have likely rallied from Jerusalem as it is the closest.
JOS 10:6 Then the men of Gibeon sent word to Joshua to the camp at Gilgal, saying, "Do not abandon your servants; come up to us quickly and save us and help us, for all the kings of the Amorites that live in the hill country have assembled against us."
JOS 10:7 So Joshua went up from Gilgal, he and all the people of war with him and all the valiant warriors.
JOS 10:8 And the Lord said to Joshua, "Do not fear them, for I have given them into your hands; not one of them shall stand before you."
God reiterates His promise to Joshua. It may be that this time, unlike three days ago, Joshua actually inquired of the high priest and revelation was given.
God never tires of repeating His promises of victory to us.
JOS 1:3 Every place on which the sole of your foot treads, I have given it to you, just as I spoke to Moses.
God repeats this three more times during this communication.
JOS 6:2 And the Lord said to Joshua, "See, I have given Jericho into your hand, with its king and the valiant warriors.
JOS 8:1 Now the Lord said to Joshua, "Do not fear or be dismayed. Take all the people of war with you and arise, go up to Ai; see, I have given into your hand the king of Ai, his people, his city, and his land.
'Do not fear, for I am with you;
Do not anxiously look about you, for I am your God.
I will strengthen you, surely I will help you,
Surely I will uphold you with My righteous right hand.'
"Do not fear, Abram,
I am a shield to you;
Your reward shall be very great."
And God heard the lad crying; and the angel of God called to Hagar from heaven, and said to her, "What is the matter with you, Hagar? Do not fear, for God has heard the voice of the lad where he is."
"I am the God of your father Abraham;
Do not fear, for I am with you [Isaac].
I will bless you, and multiply your descendants,
For the sake of My servant Abraham."
But Moses said to the people, "Do not fear! Stand by and see the salvation of the Lord which He will accomplish for you today; for the Egyptians whom you have seen today, you will never see them again forever
I could have listed the over forty more times that God says "Do not fear" to someone in the Old Testament.
And Jesus said to Simon, "Do not fear, from now on you will be catching men."
Peter would then write much later:
But even if you should suffer for the sake of righteousness, you are blessed. And do not fear their intimidation, and do not be troubled, but sanctify Christ as Lord in your hearts, always being ready to make a defense to everyone who asks you to give an account for the hope that is in you, yet with gentleness and reverence;
When you suffer for the sake of righteousness you are to set apart Christ in your heart, in a way, you are drawing yourself to Him, for the battle is always His.
Keep me as the apple of the eye;
Hide me in the shadow of Thy wings,
From the wicked who despoil me,
My deadly enemies, who surround me.
[back to 1Pe]
When anyone, even the attackers, asks you for the reason of your steadfastness and confidence, you are always ready to speak of your Savior's power in protecting and delivering you and you do so with gentleness rather than contention and reverence for the Lord rather than apathy.
JOS 10:9 So Joshua came upon them suddenly by marching all night from Gilgal.
This would have been about a fifteen mile march.
JOS 10:10 And the Lord confounded them before Israel, and He slew them with a great slaughter at Gibeon, and pursued them by the way of the ascent of Beth-horon [house of caves], and struck them as far as Azekah and Makkedah.
Just as He had promised Moses:
I will send My terror ahead of you, and throw into confusion all the people among whom you come, and I will make all your enemies turn their backs to you.
PSA 83:13 O my God, make them like the whirling dust;
Like chaff before the wind.
PSA 83:14 Like fire that burns the forest,
And like a flame that sets the mountains on fire,
PSA 83:15 So pursue them with Thy tempest,
And terrify them with Thy storm.
PSA 83:16 Fill their faces with dishonor,
That they may seek Thy name, O Lord.
PSA 83:17 Let them be ashamed and dismayed forever;
And let them be humiliated and perish,
PSA 83:18 That they may know that Thou alone, whose name is the Lord, Art the Most High over all the earth.
The Canaanites made but a short stand before their unexpected assailants and then fled in wild confusion.
This is what God always does to His enemies - those who have rejected Him and opposed Him. No matter how much comfort there is in life all succumb to death, Psa 49.
By enemies we mean those who have rejected Him and oppose Him. They may be able to surround themselves with many comforts on earth, but they will always face death. Those who have rejected Christ have not conquered death through Him. He is the only ransom and Redeemer.
Since the beginning of man's fall there has always been such people. They may prosper for a time, and in some cases, they may live in luxury, but the time always comes upon them when they are defeated, and in every case, the final defeat is death, since they have not overcome this final act in everyone's life because they have rejected the one who delivered us from death.
The pair of Psa 47 and Psa 48 are appended by Psa 49.
PSA 48:4 For, lo, the kings assembled themselves,
They passed by together.
PSA 48:5 They saw it, then they were amazed;
They were terrified, they fled in alarm.
PSA 48:6 Panic seized them there,
Anguish, as of a woman in childbirth.
PSA 49:1 For the choir director.
A Psalm of the sons of Korah.
Hear this, all peoples; Give ear, all inhabitants of the world,
PSA 49:2 Both low and high, Rich and poor together.
PSA 49:3 My mouth will speak wisdom; And the meditation of my heart will be understanding.
PSA 49:4 I will incline my ear to a proverb; I will express my riddle on the harp.
PSA 49:5 Why should I fear in days of adversity, When the iniquity of my foes surrounds me,
PSA 49:6 Even those who trust in their wealth, And boast in the abundance of their riches?
PSA 49:7 No man can by any means redeem his brother, Or give to God a ransom for him —
No matter how rich and powerful a man may be on earth, he cannot redeem his brother or himself, for the cost, the blood of Christ, is too high for him.
PSA 49:8 For the redemption of his soul is costly, And he should cease trying forever —
PSA 49:9 That he should live on eternally; That he should not undergo decay.
PSA 49:10 For he sees that even wise men die; The stupid and the senseless alike perish, And leave their wealth to others.
PSA 49:11 Their inner thought is, that their houses are forever, And their dwelling places to all generations; They have called their lands after their own names.
Everything without distinction, and in mingled confusion, falls a prey to death; the rich man must see it, and yet he is at the same time possessed by the foolish delusion that he, with his wealth, is immortal.
What man can live and not see death?
Can he deliver his soul from the power of Sheol?
Many rich men, when they have approached death, have built monuments, libraries, public buildings, etc. with their names on them in some hope of preserving their lives and reputations, but to no avail.
On the contrary:
"And all the nations who are called by My name,"
Declares the Lord who does this.
PSA 49:12 But man in his pomp will not endure; He is like the beasts that perish.
PSA 49:13 This is the way of those who are foolish, And of those after them who approve their words. Selah.
PSA 49:14 As sheep they are appointed for Sheol [the fold that they shall be shut up in]; Death shall be their shepherd; And the upright shall rule over them in the morning; And their form shall be for Sheol to consume, So that they have no habitation.
Death is personified as it is in Job as the "king of terrors:"
"He is torn from the security of his tent,
And they march him before the king of terrors.
That the upright will rule over them in the morning is the imagery of those under the reign of grace, righteousness, and eternal life being above or heavenly while those under the reign of sin and death being below in the darkness of the grave.
As opposed to having death as a shepherd, the redeemed have the Lord as their Shepherd.
The Lord is my shepherd, I shall not want.
as sin reigned in death, even so grace might reign through righteousness to eternal life through Jesus Christ our Lord.
Unbeliever's shepherd is death and their pastureland is Sheol, the dark grave. Believer's Shepherd is Christ and their pastureland is light and life that is Christ and eternal.
All unbelievers have Sheol, the grave, as their pastureland, no matter how well they live on earth. It is the lowlands of darkness and death. They are bound by death. Death is a shepherd they cannot escape.
To the pompous external nature of the ungodly, any dwelling-place, and in general any place whatever; for whatever they had in and about themselves, is destroyed so that they wander to and fro as bare shadows in the dreary waste of Hades. To them, who thought to have built houses for eternity and called great districts of country after their own names, there remains no longer any of this corporeal nature, inasmuch as Hades gradually and surely destroys it; it is forever freed from its solid and dazzling shell, it wastes away lonesome in the grave, it perishes leaving no trace behind.
On the contrary, the believer has life as his pastureland, the life that is Christ and eternal. It is the highlands of light and life. They cannot escape their Shepherd either, but they would not want to.
"What man among you, if he has a hundred sheep and has lost one of them, does not leave the ninety-nine in the open pasture, and go after the one which is lost, until he finds it? And when he has found it, he lays it on his shoulders, rejoicing."
"the sheep hear his voice, and he calls his own sheep by name, and leads them out. When he puts forth all his own, he goes before them, and the sheep follow him because they know his voice."
"I am the door; if anyone enters through Me, he shall be saved, and shall go in and out, and find pasture."
"I am the good shepherd; the good shepherd lays down His life for the sheep."
"I am the good shepherd; and I know My own, and My own know Me, even as the Father knows Me and I know the Father; and I lay down My life for the sheep."
PSA 49:14 As sheep they are appointed for Sheol [the fold that they shall be shut up in]; Death shall be their shepherd; And the upright shall rule over them in the morning; And their form shall be for Sheol to consume, So that they have no habitation.
PSA 49:15 But God will redeem my soul from the power of Sheol; For He will receive me. Selah.
In these words is expressed, in the manner of the Old Testament, the end of all time.
Second part of the discourse; those who are thought to be immortal by their own doing are laid low in Hades; whilst, on the other hand, those who believe in God's redeeming Messiah can hope to be redeemed by Him out of Hades.
PSA 49:16 Do not be afraid when a man becomes rich, When the glory of his house is increased;
PSA 49:17 For when he dies he will carry nothing away; His glory will not descend after him.
PSA 49:18 Though while he lives he congratulates himself — And though men praise you when you do well for yourself —
PSA 49:19 He shall go to the generation of his fathers; They shall never see the light.
PSA 49:20 Man in his pomp, yet without understanding, Is like the beasts that perish.
A man in earthly glory and who has no understanding does not distinguish between that which is perishable and that which is imperishable, between time and eternity.
This gloomy prospect of the future does not belong to all the rich, but to those of them who reject God's Redeemer and thus, salvation. As such they remain wealthy in time, but worldly and carnally minded.