Joshua and Judges: The doctrine of leadership part 130 - The Cost of Leadership; Gal 6:17.
---
JOSJUD-8-160713
length:
61:02
- taught on
Jul, 13 2016
---
Class Outline:
Title: Joshua and Judges: The doctrine of leadership part 130 - The Cost of Leadership; GAL 6:17.
Announcements / opening prayer:
9. The Cost of Leadership. The toll of leadership is heavy, to aspire to it is to be willing to pay a higher price than the common man.
The cost of leadership is not paid in one lump sum but over a lifetime of living under the Master's master principle. We cannot save others and save ourselves at the same time.
The leader must pick up his cross and follow Christ as all other Christians are called to do, yet his cross cannot be thrown aside and still effectively lead. Any reversionism in his life will affect those he leads.
All the heroes of the Bible were called to sacrifice and service and they each knew that it was the call from God to do so and not from themselves. Whenever a person calls himself to sacrifice it is always for a selfish reason - mostly approbation or recognition.
The only thing Jesus took pains to show after His resurrection were His scars.
Think of what those marks meant to the disciples when upon the resurrection body of our Lord and ponder what they mean to you.
GAL 6:17 From now on let no one cause trouble for me, for I bear on my body the brand-marks of Jesus.
Paul was scourged and beaten with rods several times as well as being stoned to death.
Certainly Paul's body had it fair share of scars, but it is not the scars that are important but what they represent - sacrificial service to God.
It is the service to God that is important. How much we suffer in that service is up to Him. We cannot and should not put suffering upon ourselves. In following Christ we will be called to deny certain things that are legitimate for us and to sacrifice time that was planned for our own purposes, but all by His call and not by our own. The call is by grace and when following that call there is great prosperity of soul in joy. In making our own call to asceticism in some fanatical bid to gain the favor of God or men there is only misery.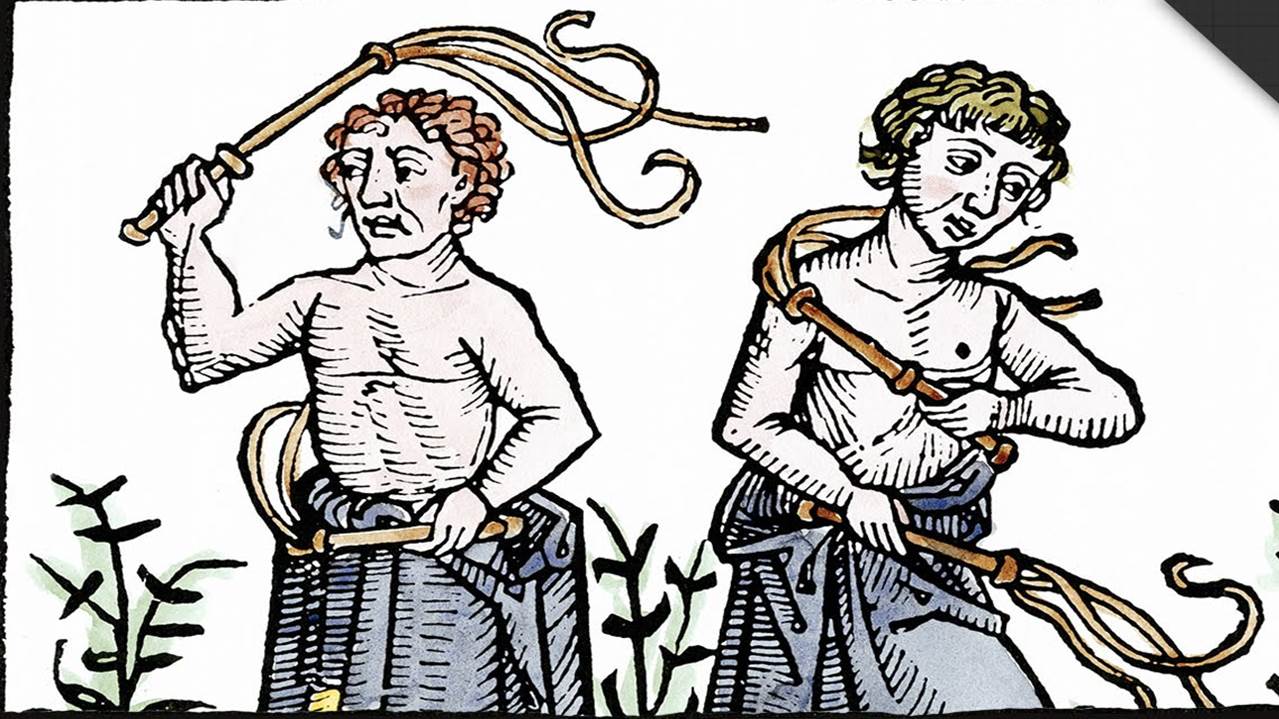 A popular movement in the late middle ages was that of the flagellants. They first appeared in 1260, but it was the fourteenth century that saw their numbers swell as well as their backs. Whipping oneself in penance for sin was not new, since it was a common practice in many monastic houses. But now it became a popular craze, with little connection to the hierarchy of the church. Thousands of Christians from all walks of life, convinced that the end was near, or that God would destroy the world if humankind did not show repentance, lashed themselves till the blood flowed. This was not a momentary or disorderly hysteria. On the contrary, the movement had a rigid and sometimes even ritualistic discipline. Those who wished to join did so for 33 and a half days, and during that time owed absolute obedience to their superiors, in which twice a day they would march to a local church, two by two, while singing hymns. After prayer to the Virgin in the church, they would retun to the public square, still singing, and there they would bare their backs, form a circle, and kneel in prayer, while they beat themselves vigorously, until their backs were bloody. After that initial period, although they returned home, flagellants were committed to whipping themselves every year on Good Friday.
The scars on Jesus' resurrection body represent His sacrificial service to the Father for the betterment of others.
As Jesus' resurrection body did not bear the scars of His impressive scourging but only the scars that were received on the cross, they represent full sacrificial service to God for the betterment of others. It was Paul's service to the Lord for the sake of others that made him an old man long before years qualified him for it.
He did this for the Galatians and they took this gift and threw it away for the mosaic law. Paul entreats them not to return to this trouble, but as far as we can tell, they did. This is the cost of leadership. God and Paul couldn't have done any more for them than they did and they were rejected and scorned.
A poem by Amy Carmichael:
Hast thou no scar?
No hidden scar on foot, or side, or hand?
I hear thee sung as mighty in the land,
I hear them hail thy bright ascendant star:
Hast thou no scar?
Hast thou no wound?
Yet, I was wounded by the archers, spent.
Leaned me against the tree to die, and rent
By ravening beasts that compassed me, I swooned:
Hast thou no wound?
No wound? No scar?
Yes, as the master shall the servant be,
And pierced are the feet that follow Me;
But thine are the whole. Can he have followed far
Who has no wound? No scar? [Amy Carmichael ]
2CO 4:7 But we have this treasure in earthen vessels, that the surpassing greatness of the power may be of God and not from ourselves;
2CO 4:8 we are afflicted in every way, but not crushed; perplexed, but not despairing;
2CO 4:9 persecuted, but not forsaken; struck down, but not destroyed;
2CO 4:10 always carrying about in the body the dying of Jesus, that the life of Jesus also may be manifested in our body.
2CO 4:11 For we who live are constantly being delivered over to death for Jesus' sake, that the life of Jesus also may be manifested in our mortal flesh.
Another aspect of leadership is loneliness, though it is certainly not unique to leadership.
The leader must deal with loneliness since he must always be ahead of his followers.

Leaders cannot always share with others the heavy burdens that they bear since it would hinder others to know. Sometimes they are not followed and this burden they must bear alone and must deal with such persons in a gentle manner.
They sometimes must work while others can legitimately play.
Moses paid the price for his leadership - alone on the mountain, alone on the plain, misunderstood and criticized.
Enoch walked alone in a society of decadence. Jonah was alone in the vast city of Nineveh. The leader who sticks to the truth will be persecuted in the world and sometimes it will even be the members of his own household.
You are aware of the fact that all who are in Asia turned away from me, among whom are Phygelus and Hermogenes.
"Most of the world's greatest souls have been lonely. Loneliness seems to be the price a saint must pay for his saintliness." [AW Tozer]
The leader must be a person who, while welcoming the friendship and support of all who offer it, has sufficient inner resources to stand alone - even in the face of stiff opposition to have "no one but God."
On without cheer of sister or of daughter,
Yes, without stay of father or of son,
Lone on the land, and homeless on the water,
Pass I in patience till my work be done. [F.W.H. Meyers]
Like any form of suffering, we do not bring it upon ourselves, which in the case of aloneness, many monks have done just that. We walk in the manner of our call and follow Christ, and when loneliness comes, and it will in varying doses, we draw closer to God for companionship.