Joshua and Judges: Push to the Promised Land: God sanctifies and increases His people - Balaam, part 8. Num 23:11-.
---
JOSJUD-1-150717
length:
63:48
- taught on
Jul, 17 2015
---
Class Outline:
Title: Joshua and Judges: Push to the Promised Land: God sanctifies and increases His people - Balaam, part 8. NUM 23:11-.
Announcementsopening prayer:
NUM 23:11 Then Balak said to Balaam, "What have you done to me? I took you to curse my enemies, but behold, you have actually blessed them!"
NUM 23:12 And he answered and said, "Must I not be careful to speak what the Lord puts in my mouth?"
NUM 23:13 Then Balak said to him, "Please come with me to another place from where you may see them, although you will only see the extreme end of them, and will not see all of them; and curse them for me from there."
Then Balak said to him, "Please come with me to another place from where you may see them, only the extreme of them do you see, but you do not see all of them, and from there curse them for me. [corrected]
Since on the prior mountain they could only see a fourth of Israel, this corrected translation makes sense. From Pisgah they could see the whole camp as well as having a view of the PL. This is backed up by Balaam's third discourse as well as Moses' final experience (of the first stage of his life).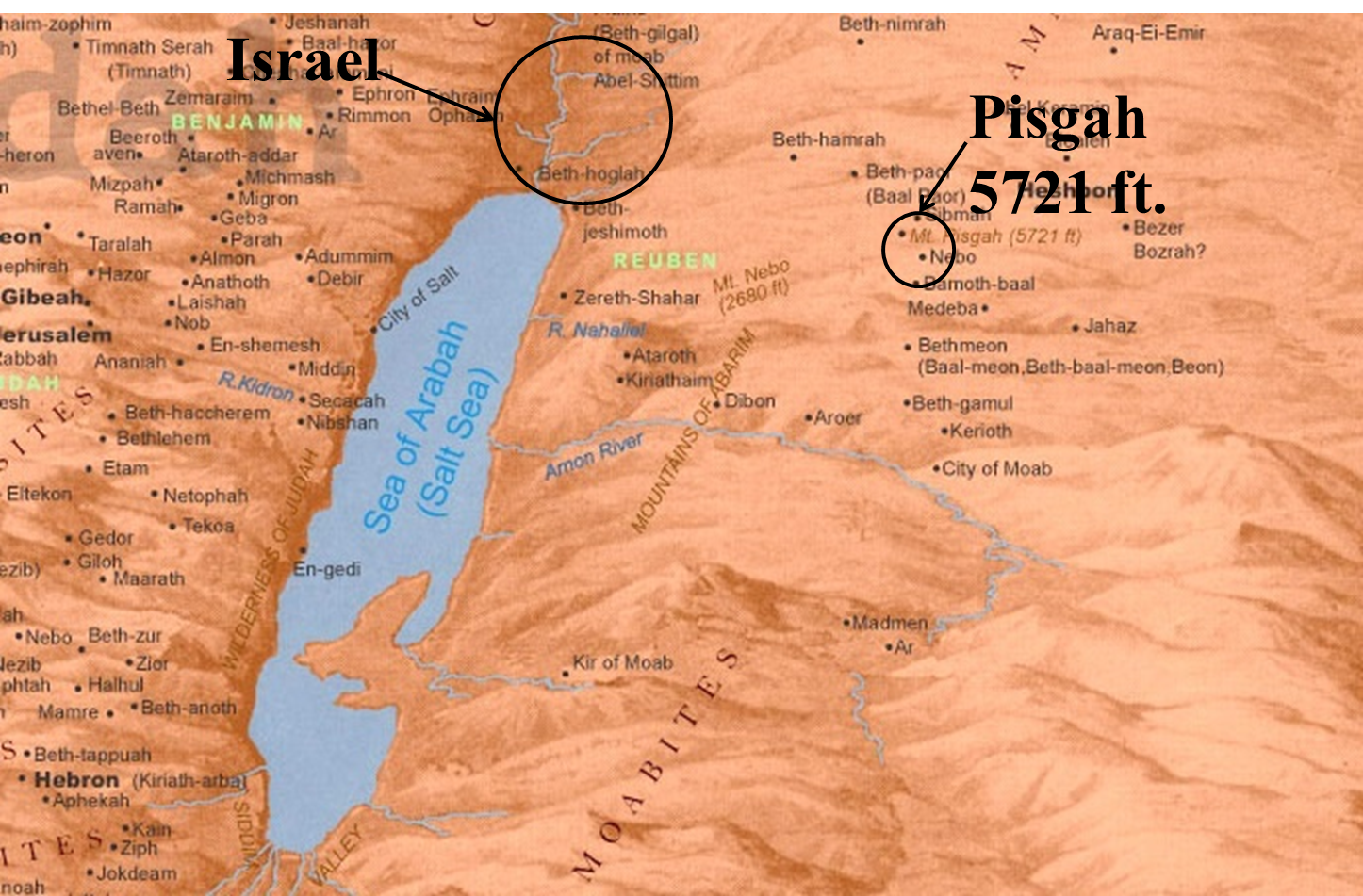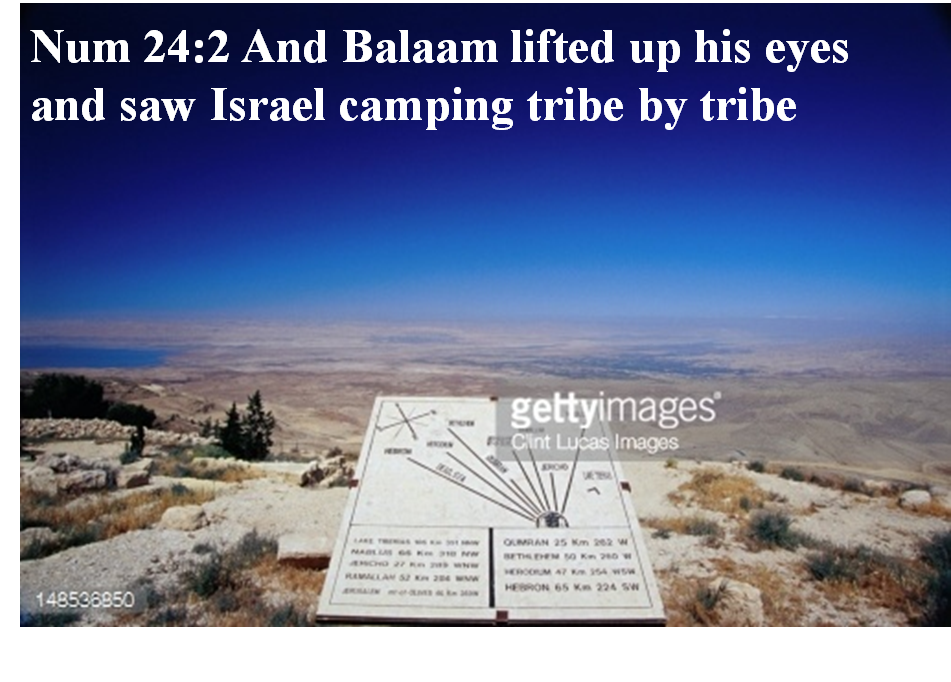 And Balaam lifted up his eyes and saw Israel camping tribe by tribe
It is interesting to see the reasoning of the heathen. He thinks the problem is the location or the angle of sight. He believes in magic and if it doesn't work it is necessary to alter the ritual when it is prudent to understand that the ritual should be completely eliminated and replaced by faith. Satan truly blinds the minds of the unbelieving, while their physical eyes can see all the land that God is going to give to Israel.
NUM 23:14 So he took him to the field of Zophim, to the top of Pisgah, and built seven altars and offered a bull and a ram on each altar.
NUM 23:15 And he said to Balak, "Stand here beside your burnt offering, while I myself meet the Lord yonder [not "yonder" but "thus"]."
NUM 23:16 Then the Lord met Balaam and put a word in his mouth and said, "Return to Balak, and thus you shall speak."
NUM 23:17 And he came to him, and behold, he was standing beside his burnt offering, and the leaders of Moab with him. And Balak said to him, "What has the Lord spoken?"
Can God's covenants be changed? Can His unconditional covenants fail to come to fruition?
NUM 23:18 Then he took up his discourse and said,
"Arise, O Balak, and hear; Give ear to me, O son of Zippor!
NUM 23:19 "God is not a man, that He should lie, Nor a son of man, that He should repent [change His mind]; Has He said, and will He not do it? Or has He spoken, and will He not make it good?
The Abrahamic covenant is iron clad because of the One who made it.
The one great characteristic of the patriarchs was their faith. Amidst all varying events, the one constant trait in patriarchal history was faith which lays hold on the word of promise, and on the strength of this word gives up that which is seen and present for that which is unseen and future. All lived and died in faith, not having received the promises, but having seen them afar off, and were persuaded of them, and embraced them, and confessed that they were strangers and pilgrims in the earth.
Heb 11:13 All these died in faith, without receiving the promises, but having seen them and having welcomed them from a distance, and having confessed that they were strangers and exiles on the earth.
HEB 11:14 For those who say such things make it clear that they are seeking a country of their own.
HEB 11:15 And indeed if they had been thinking of that country from which they went out, they would have had opportunity to return.
HEB 11:16 But as it is, they desire a better country, that is, a heavenly one. Therefore God is not ashamed to be called their God; for He has prepared a city for them.
The covenant of God with Abraham is one of the important and determinative revelations of Scripture. It furnishes the key to the entire Old Testament and reaches for its fulfillment into the New. [John F. Walvoord, The Millennial Kingdom]
Abraham has just had a tremendous victory over the kings of Assyria. High times of success and prosperity are only too often followed by seasons of depression.
He was a stranger in a strange land, with no other possession than a promise, and not even an heir to whom to transmit it. God comes to him in order to comfort him.
He would later become very wealthy and grow into a large camp with enough people for a small army, but he went into the land with nothing but a promise. Each of us may come to have nothing, or maybe we have much and can clearly remember having nothing, but we always had and have the promises of God. Riches come and go but God's promises, as Balaam said, are permanent. They are yea and amen!
For by these He has granted to us His precious and magnificent promises [a law term for a promise made], in order that by them you might become partakers of the divine nature, having escaped the corruption that is in the world by lust.
The promise gives escape because the promise gives us the courage to take refuge in God alone.
GEN 15:1 After these things the word of the Lord came to Abram in a vision, saying, "Do not fear, Abram,
I am a shield to you;
Your reward shall be very great."
GEN 15:2 And Abram said, "O Lord God, what wilt Thou give me, since I am childless, and the heir of my house is Eliezer of Damascus?"
GEN 15:3 And Abram said, "Since Thou hast given no offspring to me, one born in my house is my heir."
GEN 15:4 Then behold, the word of the Lord came to him, saying, "This man will not be your heir; but one who shall come forth from your own body, he shall be your heir."
GEN 15:5 And He took him outside and said, "Now look toward the heavens, and count the stars, if you are able to count them." And He said to him, "So shall your descendants be."
GEN 15:6 Then he believed in the Lord; and He reckoned it to him as righteousness.
GEN 15:7 And He said to him, "I am the Lord who brought you out of Ur of the Chaldeans, to give you this land to possess it."
GEN 15:8 And he said, "O Lord God, how may I know that I shall possess it?"
GEN 15:9 So He said to him, "Bring Me a three year old heifer, and a three year old female goat, and a three year old ram, and a turtledove, and a young pigeon."
GEN 15:10 Then he brought all these to Him and cut them in two, and laid each half opposite the other; but he did not cut the birds [in accordance with the Mosaic Law to come].
GEN 15:11 And the birds of prey came down upon the carcasses, and Abram drove them away.
This was the Chaldean custom in making a covenant. God used the Chaldean custom so that Abraham, who was from Chaldea, could understand, but God did so with the animals that would be used under the Mosaic Law. In the custom the covenant parties passed between the pieces laid one against the other, was to show that now there was no longer to be division, but that what had been divided was to be considered as one between them.
But here at the first, no covenanting party appeared at all to pass between the divided sacrifices. All day long, as it seemed to Abraham, he sat watching lonely, only driving from the carcasses the birds of prey which came down upon them. To his sight it seemed that nothing would happen, but in faith he remained to protect the divided beasts.
The age of the animals might refer to the three generations of Israel that were to remain in Egypt.
The birds of prey represented the foes of Israel, who would seek to eat up, i.e., exterminate it. Abraham driving them away was a sign of Abraham's faith and relation to the Lord that would preserve the whole of his posterity from destruction.
Abraham, like Isaac and Jacob were great because of their faith. Faith was the strength of the patriarchs. Abraham's faith would be the means of preserving all who would become true Israel. Each Jew as a child would be told of the faith of Abraham and that they could believe as Abraham did. They would be told of Abraham's sacrifice of Isaac and that they could believe in the fact that God did not require it of Abraham and that God would provide His own sacrifice. All of this, the beginning of the people of God, are based on the faith of Abraham. He remained beside the carcasses all day in order to drive away the birds of prey.
PSA 105:8 He has remembered His covenant forever,
The word which He commanded to a thousand generations,
PSA 105:9 The covenant which He made with Abraham,
And His oath to Isaac.
PSA 105:10 Then He confirmed it to Jacob for a statute,
To Israel as an everlasting covenant,
PSA 105:11 Saying, "To you I will give the land of Canaan
As the portion of your inheritance,"
PSA 105:12 When they were only a few men in number,
Very few, and strangers in it.
PSA 105:13 And they wandered about from nation to nation,
From one kingdom to another people.
PSA 105:14 He permitted no man to oppress them,
And He reproved kings for their sakes:
PSA 105:15 "Do not touch My anointed ones,
And do My prophets no harm."
PSA 105:37 Then He brought them out with silver and gold;
And among His tribes there was not one who stumbled.
As far as the east is from the west,
So far has He removed our transgressions from us.
PSA 105:38 Egypt was glad when they departed;
For the dread of them had fallen upon them.
PSA 105:39 He spread a cloud for a covering,
And fire to illumine by night.
PSA 105:40 They asked, and He brought quail,
And satisfied them with the bread of heaven.
PSA 105:41 He opened the rock, and water flowed out;
It ran in the dry places like a river.
*PSA 105:42 For He remembered His holy word
With Abraham His servant;
PSA 105:43 And He brought forth His people with joy,
His chosen ones with a joyful shout.
PSA 105:44 He gave them also the lands of the nations,
That they might take possession of the fruit of the peoples' labor,
PSA 105:45 So that they might keep His statutes,
And observe His laws,
Praise the Lord!