Joshua and Judges: Push to the Promised Land: God sanctifies His people - Balaam, part 4. Num 23:1-10.
---
JOSJUD-1-150712
length:
82:49
- taught on
Jul, 12 2015
---
Class Outline:
Title: Joshua and Judges: Push to the Promised Land: God sanctifies His people - Balaam, part 4. NUM 23:1-10.
Announcementsopening prayer:
Balaam is being used by God to instruct Israel to first sanctify themselves from heathenism in their hearts before crossing the Jordan and setting the heathen apart physically.
This lesson in experiential sanctification never changes throughout the dispensations.
"You have heard that it was said, 'You shall not commit adultery'; but I say to you, that everyone who looks on a woman to lust for her has committed adultery with her already in his heart.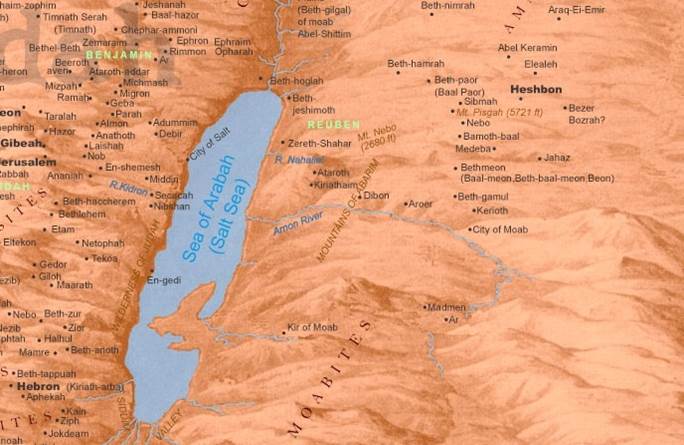 NUM 23:1 Then Balaam said to Balak, "Build seven altars for me here, and prepare seven bulls and seven rams for me here."
Balaam understood that the number seven was significant to Jehovah as well as the bull and ram offering, so he is attempting to soften Him up.
It's hard to know at this point whether Balaam thinks there is a chance that he can do anything to change God's mind, but if there is it has to be a small one after his encounter with the Angel of the Lord on the way. We did not see the Lord instruct him to present seven offerings, plus, why would Jehovah accept such an offering from a heathen on an altar built by a heathen with animals prepared by a heathen? I'd say that these seven offerings are a last ditch effort.
NUM 23:2 And Balak did just as Balaam had spoken, and Balak and Balaam offered up a bull and a ram on each altar.
Both of these animals are used as sin offerings under the Law and so it is likely that Balaam knows of the sin offering of Israel.
NUM 23:3 Then Balaam said to Balak, "Stand beside your burnt offering, and I will go; perhaps the Lord will come to meet me, and whatever He shows me I will tell you." So he went to a bare hill.
NUM 23:4 Now God met Balaam, and he said to Him, "I have set up the seven altars, and I have offered up a bull and a ram on each altar."
God makes no response to the offering. Offered by a heathen they are worthless. He does not delight in burnt offerings but in repentance.
God does not delight in burnt offerings but a humble and contrite heart that repents. David wrote after taking and going in to Bathsheba and killing her husband Uriah and after being caught red handed by Nathan the prophet:
For Thou dost not delight in sacrifice, otherwise I would give it;
Thou art not pleased with burnt offering.
The sacrifices of God are a broken spirit;
A broken and a contrite heart, O God, Thou wilt not despise.
God is not moved by Balaam's offerings nor by his magical incantations and He does what He already said He was going to do on the road - have Balaam say what He wants him to say.
NUM 23:5 Then the Lord put a word in Balaam's mouth and said, "Return to Balak, and you shall speak thus."
NUM 23:6 So he returned to him, and behold, he was standing beside his burnt offering, he and all the leaders of Moab.
So Balak and all his princes are expecting a big fat curse laid upon Israel. It's hard to tell if anyone in the valley would be able to hear him, but these words are for Israel more than they are for Moab, and so we can imagine that the portion of Israel that could see him, who would have noticed the burnt offerings, would have come close enough to hear and then spread the word through the camp. Moses wrote the book of Numbers so we can assume this is true.
Since they know it is Balaam, the anticipation of what he is going to say would weigh heavy upon them. No doubt he would curse Israel as a Midianite who has joined Moab to come against Israel, but rather, they are shocked to hear such a man actually bless Israel.
God turns the curses of the enemy into a blessing … every single time.
NUM 23:7 And he took up his discourse [proverb or poetic language] and said,
"From Aram Balak has brought me,
Moab's king from the mountains of the East,
'Come curse Jacob for me,
And come, denounce Israel!'
So far so good…
NUM 23:8 "How shall I curse, whom God has not cursed?
And how can I denounce, whom the Lord has not denounced?
NUM 23:9 "As I see him from the top of the rocks,
And I look at him from the hills;
Behold, a people who dwells apart,
And shall not be reckoned among the nations.
The first couplet is a restatement of the Abrahamic covenant spoken 440 years ago to Abraham and a covenant that every Jew knows and Balaam has certainly known of the God of the Hebrews. Balaam heard it before and now it's coming right from his own lips. No one can curse what God has not cursed and God has not cursed Israel or any of His people. The covenant depends solely on the integrity of God and so it is unconditional.
The second couplet reveals that seeing Israel, which was what the heathen thought he needed in order to curse, does not at all have an effect over and above God's - a simple but important point. It is the kings reasoning that they have to be on a hill in sight of the camp of Israel for the curse to occur. This is the same as any belief in a ritual or a human scheme that is able to alter or overcome the works of God, including human works for blessing, i.e. legalism.
The rituals, incantations, charms, schemes, works, etc. of man or demon cannot even slightly alter God's promises or purposes.
The third couplet is revealing of the purpose of this whole event and that is the sanctification of the people from the world, from heathenism, and unto God alone. Behold, a people who dwells apart, And shall not be reckoned among the nations.
There is first an inward separation from the ways of the nations [sanctification] and that is followed by an outward separation by driving them from the land.
In order to enhance the spiritual and physical reality of this blessing, Balaam and the Moabites see Israel in the plain below them, separate from other nations as she dwelt by herself in her own encampment, filling up the valley.
They were a people both outwardly and inwardly different from other nations due to God's leadership, His blessings, and His Law. They were a people richly blessed and highly favored by God, chosen by His love, and through whom He would bless all nations.
For by their own sword they did not possess the land;
And their own arm did not save them;
But Thy right hand, and Thine arm, and the light of Thy presence,
For Thou didst favor them.
God had made them different.
"Or what great nation is there that has statutes and judgments as righteous as this whole law which I am setting before you today?
God has made every CA believer into a brand new creature in Christ.
"Blessed are you, O Israel;
Who is like you, a people saved by the Lord,
Who is the shield of your help,
And the sword of your majesty!
So your enemies shall cringe before you,
And you shall tread upon their high places."
One could say the same about the CA believer, who is like you? God is our shield and help, in fact, He is our Father and we His children. Sin and death have been defeated for us and so what other enemy should we fear?
The truth of this has been so marvelously realized in the history of the Israelites, notwithstanding their falling short of the idea of their divine calling, for now, that whereas all the mightier kingdoms of the ancient world, Egypt, Assyria, Babel, etc., have perished without a trace, Israel, after being rescued from so many dangers which threatened utter destruction under the Old Testament, still flourishes despite tremendous persecution during the age of the church, and, though rejected now, is destined one day to be restored.