Angelic Conflict part 76: Angelology 102 – Luk 2:10; 22:34; Mat 28:2; Act 5:19; 8:26; 10:4; 12:7,23; 27:23; 1Th 4:16.
Title: Angelic Conflict part 76: Angelology 102 – Luk 2:10; 22:34; Mat 28:2; Act 5:19; 8:26; 10:4; 12:7,23; 27:23; 1Th 4:16.
Named angels: Gabriel
Meaning – God's mighty one.
There are ten appearances of the "Angel of the Lord" in the NT without any other name and these are likely appearances of Gabriel.
Remember that perhaps there is a very real possibility that angels are still being used by God as messengers or agents to do His will in order to mold circumstances, if you will, in our world today, and all throughout the CA.
Heb 13:1-2
Let love of the brethren continue. Do not neglect to show hospitality to strangers, for by this some have entertained angels without knowing it.
He brings the message of the birth of the Messiah to the shepherds of Bethlehem.
Luk 2:9 And an angel of the Lord suddenly stood before them, and the glory of the Lord shone around them; and they were terribly frightened.
Luk 2:10 And the angel said to them, "Do not be afraid; for behold, I bring you good news of a great joy which shall be for all the people;
Luk 2:11 for today in the city of David there has been born for you a Savior, who is Christ the Lord.
Luk 2:12 "And this will be a sign for you: you will find a baby wrapped in cloths, and lying in a manger."
He appeared to Christ in Gethsemane in order to strengthen Him.
Luk 22:43 Now an angel from heaven appeared to Him, strengthening Him.
Luk 22:44 And being in agony He was praying very fervently; and His sweat became like drops of blood, falling down upon the ground.
This shows, despite the fact that we don't know exactly how or in what way then angel did this, that angels can strengthen men.
He rolled away the stone so that the Lord's congregation could look in the tomb. As the veil was torn so was the stone rolled away.
Mat 28:2 And behold, a severe earthquake had occurred, for an angel of the Lord descended from heaven and came and rolled away the stone and sat upon it.
He was involved in two jail breaks, giving the message to get out there and continue to teach!
Act 5:12 And at the hands of the apostles many signs and wonders were taking place among the people; and they were all with one accord in Solomon's portico.
This is the porch around the inner court of the Temple, a place in which Jesus taught quite often and the disciples listened, and an amazing turn of student becoming like his Master, now they are teaching His word in the same place.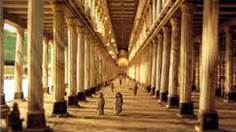 The student becomes like his Master. Remain a student of the Lord and watch Him transform your heart by renewing your mind, Rom 12:2.
Luk 6:40
A pupil is not above his teacher; but everyone, after he has been fully trained, will be like his teacher.
Act 5:13 But none of the rest dared to associate with them; however, the people held them in high esteem.
Act 5:14 And all the more believers in the Lord, multitudes of men and women, were constantly added to their number;
Act 5:15 to such an extent that they even carried the sick out into the streets, and laid them on cots and pallets, so that when Peter came by, at least his shadow might fall on any one of them.
Act 5:16 And also the people from the cities in the vicinity of Jerusalem were coming together, bringing people who were sick or afflicted with unclean spirits; and they were all being healed.
Act 5:17 But the high priest rose up, along with all his associates (that is the sect of the Sadducees), and they were filled with jealousy;
Act 5:18 and they laid hands on the apostles, and put them in a public jail.
Isa 54:17
"No weapon that is formed against you shall prosper;
And every tongue that accuses you in judgment you will condemn.
Psa 56:4
In God, whose word I praise,
In God I have put my trust;
I shall not be afraid.
What can mere man do to me?
Act 5:19 But an angel of the Lord during the night opened the gates of the prison, and taking them out he said,
Act 5:20 "Go your way, stand and speak to the people in the temple the whole message of this Life."
I remind you again, that though they no longer appear to us as they did to some at the beginning of the great Christocentric dispensations they still remain God's messengers:
Heb 1:14
Are they not all ministering spirits, sent out to render service for the sake of those who will inherit salvation?
Though entertained without knowing it, God reveals that they are all around us and ministering to us as a source of comfort.
Though not inspired by God:
"Millions of spiritual creatures walk the earth Unseen, both when we wake and when we sleep." [Milton; Paradise Lost]
Act 5:21 And upon hearing this ["Go your way, stand and speak to the people in the temple the whole message of this Life."], they entered into the temple about daybreak, and began to teach.
Can you imagine the consternation on the minds of the Pharisees and Sadducees after they figured they were done with this lot and the next day they are right in the temple teaching?
2Co 13:8
For we can do nothing against the truth, but only for the truth.
He appeared to Philip and directed him to go the Ethiopian eunuch to clarify prophecy and communicate the gospel.
Act 8:26 But an angel of the Lord spoke to Philip saying, "Arise and go south to the road that descends from Jerusalem to Gaza." (This is a desert road.)
Act 8:27 And he arose and went; and behold, there was an Ethiopian eunuch, a court official of Candace, queen of the Ethiopians, who was in charge of all her treasure; and he had come to Jerusalem to worship.
Act 8:28 And he was returning and sitting in his chariot, and was reading the prophet Isaiah.
Act 8:29 And the Spirit [God the HS or the angel again] said to Philip, "Go up and join this chariot."
Act 8:30 And when Philip had run up, he heard him reading Isaiah the prophet, and said, "Do you understand what you are reading?"
Act 8:31 And he said, "Well, how could I, unless someone guides me?" And he invited Philip to come up and sit with him.
Act 8:32 Now the passage of Scripture which he was reading was this: [Isa 53:7-8]
"He was led as a sheep to slaughter;
And as a lamb before its shearer is silent,
So He does not open His mouth.
Act 8:33 "In humiliation His judgment was taken away;
Who shall relate His generation?
For His life is removed from the earth."
The Rabbis writing in the Talmud in the years after the return to Jerusalem from the captivity and before the coming of Christ, concluded that these verses referred to the nation of Israel.
Act 8:34 And the eunuch answered Philip and said, "Please tell me, of whom [untaught by Rabbis this Egyptian reads the passage clearly as referring to a person and not a nation] does the prophet say this? Of himself, or of someone else?"
Act 8:35 And Philip opened his mouth, and beginning from this Scripture he preached Jesus to him.
Act 8:36 And as they went along the road they came to some water; and the eunuch said, "Look! Water! What prevents me from being baptized?"
The next verse is a variant, inserted by a copyist long ago, which we can tell easily by means of all the copies of this letter that we possess. This verse lacks support from our best manuscripts and that's why your NASB has it in brackets. It does not belong in the plenary inspired word of God.
Act 8:37 [And Philip said, "If you believe with all your heart, you may." And he answered and said, "I believe that Jesus Christ is the Son of God."]
Act 8:38 And he ordered the chariot to stop; and they both went down into the water, Philip as well as the eunuch; and he baptized him.
Act 8:39 And when they came up out of the water, the Spirit of the Lord snatched Philip away; and the eunuch saw him no more, but went on his way rejoicing.
He appeared to the gentile centurion Cornelius who prayed for clarification concerning the aftermath of the death of Christ.
He was groping for the truth concerning the Church, which yet he did not know.
Act 10:1 Now there was a certain man at Caesarea named Cornelius, a centurion of what was called the Italian cohort,
Act 10:2 a devout man, and one who feared God with all his household, and gave many alms to the Jewish people, and prayed to God continually.
Act 10:3 About the ninth hour of the day he clearly saw in a vision an angel of God who had just come in to him, and said to him, "Cornelius!"
Act 10: 4 And fixing his gaze upon him and being much alarmed, he said, "What is it, Lord?" And he said to him, "Your prayers and alms have ascended as a memorial before God.
Again, God hears and then dispatches the angel.
Act 10:5 "And now dispatch some men to Joppa, and send for a man named Simon, who is also called Peter;
Act 10:6 he is staying with a certain tanner named Simon, whose house is by the sea."
Act 10:7 And when the angel who was speaking to him had departed, he summoned two of his servants and a devout soldier of those who were in constant attendance upon him,
Act 10:8 and after he had explained everything to them, he sent them to Joppa.
The angel and the men dispatched to see Peter are all under the direction of the Lord God. So is everything in your life and if you choose to believe that then you will lose all fear and gain tremendous tranquility.
Gabriel releases Peter from prison a second time and the faith of the young Christian community is increased.
Act 12:1 Now about that time Herod the king laid hands on some who belonged to the church, in order to mistreat them.
This is Herod the Great's grandson, Herod Agrippa I.
Act 12:2 And he had James the brother of John put to death with a sword.
Interestingly it was this James and John who asked their mother to ask Jesus to allow them to sit on His right and left and He then asked them if they were able to drink the cup He was to drink? Here, James does just that.
Act 12:3 And when he saw that it pleased the Jews, he proceeded to arrest Peter also. Now it was during the days of Unleavened Bread.
Act 12:4 And when he had seized him, he put him in prison, delivering him to four squads of soldiers to guard him [16 soldiers total – 4 at a time in 6 hour watches], intending after the Passover to bring him out before the people [likely for a public execution].
Act 12:5 So Peter was kept in the prison, but prayer for him was being made fervently by the church to God.
Act 12:6 And on the very night when Herod was about to bring him forward, Peter was sleeping between two soldiers, bound with two chains; and guards in front of the door were watching over the prison.
Why is the security so high on Peter? He already got out once.
Groups of people are hidden away in quiet houses praying for Peter's release and it is the night before the execution and we will see that they have lost hope.
Already in our study of angels we have seen a few delayed prayers and hopeless situations. Prayer delayed is not prayer denied, and as Gabriel said to Mary, "for nothing shall be impossible with God.
Deu 32:36
For the Lord will vindicate His people,
And will have compassion on His servants;
When He sees that their strength is gone,
And there is none remaining, bond or free.
Now comes jail break number two and Peter, as he has been before in perilous situations, is sleeping like a baby. He's a good sleeper, and the night before his planned execution shows that Peter is relaxed and has faith. However, he won't have so much faith in the reality of Gabriel – who already broke him out of prison once.
All believers will doubt what God has already shown them He can and will do, but God remains faithful, even when our strength is gone.
Act 12:7 And behold, an angel of the Lord suddenly appeared, and a light shone in the cell; and he struck Peter's side and roused him, saying, "Get up quickly." And his chains fell off his hands.
Angels can punch.
Act 12:8 And the angel said to him, "Gird yourself and put on your sandals." And he did so. And he said to him, "Wrap your cloak around you and follow me."
Peter is groggy and thinks he's in a dream so the angel has to take care of details for him. God doesn't overlook anything. The first thing Gabriel does is to turn a supernatural light on so Peter can find his shoes.
Act 12:9 And he went out and continued to follow, and he did not know that what was being done by the angel was real, but thought he was seeing a vision.
Act 12:10 And when they had passed the first and second guard, they came to the iron gate that leads into the city, which opened for them by itself; and they went out and went along one street; and immediately the angel departed from him.
Act 12:11 And when Peter came to himself, he said, "Now I know for sure that the Lord has sent forth His angel and rescued me from the hand of Herod and from all that the Jewish people were expecting [his head]."
Act 12:12 And when he realized this, he went to the house of Mary, the mother of John who was also called Mark, where many were gathered together and were praying.
This is likely the very house that they celebrated the last Passover in; the home of the young boy who would write the Gospel of Mark.
Act 12:13 And when he knocked at the door of the gate, a servant-girl named Rhoda came to answer.
Act 12:14 And when she recognized Peter's voice, because of her joy she did not open the gate, but ran in and announced that Peter was standing in front of the gate.
Peter has spent a lot of time here for the servant-girl to recognize his voice. So Peter does what we all do in distress and goes to the place he is most comfortable in and most recognized. She gets so excited that she forgets to open the door.
How completely human the Bible can be and at the same time be so infinite and divine.
All other so called "holy books" fail in this regard; being written by men who attempt to write what they think is like the divine.
Act 12:15 And they said to her, "You are out of your mind!" [that would be the answer to our prayers!!!] But she kept insisting that it was so. And they kept saying, "It is his angel."
They would rather believe that Peter's ghost showed up at their door in the middle of the night than believe that their prayers were answered and the real Simon Peter is pounding on the door.
But recall … who believed the resurrection – not one did until they saw Him.
Act 12:16 But Peter continued knocking; and when they had opened the door, they saw him and were amazed.
Act 12:17 But motioning to them with his hand to be silent, he described to them how the Lord had led him out of the prison. And he said, "Report these things to James [Lord's half brother] and the brethren." And he departed and went to another place.