Seeking God in prayer.
Last time we looked at how papyrus was made and how scribes were necessary to use it well. I got to see a number of these.
Pic of Bible Museum.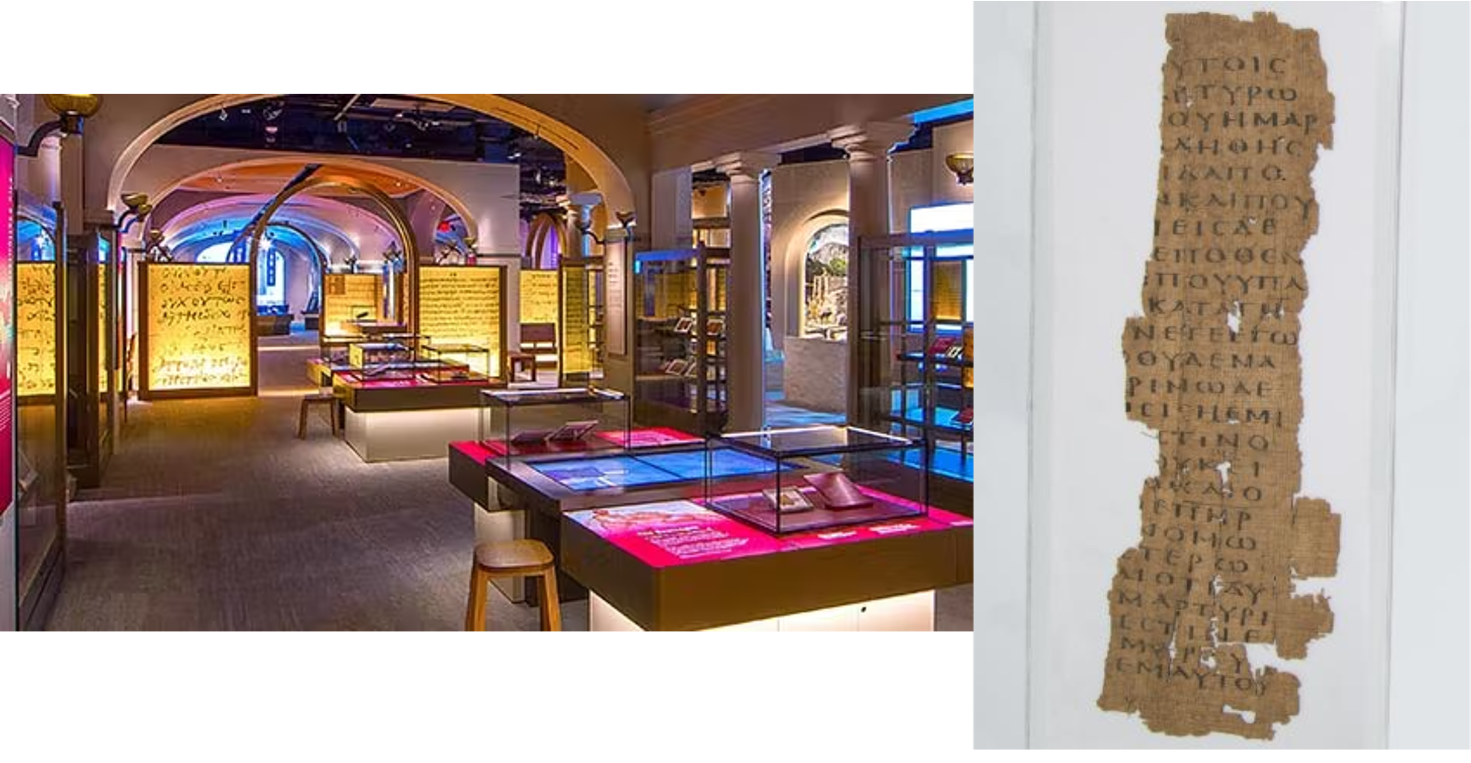 We speak to God and meet God through His word. Here the language and the exact words do not matter. Translations differ, but the truths that are in every Bible (sufficiently and properly translated from the original) are eternal. We communicate with God in these truths. That's why we can and should pray passages, psalms, etc., but none have to be memorized. We can read them while we pray, as if sitting with our Friend who is our Teacher (Parakletos). This cannot be true of any other person, for only with God is word and action identical.
God's word is pure power to do. When God speaks an action, it happens.
We may say "Let there be light" but nothing happens until we hit the wall switch. When God says it, it happens. He didn't say "Let there be light," and then create it. The world is created by the word of God.
Heb 11:3
By faith we understand that the worlds were prepared by the word of God, so that what is seen was not made out of things which are visible.
God changes Abram's name [exalted father] to Abraham [father of a multitude] and then he can make a lot of babies. In Psa 29, the voice of the Lord breaks cedars into splinters. In Isa 55 the word of God accomplishes all of God's good pleasure. In Joh 5:28-29 "all who are in the tombs shall hear His voice, and shall come forth."
When we pray according to God's word, we are conversing with God's power of doing.
We only know who we are praying to if we learn it from the Bible. We only know what we should be praying from the Bible. God gives us the words, but we do not just repeat them back like a recording device. Think about how we all learn to speak. We learn so quickly and early in life that none of us remember learning it, but we see it in our own children.

We learn how to speak by being spoken to. We learn God's truth by Him speaking it to us.
Language is spoken to us; we learn language only as we are spoken to. We are plunged at birth into a sea of language. All speech is answering speech. Children's ability to communicate is profoundly affected by the number of words and the breadth of vocabulary to which they are exposed as infants.
Therefore, the more exposure each of us has to the word of God, the more intelligently we will be able to speak with Him, and as a result, the closer we will be with Him. We have to want to know the true meaning behind the word.
You know that God loves you and that nothing can separate you from the love of God, not because you always get a warm, fuzzy feeling. If any believer knows the love of God for them, it is because God has spoken it to them many times, and the promise from God was the same in prosperity and adversity, in good times and in bad. Because of God speaking to you through His word, consistently through all manner of states in our own mind, we have come to know His love and am convinced of it. In prayer, one aspect of our conversation with the Father is the adoration we give Him for this, for Him; the thanksgiving we give to Him, and also, a further searching to understand infinite things like His love.
1Jo 4:16
And we have come to know and have believed the love which God has for us.
The goal of prayer is a real connection with God, then only by immersion into the language of the Bible will we learn to pray, slowly at first, like a child, and more effectual as we grow.
When we look at the prayers of those in the Bible we do not find that they are trying to understand themselves, nor seeking the meaning of life, but seeking God at the center of all things.
Even in the great amount of intercessory prayer in the Bible, the goal is for the discovery of God and His will.
We can test this on the first mention of prayer in the Bible.
For the second time Abraham says that Sarah is his sister, this time to Abimelech, king of Gerar, who then takes Sarah into his harem. God comes to Abimelech in a dream and commands him.
Gen 20:7
"Now therefore, restore the man's wife, for he is a prophet, and he will pray for you, and you will live. But if you do not restore her, know that you shall surely die, you and all who are yours."
Gen 20:17-18
And Abraham prayed to God; and God healed Abimelech and his wife and his maids, so that they bore children. 18 For the Lord had closed fast all the wombs of the household of Abimelech because of Sarah, Abraham's wife.
This whole sordid event has as its theme two men coming to know God. One, Abimelech did not fear God, but he came to know that fear and the power of God to do the miraculous. He also learned that the servants of the one true God have the priestly ability of intercession. In the pagan religions of the day, intercession from a god might only be had through some offered sacrifice, and even then there were no guarantees. God reveals that His servants simply make request under God's will.
Joh 16:23
"Truly, truly, I say to you, if you shall ask the Father for anything, He will give it to you in My name."
It would seem that God wanted the place where Abraham sojourned to know that Abraham was His servant.
The other man, Abraham, feared Abimelech more than God. God taught him different and also showed Abraham the power of prayer. If Abraham could pray for the healing of Abimelech's house and see it come to pass, couldn't he have prayed for his and Sarah's protection as he came into the land?
Prayer is about us discovering God and the reality of His presence in our day-to-day lives.
It wasn't just a belief in God that motivated prayer but a desire to know and understand Him.
In a very famous passage from Jeremiah, it is difficult to remember that prayer is in the midst of discovering the Lord.
Jer 29:11-14
'For I know the plans that I have for you,' declares the Lord,' plans for welfare and not for calamity to give you a future and a hope. 12 'Then you will call upon Me and come and pray to Me, and I will listen to you. 13 'And you will seek Me and find Me, when you search for Me with all your heart. 14 'And I will be found by you,' declares the Lord,' and I will restore your fortunes and will gather you from all the nations and from all the places where I have driven you,' declares the Lord,' and I will bring you back to the place from where I sent you into exile.'
When we quote this famous, "You will seek Me and find Me when you search for Me with all of your heart," I wonder how many of us know that this wonderful promise is so closely related to prayer.
Communion:
Joh 14:1-7
"Let not your heart be troubled; believe in God, believe also in Me. 2 "In My Father's house are many dwelling places; if it were not so, I would have told you; for I go to prepare a place for you. 3 "And if I go and prepare a place for you, I will come again, and receive you to Myself; that where I am, there you may be also. 4 "And you know the way where I am going." 5 Thomas said to Him, "Lord, we do not know where You are going, how do we know the way?" 6 Jesus said to him, "I am the way, and the truth, and the life; no one comes to the Father, but through Me. 7 "If you had known Me, you would have known My Father also; from now on you know Him, and have seen Him."
Many dwelling places shows us that homes in heaven are not restricted, but plentiful. They cost a lot, but none of us have the amount to pay. The price was Christ Himself, the blood of Christ. By faith in Christ as your Savior, a home in heaven is guaranteed and has your name on the deed. Before that wonderful day, we can know the Lord now, through faith, study, application, and prayer. If we know Him we know the Father and the Holy Spirit reveals Him to us. The Trinity is constantly at work to open our eyes to life, love, happiness, hope, and the pattern of faith that continues to make these increase and the picture of Christ increase in our hearts.
Luk 22:14-20
And when the hour had come He reclined at the table, and the apostles with Him. 15 And He said to them, "I have earnestly desired to eat this Passover with you before I suffer; 16 for I say to you, I shall never again eat it until it is fulfilled in the kingdom of God. " 17 And when He had taken a cup and given thanks, He said, "Take this and share it among yourselves; 18 for I say to you, I will not drink of the fruit of the vine from now on until the kingdom of God comes. " 19 And when He had taken some bread and given thanks, He broke it, and gave it to them, saying, "This is My body which is given for you; do this in remembrance of Me." 20 And in the same way He took the cup after they had eaten, saying, "This cup which is poured out for you is the new covenant in My blood.
Mat 26:27-28
"Drink from it, all of you; 28 for this is My blood of the covenant, which is poured out for many for forgiveness of sins."