Friday June 29, 2018
Title: Ruth 4:8-12. Final chapter – The virtuous woman creates a home as a type of Christ, part 9.
Pro 31:19 She stretches out her hands to the distaff [the ring fastened to the spindle below which gives it its necessary weight], And her hands grasp the spindle.
Pro 31:20 She extends her hand to the poor; And she stretches out her hands to the needy.
Pro 31:21 She is not afraid of the snow for her household, For all her household are clothed with scarlet.
Winter approaches and times will be tougher. She is prepared and not afraid. The coverings in her house are wool; warm (she spins) and scarlet; not only functional but ornamental (skill and care).
The principle in this verse is the excellent disciple of Christ being ready for adversity and appearing strong and content as he perseveres through it. All believers will face suffering and adversity. All will go through difficult times. How we face them depends upon our understanding and faith in the plan of God.
Jesus was prepared for His hour of winter:
Joh 12:23 And Jesus answered them, saying, "The hour has come for the Son of Man to be glorified.
Joh 12:24 "Truly, truly, I say to you, unless a grain of wheat falls into the earth and dies, it remains by itself alone; but if it dies, it bears much fruit.
Joh 12:25 "He who loves his life loses it; and he who hates his life in this world shall keep it to life eternal.
Joh 12:26 "If anyone serves Me, let him follow Me; and where I am, there shall My servant also be; if anyone serves Me, the Father will honor him.
Joh 12:27 "Now My soul has become troubled [agitated within]; and what shall I say, 'Father, save Me from this hour'? But for this purpose I came to this hour.
Understanding and believing that there was no other way, our Lord purposely walked up to His trial and faced it with assurance.
Joh 18:4 Jesus therefore, knowing all the things that were coming upon Him, went forth, and said to them, "Whom do you seek?"
Joh 18:5 They answered Him, "Jesus the Nazarene." He said to them, "I am He." And Judas also who was betraying Him, was standing with them.
Joh 18:6 When therefore He said to them, "I am He," they drew back, and fell to the ground.
Joh 18:7 Therefore He again asked them, "Whom do you seek?" And they said, "Jesus the Nazarene."
Joh 18:8 Jesus answered, "I told you that I am He; so if you seek Me, let these go their way,"
Joh 18:9 to fulfill the word which He spoke, "Of those whom You have given Me I lost not one."
Joh 18:10 Simon Peter then, having a sword, drew it and struck the high priest's slave, and cut off his right ear; and the slave's name was Malchus.
Joh 18:11 So Jesus said to Peter, "Put the sword into the sheath; the cup which the Father has given Me, shall I not drink it?"
Before the Sanhedrin, before Pilate, before Herod, and before the crowd of people He had come to save who were chanting, "Crucify Him, Crucify Him!" the Lord stood confident and contented with the Father's plan and assurance of the Father's eventual deliverance.
Since He was a child, Jesus read Psa 22, and came to know that it was David's prophecy about Him.
We are to read the word of God as the truth that pertains specifically to us today. It is preparing us for tomorrow. It is not old, but rather timeless and unchangeable. We marvel that Jesus realized that the scriptures were about Him and His life. Do we also understand that they are presently about each of us and our own life.
Psa 22:1 My God, my God, why hast Thou forsaken me?
Far from my deliverance are the words of my groaning.
Psa 22:2 O my God, I cry by day, but Thou dost not answer;
And by night, but I have no rest.
Psa 22:3 Yet Thou art holy,
O Thou who art enthroned upon the praises of Israel.
Psa 22:4 In Thee our fathers trusted;
They trusted, and Thou didst deliver them.
Psa 22:5 To Thee they cried out, and were delivered;
In Thee they trusted, and were not disappointed.
Psa 22:6 But I am a worm, and not a man,
A reproach of men, and despised by the people.
Psa 22:7 All who see me sneer at me;
They separate with the lip, they wag the head, saying,
Psa 22:8 "Commit yourself to the Lord; let Him deliver him;
Let Him rescue him, because He delights in him."
Psa 22:19 But Thou, O Lord, be not far off;
O Thou my help, hasten to my assistance.
Psa 22:20 Deliver my soul from the sword,
My only life from the power of the dog.
Psa 22:21 Save me from the lion's mouth;
And from the horns of the wild oxen Thou dost answer me.
Psa 22:22 I will tell of Thy name to my brethren;
In the midst of the assembly I will praise Thee.
Pro 31:21
She is not afraid of the snow for her household, For all her household are clothed with scarlet.
When we face our trials, we are to be covered in scarlet, i.e. we are to look as if no trial were present.
Mat 6:16 "And whenever you fast [Isa 58: denying ourselves to serve others], do not put on a gloomy face as the hypocrites do, for they neglect their appearance in order to be seen fasting by men. Truly I say to you, they have their reward in full.
Mat 6:17 "But you, when you fast, anoint your head, and wash your face
Mat 6:18 so that you may not be seen fasting by men, but by your Father who is in secret; and your Father who sees in secret will repay you.
Can we stand before our opposition with confidence? Can we look them in the eye with love and unbending devotion to our Lord and His way? Can we say, "I know how to get along with humble means, and I also know how to live in prosperity; in any and every circumstance I have learned the secret of being filled and going hungry, both of having abundance and suffering need. I can do all things through Him who strengthens me." (Php 4:12-13)
Luk 23:28 But Jesus turning to them said, "Daughters of Jerusalem, stop weeping for Me, but weep for yourselves and for your children."
The days will come when it will be better not to have children, for their parents will see them suffer greatly. One wonders when that generation will be upon us.
Besides the grimness of the prophecy, what is also striking is to know the physical condition He is in when He says it. "Don't weep for Me," in the midst of the greatest suffering ever inflicted upon one man. He has the presence of mind to comfort and warn the women around Him.
Will we have the faith and courage to continue to think of others when we go through great adversity, or will we become only absorbed with ourselves and our pain?
Pro 31:21 She is not afraid of the snow for her household, For all her household are clothed with scarlet.
Pro 31:22 She makes coverings for herself; Her clothing is fine linen and purple.
Her clothing and the coverings of her house are not only for function but attractive. Necessity is fulfilled with an eye for ornamentation.
The first part, "She makes coverings for herself" is a misleading translation. The Hebrew word for "coverings" refers to tapestries or pillow/mattress covers. The coverings are over the things in the house.
"for herself" is also a misleading translation. The phrase means that she herself prepares them.
Fine linen that is scarlet or purple, a desired color derived from the shells of mollusks, is what she wears. Ornamenting oneself is virtuous if it is not done in pride or vanity.
Certain denominations of Christianity, as well as certain cults, adopted a rule of no ornamentation. Women were to dress from head to toe with neutral colors, no makeup, no jewelry, and no attention to hair other than a tight bun.
As usual, the human race hears a true principle and takes it to a humanistic place with a humanistic spin and ruins it.
There are two NT passages that refer to a woman's adornment.
1Ti 2:8 Therefore I want the men in every place to pray, lifting up holy hands, without wrath and dissension.
1Ti 2:9 Likewise, I want women to adorn themselves with proper clothing, modestly and discreetly, not with braided hair and gold or pearls or costly garments;
"Order themselves with well arranged clothing, humbly and soberly."
1Ti 2:10 but rather by means of good works, as befits women making a claim to godliness.
Why would Paul even have to address the ordering of women's appearance? Is the kingdom of God made up of clothing? It the kingdom of God is not in eating and drinking then it is certainly not in clothing either.
He had to address this because, for the women especially, outward appearance was a clear indicator of a soul filled with pride and the sinful desire of gaining pleasure from being noticed.
At the start of this, it must be remembered that the excellent woman does adorn herself with scarlet, but it is not out of pride or lust for recognition. There is nothing sinful or wrong in looking good or ordered properly, but there is everything wrong with pride.
Adorn is the Greek verb kosmeo (noun kosmos) and it means "order." The word "proper" means modest or well arranged. Modest is a word that refers to humility and discreetly is the word for sobriety or soundness of mind.
Euripedes, the Greek writer, wrote that sophrosune (sobriety or modesty) was a gift from the gods. It was highly prized in Greek culture and the Bible took this word to the heavens. The fruit of the Spirit is self-control, a different Greek word, but a synonym of this word.
Sophrosune ("discreetly") and egkrateia (fruit of the Spirit in Gal 5) refers to the virtue of one who masters his desires and passions, especially his sensual appetites.
Braided hair or weaved hair would have been known by Paul's listeners to mean the grand style of that time in which women would make their hair into a sort of palace adorned and interwoven with pearls and gold charms. History informs us that the Roman women of that day were addicted to ridiculous extravagance in the adornment of the hair. We would not in any way think that he meant that a woman could not braid her hair. The term referred to the wealthy women of the time who did their hair in such ornate fashion so as to out-do (lol) other women and glean attention from other people. This style spoke of the inner woman – all she wanted was attention and approbation.
ancient coiffure (kwa-fyoor) (Flavian woman, 90AD)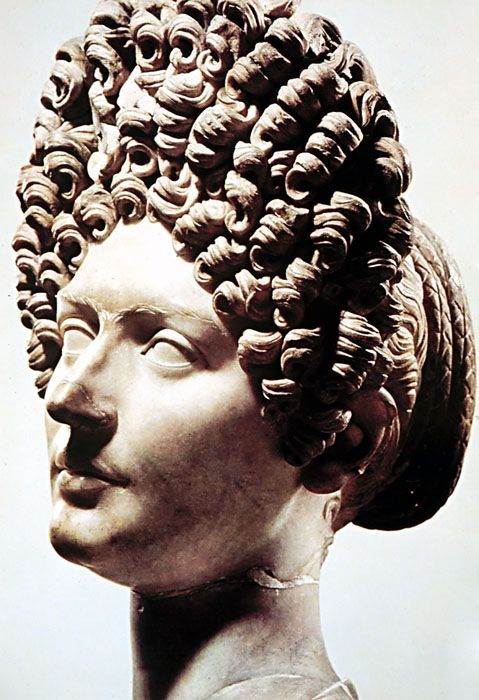 History of Roman Hairdressing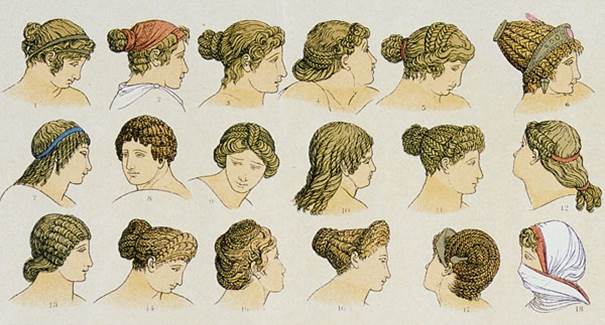 I quote from those who saw it: Juvenal (Roman poet of the late first century) says, "The attendants will vote on the dressing of the hair as if a question of reputation or of life were at stake, so great is the trouble she takes in quest of beauty; with so many tiers does she load, with so many continuous stories does she build up on high her hair. She is as tall as Andromache in front, and behind she is shorter. You would think her another person." Clement of Alexandria comments on this same thing when he says that the women do not even touch their own heads for fear of disturbing their hair, and sleep comes to them with terror lest they should unawares spoil their coiffures.
Costly array or garments would have been another indicator of the inner soul, especially for the Christian community. They were to share with one another. Persecution existed in pockets in the Empire and in those places the Christians had to sacrifice for one another just to live. Can you imagine Priscilla telling another poor Christian that she couldn't give him any bread or clothing because she had spent her last denarius on the hairdresser, or that she didn't have time to assist the community of Christians because it took her two hours to get her hair just right?
It would have been a great waste of resources to spend a great deal of one's income and time on adornment. This is what Paul is getting at – the inner woman.
Each believer must decide for himself or herself what is proper. But please notice that almost everything mentioned in this passage is about the inner person, the heart. If your heart is filled with God's love towards others then you will not give to yourself at the expense of others.
Yet, the excellent woman dresses in fine linen of a scarlet color. She adorns herself respectfully and without pride. She could dress like a bum and give a bit more to the poor or she could really deck herself out and have a different grand outfit for every day of the week and give nothing to the poor. The balance is clear. We are not ascetics who wear rags for the sake of looking humble. There, the motivation is the same as the women with sky-high hair adorned with costly pearls – gaining attention.