Ruth: 3:10-13; A community without lies. The God who cannot lie; the Christian who cannot lie.
By removing oaths, Christ abolishes all lies. The community of Christians are members of one another in Christ, born of the truth, and so only speak truth to one another.
The reason for our study in Eph 4 is this passage:
Eph 4:25 Therefore, laying aside falsehood, speak truth, each one of you, with his neighbor, for we are members of one another.
Yet the passage begins with "therefore" and so we must find what it is there for.
Eph 4:12 for the equipping of the saints for the work of service, to the building up of the body of Christ;
Eph 4:13 until we all attain to the unity of the faith, and of the knowledge [epignosis: full knowledge] of the Son of God, to a mature man, to the measure of the stature which belongs to the fulness of Christ.
Eph 4:14 As a result, we are no longer to be children, tossed here and there by waves, and carried about by every wind of doctrine, by the trickery of men, by craftiness in deceitful scheming;
Eph 4:15 but speaking the truth in love, we are to grow up in all aspects into Him, who is the head, even Christ,
Eph 4:16 from whom the whole body, being fitted and held together by that which every joint supplies [I would classify these as all spiritual gifts and ministries], according to the proper working of each individual part, causes the growth of the body for the building up of itself in love.
This receives a therefore, which will be followed by another.
Eph 4:17 This I say therefore, and affirm together with the Lord, that you walk no longer just as the Gentiles also walk, in the futility of their mind,
Many of the Christians in Ephesus are from Gentile stock. They have come from a pagan world. But for them that world is the old world and their heathen flesh is the old man.
Eph 4:18 being darkened in their understanding, excluded from the life of God, because of the ignorance that is in them, because of the hardness of their heart;
Eph 4:19 and they, having become callous, have given themselves over to sensuality, for the practice of every kind of impurity with greediness.
2Ti 3:12-13
And indeed, all who desire to live godly in Christ Jesus will be persecuted. But evil men and impostors will proceed from bad to worse, deceiving and being deceived.
For a further understanding, we will go to Rom 1, Act 17, and back to Eph 4.
The dark understanding and the callousness are both stated in the perfect tense. The unbeliever has become this and remains this way without faith in the gospel. The process of calcifying the conscience is of great interest to me, but there is too much which I do not know.
The word callous means to cease to feel pain. It is only used here in the Bible. Yet it would seem to describe the condition of the human race who reject Christ and so reject God.
Paul writes about this in Rom 1.
Rom 1:18 For the wrath of God is revealed from heaven against all ungodliness and unrighteousness of men, who suppress the truth in unrighteousness,
Rom 1:19 because that which is known about God is evident within them; for God made it evident to them.
Rom 1:20 For since the creation of the world His invisible attributes, His eternal power and divine nature, have been clearly seen, being understood through what has been made, so that they are without excuse.
Rom 1:21 For even though they knew God, they did not honor Him as God, or give thanks; but they became futile in their speculations, and their foolish heart was darkened.
What interests me is the time or age of a man when this can be true. Certainly, an infant cannot know God or honor Him. The word clearly states that God has made Himself evident to them. The Greek word means to uncover, lay bare, reveal.
The word of God says they "became futile" (the word meaning vain or foolish) – an aorist passive. At some point they received foolishness.
We have called this the age of accountability, which I do not doubt is true, but when and where it comes about and how much callousness begins and ends in a soul is a mystery. Who could know of it but God Himself. For each person He desires salvation, 1Ti 2:4, but not all are willing to accept His criterion, which is Christ alone.
The more I learn of such things as this, the more I know of Christ and His gospel, the more my heart aches for the foolishness of the human race. This is really a passage of sorrows.
Barnhouse writes of this passage in Rom 1: "There are some sermons that a true minister of the gospel loves to preach. There are other sermons which it hurts to preach. I wish that I did not have to include this present chapter. But when one sets out to be an expositor of the Word of God, and takes every verse, every line, every phrase and every word, just as they come, there are moments when the terrible things of God arrive in the narrative, and they must be treated."
It is because of this reality of man's rejection of God that Christ was a man of sorrows.
Isa 53:3 He was despised and forsaken of men,
A man of sorrows, and acquainted with grief;
And like one from whom men hide their face,
He was despised, and we did not esteem Him.
Isa 53:4 Surely our griefs He Himself bore,
And our sorrows He carried;
Yet we ourselves esteemed Him stricken,
Smitten of God, and afflicted.
Isa 53:5 But He was pierced through for our transgressions,
He was crushed for our iniquities;
The chastening for our well-being fell upon Him,
And by His scourging we are healed.
Isa 53:6 All of us like sheep have gone astray,
Each of us has turned to his own way;
But the Lord has caused the iniquity of us all
To fall on Him.
Exchanged the glory of God for an image – the conscience infected with a desire for a god while rejecting the God.
Rom 1:21 For even though they knew God, they did not honor Him as God, or give thanks; but they became futile in their speculations, and their foolish heart was darkened.
Rom 1:22 Professing to be wise, they became fools,
Rom 1:23 and exchanged the glory of the incorruptible God for an image in the form of corruptible man and of birds and four-footed animals and crawling creatures.
We can apply this to our main study. What makes Ruth so wonderful, courageous, and full of mercy and lovingkindness? She might have gone back to Moab and thus exchanged the glory of God for the corruptible false gods of her homeland. She was told of the God of Israel by Naomi and probably her husband and father-in-law. God made Himself evident to her as well as her sister-in-law who did return to Moab. Ruth honored the God of Israel as the only incorruptible God by faith. What makes the difference between Ruth and Orpah is a mystery to us, other than one had faith and the other exchanged the evidence for a lie.
Act 17:22 And Paul stood in the midst of the Areopagus [Mars' Hill] and said, "Men of Athens, I observe that you are very religious in all respects.
Yet it remains a fact that man has a conscience that is infected with the desire for eternity and the desire for some form of God.
Pic: Mars' Hill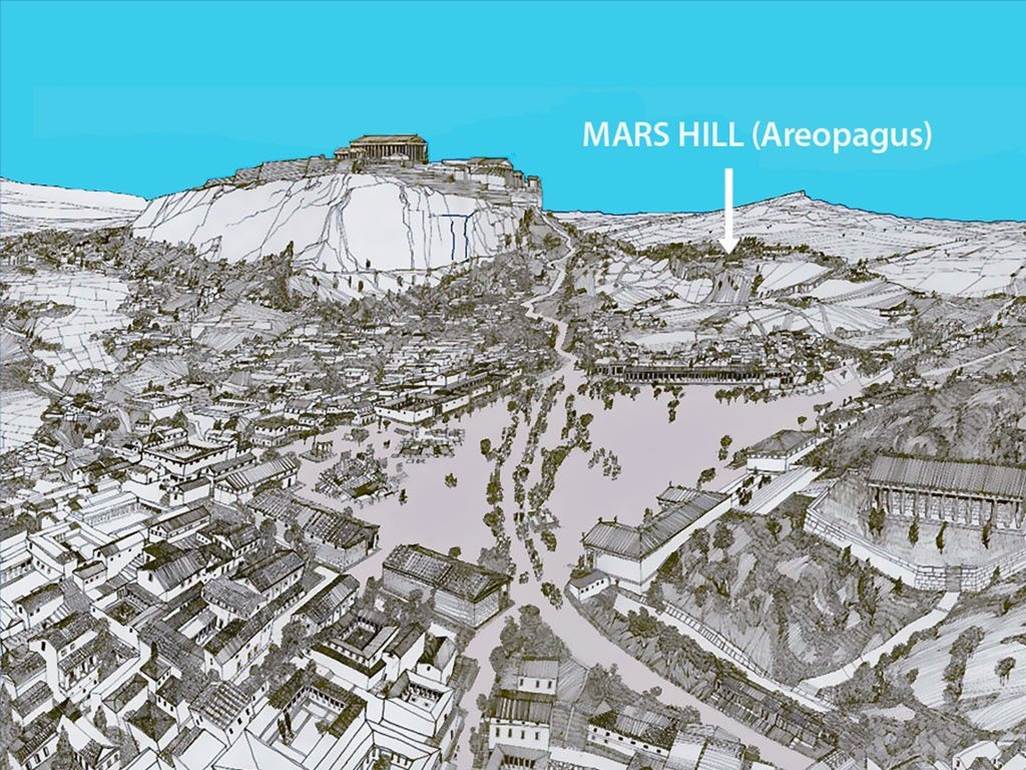 This hill was either named after Ares, the god of war, whom mythology stated was tried for the murder of Poseidon's son upon it. The other tradition understands the name to mean "hill of Arai" or hill of Curses, more popularly known as the Furies who were goddesses whose task was avenging murder. Cases of homicide were tried on this hill. A staircase was hewn into the rock that led to the top, about 370 feet up. There are traces of benches carved into it at the top and the sides of a square.
Later in the history of Athens a council met upon the hill in order to decide important matters or to try cases. Even when the council moved their meetings to the Royal Stoa. Socrates defended himself in front of the Areopagus. The officials on it were called Areopagites, and one of these high ranking officials will be one of the few to believe Paul's gospel.
Athens is the poster child for men professing to be wise in matters of life, gods, meaning, and world-views.
Imagine Paul standing on this exposed rock which gives a good view of the city and which has the Acropolis mounted by the magnificent Parthenon looming above it. They stand in a sort of courtyard, looking upon everything that makes Athens one of the greatest cities of man in his history.
Pic: Areopagus [artist's depiction]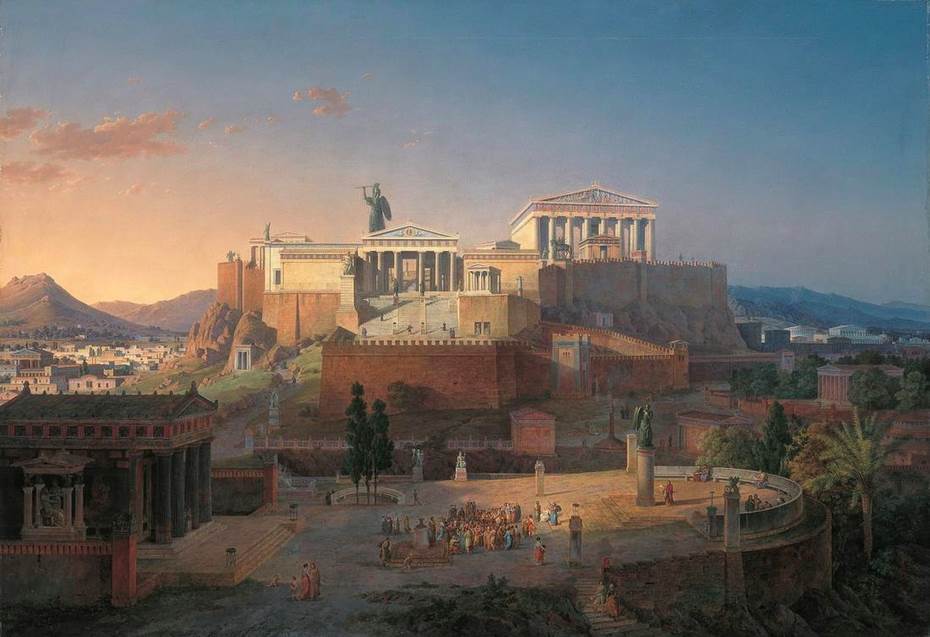 To be thorough, there are many commentators who do not believe that Paul stood on the hill when he gave this discourse, since the Areopagus convened in another place. But some do, and for me, the drama is much more intense if Paul is standing in the shadow of the Parthenon.
Act 17:22 And Paul stood in the midst of the Areopagus [Mars' Hill] and said, "Men of Athens, I observe that you are very religious in all respects.
Act 17:23 "For while I was passing through and examining the objects of your worship, I also found an altar with this inscription, 'TO AN UNKNOWN GOD.' What therefore you worship in ignorance, this I proclaim to you.
There is a God known to likely exist, but unknown to the soul of the pagan. Christ removes this veil.
Rom 10:1-4
Brethren, my heart's desire and my prayer to God for them is for their salvation. For I bear them witness that they have a zeal for God, but not in accordance with knowledge. For not knowing about God's righteousness, and seeking to establish their own, they did not subject themselves to the righteousness of God. For Christ is the end of the law for righteousness to everyone who believes.
Act 17:23b What therefore you worship in ignorance, this I proclaim to you.
Act 17:24 "The God who made the world and all things in it, since He is Lord of heaven and earth, does not dwell in temples made with hands;
Did Paul gesture to the Parthenon?
Act 17:25 neither is He served by human hands [carved from stone: did Paul gesture towards a statue?], as though He needed anything, since He Himself gives to all life and breath and all things;
Act 17:26 and He made from one, every nation of mankind to live on all the face of the earth, having determined their appointed times, and the boundaries of their habitation,
He determined Athens and Rome.
Act 17:27 that they should seek God, if perhaps they might grope for Him and find Him, though He is not far from each one of us;
Act 17:28 for in Him we live and move and exist, as even some of your own poets have said, 'For we also are His offspring.'